Safaree Samuels Files Court Documents Alleging Erica Mena Damaged $50,000 Worth Of His Property
Whew! Things aren't looking too great between Safaree Samuels and Erica Mena. Between reports of Erica Mena filing for divorce in late May and Safaree partying while his newborn son was hospitalized, the reality television couple seem to be traveling down a rocky road. Amid these heavy reports, Safaree is now claiming Erica violated a standing order meant to protect both parties from harassment and personal property destruction during the divorce proceedings. According to court documents obtained by TMZ, Safaree is alleging Erica has destroyed about $50,000 worth of his personal property.
Safaree is reportedly asking a judge to hold Erica "in contempt for violating their domestic relations standing order."
The court documents state that on May 23, 2021 Erica poured bleach and cut the laces of Safaree's custom sneakers. He claims they were worth up to $30,000. Erica also allegedly caused damage to a four-wheeler motorbike and two motorcycles by pouring paint on the bikes and inside their exhaust pipes and gas tanks. He also stated that her goal was to "render his beloved bikes useless." This incident allegedly took place just two days after Erica filed for divorce, while she was eight months pregnant.
Safaree claims the whole debacle was allegedly caught on their home security cameras. Now, he wants the judge to force Erica to reimburse him nearly $50,000 for the total cost of damages. Additionally, he's reportedly considering "pursing felony charges for criminal destruction."
He shared that Erica is painting a public narrative that she's overwhelmed with the birth of their newborn son Legend Brian Samuels. Yet, she "has ample time to engage in disruptive and intentional acts to vilify and disparage" him. In the court documents, the rapper also claimed Erica has changed the locks and security codes on their joint home. Despite these reports, Safaree has been seen living his best life in Jamaica in celebration of his July birthday.
Want updates directly in your text inbox? Hit us up at 917-722-8057 or click here to join!
Hamilton Facetime After Emmys And More Celeb Tweets
Britney Spears Told The Story Of Justin Timberlake Giving Her A "5 Minute Pep Talk" Before Her 2001 MTV VMAs Performance After He Finally Apologized For His Past Treatment Of Her
This is the second time that Spears has made reference to her ex-boyfriend since he extended an apology for his past treatment of her following their 2002 breakup.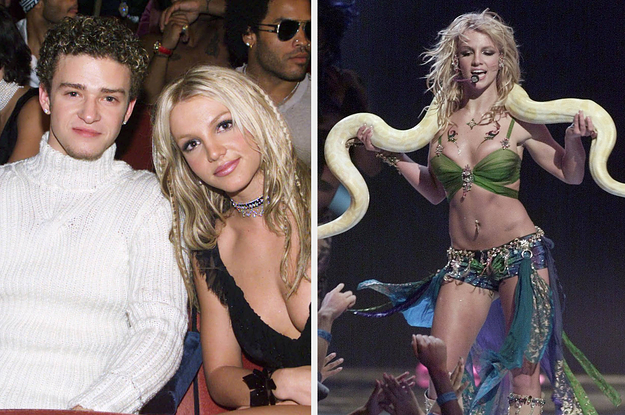 ---
The 25 Best Love Island UK Contestants, Ranked
Lovely, lovely Kaz, always stylish, has this infectious, confident, energetic kindness. Also, she is ridiculously good in an argument.
Unfortunately, many Series 7 men were blind. Kaz spent her first days with an uninterested Toby (who we'll get to, don't worry), then she went on dates with the A+ Teddy and the too-bad-to-discuss Danny, both of which did not go anywhere except the aces friendship couple of Kaz and Aaron. Then Tyler walked in, charm, extraversion, and beauty headed straight for Kaz, and she was smitten. Though, quite soon, Tyler forgot she existed at Casa Amor, which was the catalyst's for Kaz to couple up with Matthew. In the aftermath, Kaz calmly, clearly, concisely, extremely intelligently ripped Tyler to shreds. 
But they gravitated towards each other again. Within weeks, Tyler asked Kaz to be exclusive in an homage to Love Actually because Kaz adores rom coms. The couple came in fourth place, but they should have come in at least third. At least. Kaz was astute, fun, wise, empathetic, suave, and an exceptionally first-rate friend, notably to Liberty. Their perfect friendship was the best relationship of Series 7 by a thousand miles.
If you think the treatment of Kaz, including how she and Tyler placed fourth as the first entirely Black couple in a finale, does not have to do with racism, look inward and see how wrong you are. Love Island isn't good to Black women, particularly dark-skinned Black women. Kaz had to swim upstream in a system designed to eliminate her from the show. She isn't on this list because of that, she's here because of her impeccable personality and (somewhat) her drama, but the role racism played in Kaz's experience cannot go unmentioned. 
During all the fights, snakes, and lesser men vying for superior women, Kaz was battling a much more prodigious war, one she did not sign up for.
In the end, Kaz slayed the lawless, icy, ever-reigning goliath: Love Island.