13 Britney Spears Videos That Mean Something Different
Fans have been saying these things for years, but now it's clearer than ever.
1.
Like these clips from 2018 of Britney teaching the choreography for her Domination residency that was abruptly canceled. In her testimony, Britney said she was basically directing the show and that her management made false allegations that she wasn't participating or taking her medication after she refused to do a dance move.
In her testimony, she said, "It's funny to hear my managers' side of the story. They all said I wasn't participating in rehearsals and I never agreed to take my medication — which my medication is only taken in the mornings, never at rehearsal. They don't even see me. So why are they even claiming that?"
2.
One of the few times Britney talked to the crowd during her Piece of Me residency shows was before she sang "Freak Show."
She went viral in 2015 when she said during a show that men could suck her fucking toe. Fans thought this was about her dating life, but in a resurfaced clip from an interview with Mario Lopez, she says it's because of "men issues, daddy issues."
3.
Another concert moment that means something different now is this clip of Britney saying it feels "illegal" to be standing on stage speaking with a microphone.
4.
One other concert moment that means something different now is when she said, "What do you do when someone tells you you can't do something? You do it!"
5.
Besides these concert moments, certain Instagrams have also taken on new meaning, like this clip of Britney seemingly acknowledging the Framing Britney Spears documentary.
6.
The time Britney alluded to familial drama in one of her Q&A sessions.
7.
This interview her brother, Bryan Spears, did about the conservatorship.
8.
The multiple videos of Britney saying she's "the happiest she's ever been in her life."
9.
This video of her describing her astrological sign Sagittarius as "loving freedom."
10.
All the times we've been like "you're rich, why didn't you just buy that for yourself?"
11.
In a New York Times story that came out the day before her testimony, the Times reported Britney was forced to perform with a 104 degree fever. Fans found this video from her Piece of Me residency where Britney told the crowd she was super sick with a 102 degree fever.
12.
This interview with ET where Britney said her boyfriends are given background checks because of her dad.
13.
And lastly, this video of Britney doing the ALS challenge on her longtime manager Larry Rudolph as payback for "17 years of torture."
BuzzFeed Daily
Keep up with the latest daily buzz with the BuzzFeed Daily newsletter!
Courtney Stodden Said Chrissy Teigen Should "Stop Griping" And "Do Some Charity Work" After Chrissy Complained Again That "Cancel Club" Is "Like A Secret Society"
Courtney denied Chrissy's claims that she'd reached out via text to apologize after the cyberbullying backlash and said Chrissy should "stop griping about being canceled."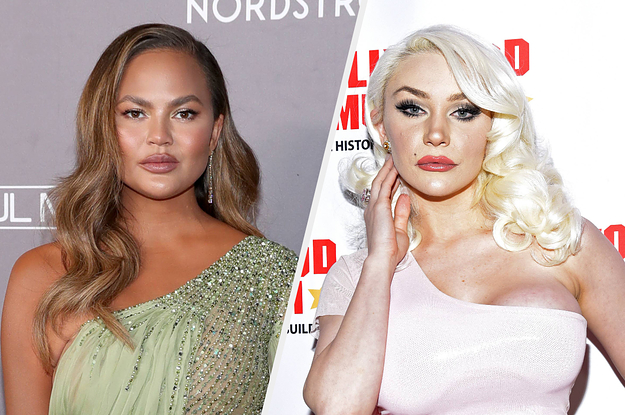 ---
Atlanta Officials Formally Declare July 22nd 'Kanye West Day!'
#Roommates, as the City of Atlanta filled the Mercedes Benz stadium last night to capacity for Kanye West's "DONDA" listening party, backstage before the show Ye was given an incredible honor from the city where he was born. As he was preparing to premiere his new album, Kanye West was honored by Atlanta city officials—who formally declared that from now on, July 22nd is "Kanye West Day" in the city.
Dressed head-to-toe in an all-red Yeezy ensemble reminiscent of his "My Beautiful Dark Twisted Fantasy" era back in 2010, Kanye West was smiling behind his mask while estranged wife Kim Kardashian, Khloe Kardashian, members of his entourage, as well as his family and friends witnessed the official proclamation from the city of Atlanta—making it official that he now has his very own day.
In case you didn't know, Kanye was born in Atlanta and lived in the city until he was three years old following his parents divorce. His father, Ray West, was a photojournalist with the Atlanta Journal-Constitution and his mother, the late Donda West, was an English professor at Clark Atlanta University and Morris Brown College—so his ties to Atlanta run very deep.
As for the music, fans are still in a frenzy after hearing "DONDA" for the first time, which features a surprising reunion between Kanye West and Jay-Z that literally broke the Internet last night. Other artists featured on the album include Rihanna, Lil Baby, Roddy Ricch and Travis Scott.
Meanwhile, the wait continues, as "DONDA" has still not dropped on streaming services…likely because Kanye is still putting the perfect finishing touches on it.
Want tea directly in your text inbox? Hit us up at 917-722-8057 or  click here to join!
Rosie O'Donnell Didn't Know She Spoiled Fight Club's Ending
"I only found it out a long time after the incident."
The first rule about fight club? You definitely don't spoil the ending of Fight Club on your talk show.
Apparently Rosie O'Donnell didn't get that memo back when the film debuted in 1999.
And to make things worse, Rosie says she didn't realize she spoiled the ending for YEARS!
"I was just talking. I didn't think it was good…it annoyed me, the movie. It just annoyed [me]. I was saying the Sixth Sense makes sense, but this one doesn't make sense because the thing at the end is sort of, well, I don't know — that's what I said," Rosie explained on SiriusXM.
"Nobody said jack shit to me for a good three years, maybe even four years — and I knew Courtney Love. She says, on my show, she says to me, 'Oh my god, Ed Norton and Brad Pitt, they're so mad at you for what you did,'" Rosie revealed.
She continued, "I was like, 'What did I do?' It was three years later! She says, 'You ruined the Fight Club ending.' I only found it out a long time after the incident."
"So apparently I was loathed by the men in that for a long time, possibly still, but I had no idea that I had even done it," Rosie shared.
It seems like the men have put the incident behind them though, as Edward later appeared on Rosie's radio show and didn't mention it.
As for what Rosie learned from the situation? She should be a little more careful about her movie reviews.
BuzzFeed Daily
Keep up with the latest daily buzz with the BuzzFeed Daily newsletter!