18 Celebrity Couples Who Met Before They Were Famous
Some of these stories are straight out of a rom-com!
Celebrity couples come and go, but some of the strongest relationships in Hollywood started long before they were walking red carpets together.
Here are 18 celebrity couples who met each other before they were famous:
1.
Ed Sheeran had a crush on Cherry Seaborn when they were both students at Thomas Mills High School, and they reconnected in 2015 when she was working on Wall Street and he was playing shows in New York.
2.
Ellie Woods and Jordan Fisher were best friends for more than a decade before they started dating, and he proposed to her on the same beach where he fell in love with her.
3.
While they were students at Northwestern University, Julia Louis-Dreyfus auditioned for a play that Brad Hall was producing.
4.
LaTanya Richardson and Samuel L. Jackson were both studying theater at different colleges in Atlanta when they met through a drama program.
5.
Mike "the Situation" Sorrentino and Lauren Pesce started dating during college, broke up before he started filming Jersey Shore, and reunited in 2013.
6.
In 1987, LL Cool J was driving his mom's car down the block when he stopped to say hello to a friend, who introduced the 19-year-old rapper to his cousin Simone Smith.
7.
Elizabeth Banks and Max Handelman met on their first day as undergraduates at the University of Pennsylvania.
8.
When Ron Howard was a junior at John Burroughs High School, he met Cheryl Alley, and "there was never anybody else."
9.
LeBron James and Savannah Brinson attended rival high schools, but they connected through a mutual friend who gave Savannah LeBron's number.
10.
Dorothea Hurley and Jon Bon Jovi started dating while they were both students at Sayreville War Memorial High School, and they've been together ever since.
11.
Ali Hewson and Bono met as classmates when they were 12, and for him, it was love at first sight.
12.
Lauren Akins and Thomas Rhett first met in kindergarten, briefly dated as high school sophomores, reconnected at her sister's graduation party in 2011, and got back together.
13.
Snoop Dogg and Shante Broadus started dating when they were both students at Long Beach Polytechnic High School.
14.
Kathleen Treado and Jeff Daniels were high school sweethearts in their hometown in Michigan.
15.
Stephen and Ayesha Curry met as teenagers in their church's youth group, and they went on their first date to Hollywood Boulevard a few years later.
16.
Misha Collins was the only boy in the high school English class where he met Victoria Vantoch.
17.
Heather Morris and Taylor Hubbell went to the same high school, but they didn't meet until he reached out to her over Myspace in college.
18.
And finally, Courtney B. Vance and Angela Bassett first met as students at the Yale School of Drama, but they didn't start dating until their paths crossed again in LA 14 years later.
BuzzFeed Daily
Keep up with the latest daily buzz with the BuzzFeed Daily newsletter!
Here Are 50 Famous Historical Figures — You Better Remember At Least 35
We all know what Albert Einstein looked like, but to pass this quiz, you'll need to know a lot more than that.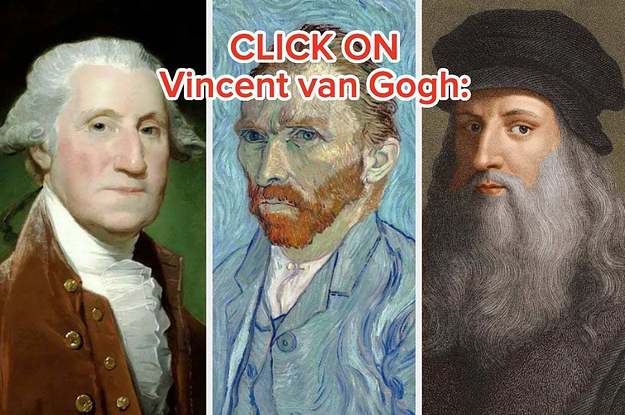 ---
Wendy Williams Does Not Want An Advisor For Wells Fargo
Wendy Williams has been in a nasty legal battle with Wells Fargo for months. The bank has withheld the talk show vet's money because the company believes she is a "victim of undue influence and financial exploitation."
This was after her former financial advisor, Lori Schiller, allegedly stated Wendy is of an "unsound mind" and not capable of handling her own financial affairs.
As a result, a judge has now appointed a financial guardian over Wendy's accounts and she is not happy about it, The Sun reports.
In an exclusive statement obtained by The Shade Room, Wendy's attorney, LaShawn Thomas, stated the 57-year-old doesn't want anyone telling her how to spend her money.
Please be advised that Wendy is not in agreement with the appointment of a financial guardian by the court. Wendy has been very clear that she does not want a financial guardian to tell her what she can and cannot do with her money.
Thomas also states Wendy is capable of handling her own finances.
Wendy feels that she is capable of hiring her own financial advisors who work for and report to her and not to the court.
Thomas also expresses this is an attempt to lessen the wrongdoing of Wells Fargo.
We believe that this story has been put forth in an attempt to lessen the public outcry and regulatory scrutiny mounting around Wells Fargo due to their actions.
Before the judge handed down the decision, Wendy took to Instagram and pleaded with the financial institution to give her access to her money back in March.
She stated:
Wells Fargo has no questions and answers regarding my money. This is not fair. And Lori Schiller and Wells Fargo have this guardianship petition about keeping me away from my money.
Wendy also mentioned her former doctor she fired, and Wells Fargo using her hospital records against her.
Then there's this person. A former doctor had medical information about me that I never even got. It was sent over to Lori Schiller. So, I haven't gotten this stuff. I fired this doctor and, again, all I want to know is where is my money? This is not right, and certainly, this is not fair.
Wendy ended the video with "please let me have access to my money."
Roomies, what do you think about this situation?
Video: 42 Dugg Ft. Arabian "Soon"


Be back soon. 42 Dugg may be doing his time, but he assures his return on his emotional record "Soon" featuring Arabian. Backed by a piano loop and Arabian's assistance on the hook, the Detroit rapper takes a moment to reflect on love and family and looks for better days ahead. 42 Dugg was arrested […]



Source link