Aly & AJ Open Up About New Record, Disney Channel
As you know, teen idols and sister duo Aly & AJ are back — after more than a decade and a half.
One of the biggest changes, Aly said, was actually having experienced what their songs are about, like "heartbreak or living on our own."
"I think we've gotten more comfortable with just being in a room with a co-writer that we've met, and we just kind of dive into writing," she continued. "Whereas I think when we were younger, we were a little more timid in our ideas or even just feeling like we could be completely ourselves in a session."
And, of course, their sound has evolved greatly. "I think we're more fearless with like, 'Alright, if this is something that speaks to us, great,'" AJ said. "We're not trying to write radio; we're not trying to write for a specific platform — we're writing for ourselves and our fans. And I think that's key."
As a result, the duo said their music leans heavily into the rock genre: "It has hooks, but it's not at all like a pop record," Aly shared. "And so I think that we're embracing that even more," she continued, describing the album as more "Americana, kind of greasy alternative rock music" with "classic songs."
After being in the industry for so long, the sisters said they've learned to compromise and aren't as "hard-headed" as they used to be. "[We were like,] 'No, this is the lyric,' and were just ready to die on the spot for it. But now we're not nearly as precious about it."
As part of their comeback, the sisters are reuniting with fellow Disney alumna Miley Cyrus, who they're opening for at Lollapalooza in less than a week. "We haven't seen her in years, and I'm excited to just congratulate her on the new music, and I really think she's found her sound," AJ said.
Speaking of Disney, the duo said they were grateful for the network, but it wasn't all rainbows or sunshine, either: "There were other moments where it was frustrating because we were having to defend our art or talk to 50- or 60-year-old guys about lyrics that we had written that were for our fans, and they were criticizing that. And that just feels yucky," Aly said.
More broadly, the sisters reflected on growing up in the spotlight and starting out in the industry at a young age: "It's really kind of bizarre, and you do have to grow up really fast, and you're protected as much as possible by your parents, but it's a very weird world to be in at such a young age," AJ said.
But what thankfully made it easier for the two was each other: "We were this duo together, and then we had another sibling that was in the industry at the exact same time going through it. I think, if anything, that was like our superpower."
BuzzFeed Daily
Keep up with the latest daily buzz with the BuzzFeed Daily newsletter!
Hamilton Facetime After Emmys And More Celeb Tweets
Britney Spears Told The Story Of Justin Timberlake Giving Her A "5 Minute Pep Talk" Before Her 2001 MTV VMAs Performance After He Finally Apologized For His Past Treatment Of Her
This is the second time that Spears has made reference to her ex-boyfriend since he extended an apology for his past treatment of her following their 2002 breakup.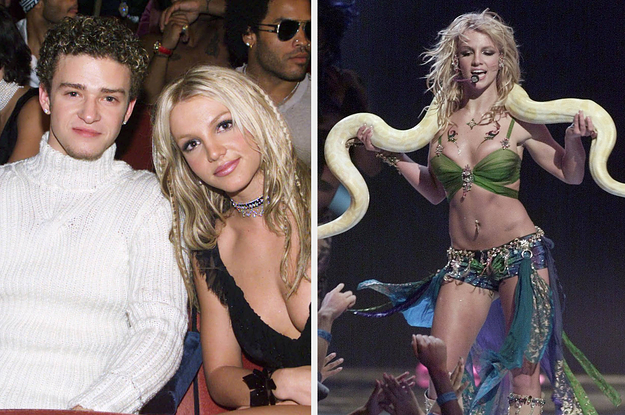 ---
The 25 Best Love Island UK Contestants, Ranked
Lovely, lovely Kaz, always stylish, has this infectious, confident, energetic kindness. Also, she is ridiculously good in an argument.
Unfortunately, many Series 7 men were blind. Kaz spent her first days with an uninterested Toby (who we'll get to, don't worry), then she went on dates with the A+ Teddy and the too-bad-to-discuss Danny, both of which did not go anywhere except the aces friendship couple of Kaz and Aaron. Then Tyler walked in, charm, extraversion, and beauty headed straight for Kaz, and she was smitten. Though, quite soon, Tyler forgot she existed at Casa Amor, which was the catalyst's for Kaz to couple up with Matthew. In the aftermath, Kaz calmly, clearly, concisely, extremely intelligently ripped Tyler to shreds. 
But they gravitated towards each other again. Within weeks, Tyler asked Kaz to be exclusive in an homage to Love Actually because Kaz adores rom coms. The couple came in fourth place, but they should have come in at least third. At least. Kaz was astute, fun, wise, empathetic, suave, and an exceptionally first-rate friend, notably to Liberty. Their perfect friendship was the best relationship of Series 7 by a thousand miles.
If you think the treatment of Kaz, including how she and Tyler placed fourth as the first entirely Black couple in a finale, does not have to do with racism, look inward and see how wrong you are. Love Island isn't good to Black women, particularly dark-skinned Black women. Kaz had to swim upstream in a system designed to eliminate her from the show. She isn't on this list because of that, she's here because of her impeccable personality and (somewhat) her drama, but the role racism played in Kaz's experience cannot go unmentioned. 
During all the fights, snakes, and lesser men vying for superior women, Kaz was battling a much more prodigious war, one she did not sign up for.
In the end, Kaz slayed the lawless, icy, ever-reigning goliath: Love Island.