BTS's "Permission To Dance" Provides Radical Happiness
In "Life Goes On," their No. 1 single released in November last year, the members of BTS reached out a reassuring hand.
"Close your eyes for a moment / Hold my hand," they sing before launching into the chorus. "To the future, let's run away."
It feels as though that future finally arrived on Friday, with the release of the group's latest single, "Permission to Dance." Cowritten by Ed Sheeran — along with Jenna Andrews, Steve Mac, and Snow Patrol's Johnny McDaid — the song is packed full of irresistibly bouncy piano bars and lyrics written with the sole intention to uplift. According to the group's label, Big Hit Music, "Permission to Dance" is "dedicated to anyone who is having a bad day or is discouraged in the face of reality."
Providing comfort in the midst of darkness is what BTS does best; it is what they have always done, throughout the eight years since their debut. When the COVID-19 pandemic began, forcing the group to indefinitely postpone their upcoming worldwide stadium tour, RM, Jin, Suga, J-Hope, Jimin, V, and Jungkook threw themselves into their new mission to provide their fans, ARMY, with a distraction from the despair. "Permission to Dance" is the latest single in the group's series of pandemic-produced work, which includes last summer's smash hit "Dynamite," current Billboard No. 1 single "Butter," and their November album BE.
"Most of the music I grew up listening to talked about dreams, hope, and introspection in the midst of despair," rapper Suga told BuzzFeed News in May, when the group released "Butter." "I got influenced by that kind of music and became who I am today. So in turn I also want to give that kind of influence."
Where the music of the past year has provided distraction and companionship and melancholy understanding, "Permission to Dance" offers another type of comfort: the hope that that future promised in "Life Goes On" is only just around the corner. That hope manifests physically in its music video as an omnipresent flock of balloons in varying shades of purple — the signature color of BTS and ARMY. A newspaper headline seen in the song's teaser, released earlier this week, reads: "Harbingers of hope: Purple balloons signify the end of COVID-19."
As always, the music video is full of these subtle nods to the BTS ARMY, even down to its release date — July 9, 2013, was the day the group's fans were officially given their name, and every year the fandom celebrates its anniversary on this day. But "Permission to Dance" also celebrates community on a wider scale, spotlighting a diverse cast of characters from across the globe and, in doing so, promising that the message of hope conveyed with the song is extended to everyone, without exception. The inclusivity of the song's message is reflected even in its choreography, which integrates the international sign language for "dance," "fun," and "peace" into its bridge.
A particular spotlight on service workers throughout the video evokes the message of BTS's 2018 song "Anpanman." Inspired by the Japanese picture book hero of the same name, that song was a promise by the members to give their all in improving the lives of fans; when they debuted its performance, they dressed in the uniforms of firefighters and construction workers, the everyday superheroes who do the same. They performed it again on the Today show in 2020, at the height of the COVID-19 pandemic, when healthcare professionals were rightfully being heralded as our frontline heroes.
"Permission to Dance" presents something similar: scenes of masked-up employees in an office, being welcomed back after a year away; a server dancing alone in an empty diner; a janitor ballroom-dipping a teacher in a deserted school hallway; a mail carrier catching sight of one of those ever-present purple balloons as she goes about her duty. The final 60 seconds of the music video is dedicated to the crew who works with BTS behind the scenes: a crowd of stylists, choreographers, makeup artists, every one of the multitude of people who do the supporting work to make music happen, dancing the song's choreography alongside the stars themselves. It's a warming celebration of community, and fine, I'll admit it: It melted my pessimistic heart. (Like butter. Heh.)
The message of "Permission to Dance" is by no means revolutionary, but to process it with a completely uncynical mind feels radical nonetheless. As humans, we are so predisposed to denying ourselves joy, and it can feel inappropriate — or just straight-up impossible — to be happy after almost a year and a half of increasingly dragging hopelessness.
"Permission to Dance," though, is a refreshing reminder that not only is happiness possible, but there is no shame in feeling it — even if only, to begin with, for the three-minute-and-seven-second duration of a carefree summer pop song.
Courtney Stodden Said Chrissy Teigen Should "Stop Griping" And "Do Some Charity Work" After Chrissy Complained Again That "Cancel Club" Is "Like A Secret Society"
Courtney denied Chrissy's claims that she'd reached out via text to apologize after the cyberbullying backlash and said Chrissy should "stop griping about being canceled."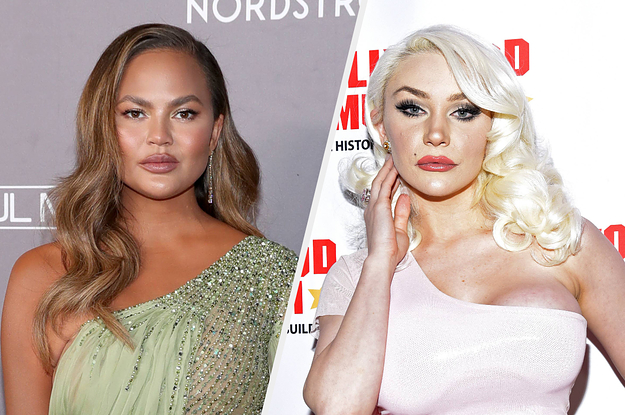 ---
Atlanta Officials Formally Declare July 22nd 'Kanye West Day!'
#Roommates, as the City of Atlanta filled the Mercedes Benz stadium last night to capacity for Kanye West's "DONDA" listening party, backstage before the show Ye was given an incredible honor from the city where he was born. As he was preparing to premiere his new album, Kanye West was honored by Atlanta city officials—who formally declared that from now on, July 22nd is "Kanye West Day" in the city.
Dressed head-to-toe in an all-red Yeezy ensemble reminiscent of his "My Beautiful Dark Twisted Fantasy" era back in 2010, Kanye West was smiling behind his mask while estranged wife Kim Kardashian, Khloe Kardashian, members of his entourage, as well as his family and friends witnessed the official proclamation from the city of Atlanta—making it official that he now has his very own day.
In case you didn't know, Kanye was born in Atlanta and lived in the city until he was three years old following his parents divorce. His father, Ray West, was a photojournalist with the Atlanta Journal-Constitution and his mother, the late Donda West, was an English professor at Clark Atlanta University and Morris Brown College—so his ties to Atlanta run very deep.
As for the music, fans are still in a frenzy after hearing "DONDA" for the first time, which features a surprising reunion between Kanye West and Jay-Z that literally broke the Internet last night. Other artists featured on the album include Rihanna, Lil Baby, Roddy Ricch and Travis Scott.
Meanwhile, the wait continues, as "DONDA" has still not dropped on streaming services…likely because Kanye is still putting the perfect finishing touches on it.
Want tea directly in your text inbox? Hit us up at 917-722-8057 or  click here to join!
Rosie O'Donnell Didn't Know She Spoiled Fight Club's Ending
"I only found it out a long time after the incident."
The first rule about fight club? You definitely don't spoil the ending of Fight Club on your talk show.
Apparently Rosie O'Donnell didn't get that memo back when the film debuted in 1999.
And to make things worse, Rosie says she didn't realize she spoiled the ending for YEARS!
"I was just talking. I didn't think it was good…it annoyed me, the movie. It just annoyed [me]. I was saying the Sixth Sense makes sense, but this one doesn't make sense because the thing at the end is sort of, well, I don't know — that's what I said," Rosie explained on SiriusXM.
"Nobody said jack shit to me for a good three years, maybe even four years — and I knew Courtney Love. She says, on my show, she says to me, 'Oh my god, Ed Norton and Brad Pitt, they're so mad at you for what you did,'" Rosie revealed.
She continued, "I was like, 'What did I do?' It was three years later! She says, 'You ruined the Fight Club ending.' I only found it out a long time after the incident."
"So apparently I was loathed by the men in that for a long time, possibly still, but I had no idea that I had even done it," Rosie shared.
It seems like the men have put the incident behind them though, as Edward later appeared on Rosie's radio show and didn't mention it.
As for what Rosie learned from the situation? She should be a little more careful about her movie reviews.
BuzzFeed Daily
Keep up with the latest daily buzz with the BuzzFeed Daily newsletter!