Cynthia Bailey Speaks On Her Wendy Williams Interview, Comments About NeNe Leakes, Her Reality TV Future & Her New 4TH Of July-Themed Partnership With Seagram's! (Exclusive)
#Roommates, Cynthia Bailey has graced our TV screens for the last 11 seasons as a co-star on Bravo's long-running hit series, "The Real Housewives of Atlanta,"—but as talk surrounds the upcoming season and who will remain a peach-holder, Cynthia gave us the tea about the show, the recent viral Wendy Williams interview, her comments about former bestie NeNe Leakes and how she's celebrating the 4th Of July with a new partnership with Seagram's!
Getting right into it, Cynthia spoke about being practically blind-sided by Wendy Williams commenting that she should be fired and asking Cynthia who she would like to see never return to the "RHOA" franchise. When we asked her if she still believes that her former friend NeNe Leakes' time on the show has passed, she stated "She recently did an interview with a blogger stating that I should not return to RHOA & should have never been on "RHOA" in the first place. This is someone I considered to be a friend for most of my time on the show. Friends or not, I have always consistently & publicly had only POSITIVE things to say about her in regards to "RHOA." So when Wendy asked me that question I said her name. At this point, I have no concerns/thoughts on whether or not her time on the show has passed, or thoughts/concerns about her in general. I have moved on."
Cynthia also got candid about what her future would hold if she didn't return to "RHOA" for the upcoming season and if she would ever consider doing reality TV again. "Absolutely! Preferably not drama based. I have been on RHOA consistently as a peach holder for over a decade, and I would like to focus on the next chapter of my journey with a little less drama. I have a few projects that I can't talk about yet on the table. On camera & behind the scenes. I have also focused on my acting career. BRAVO has been amazing to me. My journey with the show has been incredible. When my time is up, I will leave the same way I came in, with gratitude, grace & class," she said.
Getting over the drama and back to her happy place, Cynthia filled us in on how life has been as a newlywed to her husband Mike Hill. "Married life has been awesome! We have been married for 8 months now, and look forward to celebrating our 1 year anniversary 10/10/21. As a newlywed, my focus is finding the perfect balance between work and my personal life. Making time for one another, spending quality time together. As an entrepreneur, it is a struggle because I am always traveling & working. Mike is a good man & a good person. He is solid. WHOLE!I am so blessed. I got a husband, and a best friend. We are not perfect but we are perfect for each other," Cynthia told us.
Finally, Cynthia is on to bigger and better things, like her brand new partnership with Seagram's Escapes just in time for the 4th Of July—including a new cocktail recipe that's perfect for summer. "I started working with Seagram's Escapes in 2018. I just loved that they were a female-focused brand that really wanted to just empower women. It was a really natural fit for me. Together we launched my signature flavor – Peach Bellini – in 2019! Since launch, it's become a top favorite with Seagram's Escapes drinkers!"
She also included a recipe to get your ready for your all your summer festivities:
"This 4th of July I'll be celebrating with the Seagram's Escapes Italian Ice Variety Pack Featuring Cherry, Lemon and Blue Raspberry Italian Ice! This pack is so much fun for patriotic Red White and Blue Cocktails.
One of my favorites is called the Red White and Blue Slush:
Red White and Blue Slush: For each layer, combine two cups of ice, 1 oz. vodka and 1 cup of either the red, white or blue Italian Ice – one layer for each color! Blend each layer separately until smooth. Store mixtures in the freezer until you're ready to build the cocktails. Divide evenly between 4 glasses, stacking red, white and blue layers and enjoy!"
Want tea directly in your text inbox? Hit us up at 917-722-8057 or click here to join!
GLAAD's Statement On Ricky Gervais' Netflix Special
"We watched the Ricky Gervais 'comedy' special on Netflix so you don't have to."
Comedian and actor Ricky Gervais has a new special, Supernature, on Netflix starting today.
Throughout the special, Ricky makes several offensive jokes about trans people. At one point, he actually claims to "support trans rights" — before ending on another joke about trans people.
People are understandably upset, and this afternoon, GLAAD issued a statement condemning the special's "anti-gay rhetoric" in a series of tweets.
"We watched the Ricky Gervais 'comedy' special on Netflix so you don't have to," the statement began. "It's full of graphic, dangerous, anti-trans rants masquerading as jokes. He also spouts anti-gay rhetoric and spreads inaccurate information about HIV."
"Attention Ricky and Netflix: people living with HIV today, when on effective treatment, lead long and healthy lives and cannot transmit HIV to others."
"Netflix has a policy that content 'designed to incite hate or violence' is not allowed on their platform, but we all know that anti-LGBTQ content does exactly that. While Netflix is home to some groundbreaking LGBTQ shows, it refuses to enforce its own policy in comedy."
"The LGBTQ community and our allies have made it very clear that so-called comedians who spew hate in place of humor, and the media companies who give them a platform, will be held accountable. Meanwhile, there are PLENTY of funny LGBTQ comedians to support."
This isn't the first time Netflix — as well as a comedian whose work is primarily featured on Netflix — has faced backlash from GLAAD (as well as the LGBTQ+ community at large) for offensive content.
In October of last year, GLAAD also spoke out against Dave Chappelle's controversial Netflix special The Closer, which also featured anti-trans remarks from the comedian.
"Negative reviews and viewers loudly condemning his latest special is a message to the industry that audiences don't support platforming anti-LGBTQ diatribes," GLAAD said in a statement at the time. "We agree."
(Video) President Biden Addresses The Texas Elementary School Mass Shooting
President Biden made an emotional speech, urging for stronger gun laws and America to stand up to violence, after a Texas mass shooting took place at Robb Elementary School in Ulvade, TX claiming more than 20 lives.
In less than two weeks after the Buffalo, NY mass shooting, Biden had to face the American people once again and speak about another mass shooting that claimed the lives of elementary students and teachers.
Learning of the shooting on his way back from his trip to Asia, Biden took a minute to sympathize with parents and loved ones who can relate to losing a child, as he has lost his son, Beau, in 2015. Starting out his speech, he stated:
To lose a child is like having a piece of your soul ripped away. There's a hollowness in your chest, [and] you feel like you're being sucked into it, never able to get out…suffocating. It's never quite the same.
Demanding action on gun control, Biden asked:
When, in God's name, are we going to stand up to the gun lobby? When, in God's name, will we do what we all know in our gut needs to be done?
Full of emotion, Biden said he was "sick and tired," of the violence, and he posed another question:
How many scores of little children … witnessed what happened — see their friends die, as if they're on a battlefield, for God's sake?
Biden also wondered why are we willing to live in this type of chaos.
Why are we willing to live with this carnage? Where in God's name is our backbone?
According to ABC News, Governor
Greg Abbott has identified
the suspect as 18-year-old deceased suspect Salvador Ramos. During an unrelated press briefing, Governor Abbott spoke about the Uvalde High School student. At the moment, he is accused of killing 19 kids and two adults, according to CNN.
Roomies, please continue to keep the families impacted by this tragedy in your prayers.
Artist Dre Banks recoups monies in less than a year under XMG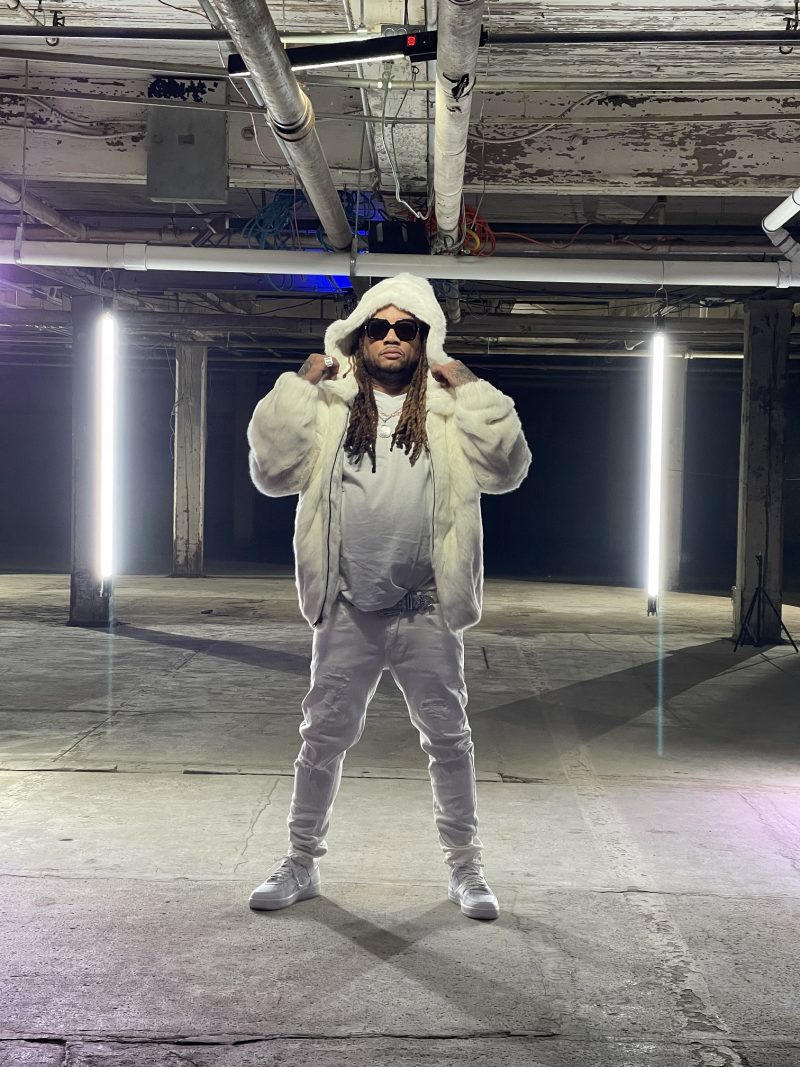 Dre Banks is a fast-rising American artist who has been a staple in the midwest rap scene, hailing from Grand Rapids Michigan. He started like many other young men in the inner city. He was pulled into the allure of the streets and then, unfortunately, found himself caught up in the system.
After being caught in this revolving door he knew it was time for a change. "I knew I had to break it and make the change myself. I knew I had to start from scratch and get back to just the music," he says. With a clean slate and a new focus, Dre Banks hit the studio to prep his freshman release entitled "Check" which hit streets in October of 2015, again featuring Amil as well as another New York hip-hop legend, AZ, and was co-executive produced by Dre's childhood friend of many years, Baby Paul aka BpZy (formerly of "Da Beatminerz") – producer for talented artists like Nas, AZ, Fat Joe, Remy Ma, Dj Clue, Consequence, others.
In 2018, Dre followed up with a street album released on the internet for promotional purposes entitled, "Coke Iz It" hosted by legendary Queens NY mixtape staple, Dj Mr. FX. The project featured Jay-Z protégé Amil, Nature, of the New York supergroup, The Firm, and Roc-a-fella Records/State Property veteran Omillo Sparks (of Oschino and Sparks). Currently Dre Banks is an independent artist who has a distribution agreement with XMG (Xxelulous Music Group) which is under 300ENT/Sparta.
In support of the release, Banks performed several show dates along a mid-Atlantic and northeast tour with various artists at each venue. Striving to stay consistent with his music, Dre Banks is already putting the finishing touches on his next project "Checkmate" for release in the 2nd quarter of 2022, the new album will include the HIT single, "Boyfriend, Girlfriend" ft. Trina of  "Love and Hip Hop" fame.
This song was released in 2020 and streamed over 1.5 million plays on Spotify along with the catchy street anthem "Off the Chain" which is currently streaming at over 2.5 million plays on Spotify.
Can you share the most interesting story that happened to you since you started this career?
Dre Banks – I believe the opportunity to meet the legendary female rap star Trina to collaborate on my record, "Boyfriend, Girlfriend" was an interesting moment for me, we had so much fun together shooting the music video in Miami.
Can you share a story about the funniest mistake you made when you were first starting? Can you tell us what lesson you learned from that?
Dre Banks – I would say the funniest mistake was agreeing to do business with an independent label called "Real Life Music" based in Kansas, the owner had fewer resources and financial backing to support my music releases than I did on my own previously but I had to discover this after the fact!
What are some of the most interesting or exciting projects you are working on now?
Dre Banks – I am currently working on my album "Checkmate" which will feature legendary artists like Styles P of the LoX, Trina, AZ, Ms. Toi, and singer extraordinaire Ne-Yo all coming this year in 2022!
Who are some of the most interesting people you have interacted with? What was that like? Do you have any stories?
Dre Banks – I would say I met Benzino of LHH "Love and HipHop" fame, we got to tour together in the midwest and also made a song and video together – It was a crazy time on tour with Benzino, we were driving on the highway doing 90 mph, and the Ohio state police who are notorious for pulling people over stopped us on the road and gave us a ticket for having a half-ounce of marijuana and for speeding!
IG: @iamDreBanks