Dictionary.com Adds More Than 300 Words To Their Site Including 'Y'all,' 'Zaddy,' and 'Aunt Jemima'
Roommates, the next time someone tries to say "y'all," "yeet" or "zaddy" isn't a word, go ahead and pull up Dictionary.com on them! The online source for everything words has reportedly added more than 300 words and updated definitions to their catalogue. According to CNN, this round of additions features terms related to "Covid-19 pandemic, race, technology and pop culture."
John Kelly, who is the managing editor of the website, explained in a news release that changes in language are useful for helping people navigate the "complicated and challenging society we live in." John also clarified that other times, language changes can be "just for fun."
"Perhaps these lighter slang and pop culture newcomers to our dictionary reflect another important aspect of our time—a cautious optimism and a brighter mood about the future ahead after a trying 2020."
Well, whoever is expanding their catalogue is definitely tapped into social and cultural conversations! Some additions like "oof," "snack," "y'all," "zaddy," and "yeet" are an ode to popular slang talk often seen across social media sites.
Dictionary.com defined "y'all" as you (used in direct address usually to two or more people, or to one person who represents a family, organization, etc.). Meanwhile "zaddy," is defined as "an attractive man who is also stylish, charming, and self-confident."
Categorized under race additions are words like "Aunt Jemima," which is defined as a "disparaging and offensive" word meaning "a Black woman considered by other Black people to be subservient to or to curry favor with White people." Additional words in that category include: "black code," "cultural appropriation" and "one-drop rule."
Dictionary.com has seemingly been moving into a space of representing language used during the unpredictable times of COVID-19, but also commonly in pop culture.
Other interesting and new additions include: "cultural appropriation," "black code," "5G," "domestic terrorism" and "ghost gun."
Want updates directly in your text inbox? Hit us up at 917-722-8057 or click here to join!
Selena Gomez Kidney Transplant Joke On The Good Fight
The Selenators strike back. 👀
If you thought the Beyhive was fierce, you don't know the Selenators.
On Tuesday, Selena Gomez's fanbase came to her defense after a joke on the series The Good Fight poked fun at her expense.
The joke was featured in Season 5, Episode 4, where characters are having a discussion about comedy and cancel culture.
While talking about what is okay or not okay to joke about, one of the characters asks another, "Selena Gomez's kidney transplant?"
Fans were very quick to call out the tasteless humor online.
Another fan couldn't believe that we're still not evolved past the tasteless humor.
A lot of fans agreed that her health is a "very sensitive topic" that should not be mocked.
This is the second time a TV series has drawn backlash for joking about Selena's kidney transplant.
In November of 2020, an episode of the Saved By the Bell reboot was called out for making a similar joke. Peacock, UTV, and executive producers issued an apology and pulled the scene from the episode.
Selena hasn't commented about the jokes, but it seems she's far too busy living her best life. Honestly, I wouldn't have it any other way.
BuzzFeed Daily
Keep up with the latest daily buzz with the BuzzFeed Daily newsletter!
Simone Biles Wins A Bronze Medal In The Women's Balance Beam-Earning Her 7th Olympic Medal
On Tuesday Simone Biles made her return to the floor to compete during the Women's Balance Beam, and her return to the competition was definitely one for the books as she walked away with her seventh Olympic medal.
Simone earned a bronze medal after competing on the balance beam. Adding the medal to her collection has caused her to make history once again. She is now tied with Shannon Miller as the most decorated U.S. gymnast. Of the seven medals that each gymnast holds, Simone has a total of four gold medals and Shannon has two.
According to ESPN, Simone finished with a performance score of 14.000 after performing third in the event.
Yahoo Sports reports that Simone spoke about her performance and said, "I was just happy to be able to perform regardless of the outcome. I did it for me and I was happy to be able to compete one more time … Training for five years and coming here and kind of being triggered and not being able to do anything wasn't fun."
Simone "flawless" Biles 😍🥳🤩

#SimoneBiles #ArtisticGymnastics #GiochiOlimpici #OlympicGames #ginnasticaartistica #Tokyo2020 pic.twitter.com/BC8NXtRaWX

— Ludovica 熊猫🐼 (@ludovicasini101) August 3, 2021
As we previously reported, last week Simone made the decision to withdraw from her team's final competition and other individual events as she placed her focus on her mental health after experiencing the "twisties." The twisties are described as a "dangerous disconnect between the mind and body that causes gymnasts to become disoriented in the air during twisting skills."
She was met with support from all over and applauded for prioritizing her mental health.
Want updates directly in your text inbox? Hit us up at 917-722-8057 or click here to join!  
TSR STAFF: Jade Ashley @Jade_Ashley94
31 Times Famous People Were Nothing But Rude To "Regular" People And Let Them Down In The Worst Ways Possible
Celebs don't owe anyone anything, but that doesn't give them the right to be this mean.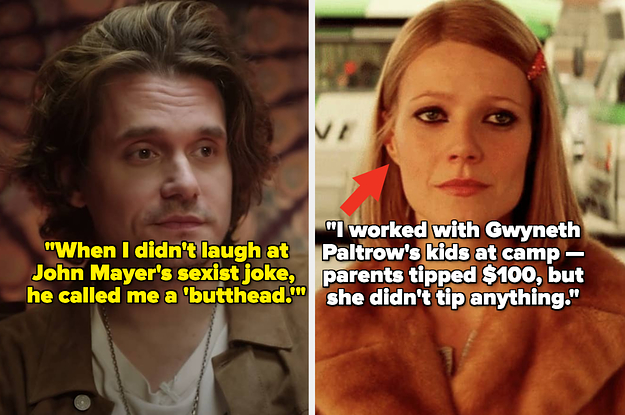 ---