Dubai Opens The World's Deepest Diving Pool (Video)
Dubai might have just changed the game with this one! As folks are starting to plan their vacations and excursions, y'all might want to check this out! Dubai is already known for having the world's tallest skyscraper and largest mall, so it only makes sense to have another big attraction! According to CNN Travel, Dubai has opened another record-breaking tourist attraction with the world's deepest dive pool.
The pool is inside a 1,500-square-meter oyster-shaped structure. It has 14 million liters of freshwater, equivalent to the volume of six Olympic-sized swimming pools. It's at least four times bigger than any other diving pool in the world. As of June 27th, Guinness Book of World recorders awarded it the "Deepest swimming pool for diving" title.
One of the cool parts about the pool is divers can explore the "abandoned" sunken city apartments and participate in games underwater. The collection is equipped with state-of-the-art lighting and sound systems to create different atmospheres. In addition, the pool doubles as an underwater film studio. Suppose you're not a diver, no worries. The pool offers courses for both diving beginners and those who are certified divers. To ensure all divers' safety, 56 cameras are installed around the pool.
Divers should be advised that the water has a temperature maintained at 30 degrees Celsius (86 degrees Fahrenheit), a comfortable temperature for those wearing a thin wetsuit or a swimsuit. Currently, the pool is not open to the public. You have to receive an invitation to visit the pool—no need to worry. If you don't have a connection in the UAE, the pool will be open to the public by the end of the year.
Roommates, would y'all book a trip to this pool for your next vacation?
Want updates directly in your text inbox? Hit us up at 917-722-8057 or https://my.community.com/theshaderoom
Matt Damon Says He Recently Retired The F-Slur
"The word that my daughter calls the 'f-slur for a homosexual' was commonly used when I was a kid, with a different application," he said in the interview. "I made a joke, months ago, and got a treatise from my daughter."
"She left the table. I said, 'Come on, that's a joke! I say it in the movie Stuck on You!' She went to her room and wrote a very long, beautiful treatise on how that word is dangerous."
"I said, 'I retire the f-slur!' I understood."
As The Hollywood Reporter points out, Damon also addressed criticisms he faced from his previous comments surrounding the many allegations against disgraced producer Harvey Weinstein.
"I understand," he said in the interview. "It's a fair point. Anybody should be offended by that behavior."
He also claimed that his interview comments are being received differently than they used to be: "Twenty years ago, the best way I can put it is that the journalist listened to the music more than the lyrics [of an interview]. Now your lyrics are getting parsed, to pull them out of context and get the best headline possible."
"Everyone needs clicks. Before it didn't really matter what I said, because it didn't make the news. But maybe this shift is a good thing. So I shut the fuck up more."
BuzzFeed Daily
Keep up with the latest daily buzz with the BuzzFeed Daily newsletter!
Fans Are Pointing Out Which Celebrities Deserved Better From Critics And The Media
"Let's not forget the full-page daily countdown leading up to Emma Watson's 16th birthday."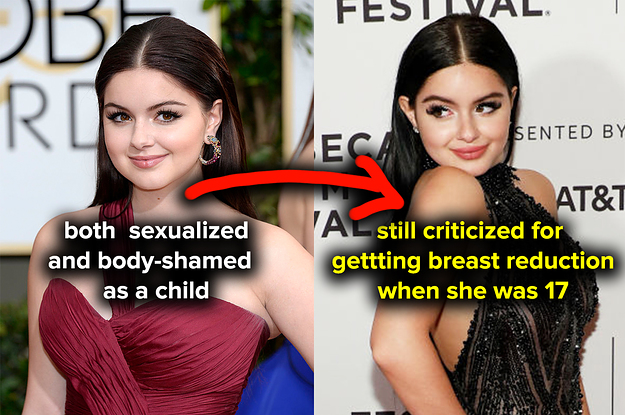 ---
MyKayla Skinner Dedicates Silver Medal To Simone Biles
MyKayla Skinner is now a silver medalist at the Tokyo Olympics in an event she didn't even expect to compete in.
She was able to compete in the vault competition on Sunday after Simone Biles pulled out of the event to focus on her mental health.
"I dedicate this medal to Simone," the 24-year-old athlete said. "I wouldn't be here today if it wasn't for her. I told her I would be doing this one for her. She said, 'Don't do it for me, do it for yourself,' so technically it's for all of us."
MyKayla, who will retire after these Olympic Games, originally thought her career would end a week earlier, ahead of the all-around team final competition that saw the U.S. team take home the silver medal.
But it wasn't in the cards for her to leave just yet, and she got to don her competition leotard one last time. "I feel so humbled to complete in the vault final, as I didn't think it was going to happen," she added. "I've worked very hard, took time off from college and was an alternate in 2016."
Her clean routine earned her a combined score of 14.916, and she placed second behind Brazil's Rebeca Andrade and ahead of South Korea's Yeo Seojeong.
"There have been so many times I've wanted to quit the last two years and throughout my entire gymnastics career," she wrote on Instagram following her podium finish. "I don't think most people know how hard this sport is on your body and mind. I'm grateful I never gave up and that so many of you never gave up on me ❤️ unfinished business…FINISHED🥈."
And we couldn't be more proud!
BuzzFeed Daily
Keep up with the latest daily buzz with the BuzzFeed Daily newsletter!