Fourtee's "Hustle" To Make It Out Of The Struggle Leads Him To Major Success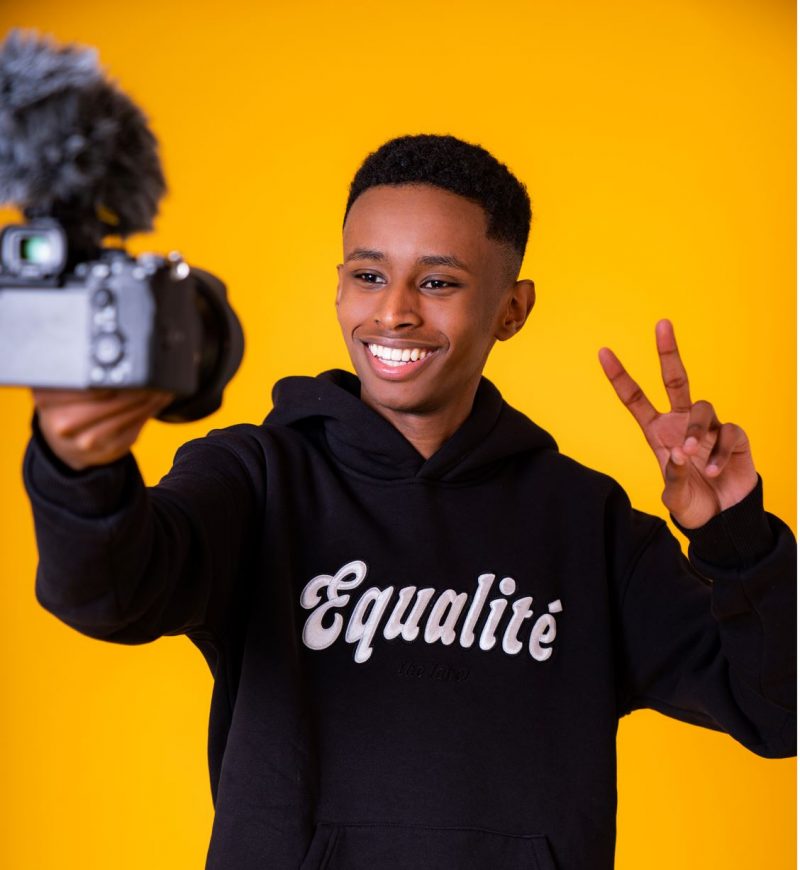 Achieving success in the music industry can be a tough journey to pursue. It was even more challenging in the world before digital media, where an artist had to go through tons of barriers to get into the mainstream. Thankfully, expansive social media usage has made it easier for artists to showcase their talents to the world. You can share your musical works on social media and gain much-deserved attention, paving your path to success. Transitioning from one niche to the other within the creative industry has also never been easier. However, you also need to be musically talented and passionate about the craft.
Mohamed Rashid, aka Chatmo, is a fast-rising musical talent making a name for himself in the industry. He is a classic example of a successful content creator turned artist doing exceptionally well in his new niche. Chatmo is a renowned YouTuber and music producer with vast experience in the industry. The 21-year-old hip-hop producer is also known for his unparalleled work ethic, evident throughout his projects.
Chatmo has mastered the art of conceptualizing his music and delivering the right message. His tunes offer a variety of sounds that flow together in an unusual yet joyful way. Chatmo has produced an incomparable music style through his originality, self-expression, and wit, which appears to be appreciated even outside his home country of the Netherlands' borders. The number of streams of this music is incredible, and he finds it quite inspiring to see the reactions he gets from his work.
In 2020, Chatmo was nominated as the 'Best Talent' by the Dutch Stream Awards, a nomination that helped cement his position in the game. Though he ended up in second place, Chatmo considers it a significant milestone and one that introduced his music to a more diverse audience.
Chatmo has already received another nomination in 2022 as 'Best Gamer' by The Best Social Awards. This award show is still ongoing, so the winner has yet to be determined.
"I'm actually not a gamer, but in addition to my well-known YouTube career and music career, I occasionally play a game on YouTube. I'm known for my funny, entertaining YouTube videos, but the beats show a different (more serious) side of me. Normally I'm known as that guy on the internet. I am convinced that if you believe in something, you can achieve it too. Perhaps one of the most standard things said by famous people, but it's true," Chatmo explains.
Though he has faced numerous challenges, Chatmo terms his biggest challenge to have been convincing himself that he could create great music.
"I have been making music from an early age, inspired by my friends around me. I didn't take my music seriously at the time; I did it for fun and not for work. Nowadays, I can inspire many young people who watch my YouTube videos and listen to my music," says Chatmo.
Over the next five years, Chatmo wants to accomplish a lot more in his music career. Working in collaboration with other great musicians is something he'd love to do. This is part of his strategy to reach a wider audience with his songs. Chatmo also hopes to encourage others by releasing more uplifting songs.
Spotify Chatmo: https://open.spotify.com/artist/4Xi0Ra0N4zanyChNrOayoW
Instagram Chatmo: https://instagram.com/chatmo
TikTok Chatmo: https://tiktok.com/@chatmo
YouTube Chatmo: https://youtube.com/chatmo
Wer weiß es? 😎🍁 #rap #rapper #usa #top5 #geld #finanzen #music
Kourtney Kardashian Slams Paparazzi During Travis Barker's Hospitalization
"A new level of low, monetizing off of our nightmare. Really savagely uncool when I actually didn't leave his side…shame on you."
Kourtney Kardashian and Travis Barker have spoken out about his "severe, life-threatening" pancreatitis, which left him in "excruciating" pain.
Travis was suddenly hospitalized at Cedars-Sinai Medical Center in Los Angeles last Tuesday after experiencing stomach pain so "extreme" that he was reportedly left unable to walk.
At the time, sources claimed that Travis's wife, Kourtney, had been first to take him to West Hills Hospital before he was transported by ambulance to Cedars-Sinai, and that she'd refused to leave his side throughout his entire stay.
Now, the drummer has opened up about his hospitalization first-hand, updating his Instagram followers over the weekend that he's "currently much better" in a candid statement shared to his story.
"I went in for an endoscopy Monday feeling great," Travis began. "But After dinner, I developed excruciating pain and have been hospitalized ever since."
"During the endoscopy, I had a very small polyp removed right in a very sensitive area, usually handled by specialists, which unfortunately damaged a critical pancreatic drainage tube," he revealed. "This resulted in severe life threatening pancreatitis."
"I am so very very grateful that with intensive treatment I am currently much better," he concluded.
Meanwhile, Kourtney shared a note of her own reflecting on the "scary and emotional" week she and Travis had had.
"Oh what a scary and emotional week it has been," she began. "Our health is everything and sometimes we take for granted how quickly it can change. Travis and I went in for a routine endoscopy together and he ended up with severe, life-threatening pancreatitis."
"I am so grateful to God for healing my husband, for all of your prayers for him and for us, for the overwhelming outpouring of love and support," she wrote.
"I am so touched and appreciative," she added, before also thanking the "specialists, doctors, and nurses at Cedars Sinai for taking such wonderful care" of both herself and Travis during their stay.
But then, Kourt went on to directly call out the paparazzi, claiming that they released weeks-old photos of her "out and about" while she was actually by Travis's side in hospital in order to spin a false and negative narrative.
The photos in question, we can assume, were those released by TMZ of Kourtney "out running errands" at a store in Encino, which they claimed were taken last Wednesday.
The outlet noted that Kourt was "dressed head to toe in Travis' DTA Records merch" in the pictures, adding that her getup appeared to be "the same outfit she was wearing when she took Travis to the hospital" the day prior.
However, refuting these claims entirely, Kourtney wrote on her Instagram story: "And to the paparazzi who sold pictures of me 'out and about' while my husband was in the hospital fighting for his life…these were photos actually taken weeks ago, (I can't even remember the last time I wore that sweatsuit in the photos)… I didn't forget about you."
"A new level of low, monetizing off of our nightmare," she went on. "Really savagely uncool when I actually didn't leave his side…shame on you."
TMZ have since published an update to their article featuring the photos of Kourtney, noting that the pictures were originally "represented [as] they were taken [on] Wednesday in Encino" by the licensing agency.
"We've spoken to sources close to Kourtney who tell us the photos are actually from several weeks ago, and she has not left the hospital since Travis was admitted," the outlet wrote.
This certainly isn't the first time that one of the KarJenners has directly called the paparazzi out for seemingly attempting to spark a misleading and negative story with the release of particular photographs.
Just a few weeks ago, in fact, Kourt's sister, Khloé Kardashian, shared a similar sentiment as she accused the paparazzi of releasing "calculated" pictures of herself and ex-boyfriend, Tristan Thompson, which wound up prompting tons of speculation that they'd rekindled their relationship.
In the pictures, Khloé could be seen walking alongside Tristan, whom she's dated on-and-off for years since 2016, as the pair left a pre-Father's Day lunch with their 4-year-old daughter, True. The exes seemed pretty cozy, and appeared to be embracing in one of the shots.
The photos marked the first time that the pair had been pictured out together since Tristan admitted in January that he'd fathered a child with another woman during his and Khloé's relationship.
Khloé has since explained that she and Tristan are no longer together, and simply maintain a relationship as coparents for the sake of True.
But given that Khloé has long faced scrutiny over her past decisions to get back together with Tristan following two different cheating scandals in 2018 and 2019, the reality star suggested that the paparazzi had calculatedly released the photos of the pair and not other pictures of her sisters Kim Kardashian and Kylie Jenner, who had also been present for the meal with their own children's fathers, Kanye West and Travis Scott.
"Hummmm Very calculated of the paparazzi to not release photos of my other sisters and the fathers of their children Kim/Kanye Kylie/Trav," Khloé wrote in response to a fan on Instagram who had shared the photos in question.
She later called the move from the paparazzi "disgusting" as she quoted a tweet from a fan that read: "What the paparazzi//people are doing with Khloé is giving very much sick obsession. The paparazzi give people very convenient content so the people can enjoy hating her."
Brittney Griner Writes An Open Letter To The White House As She Asks President Biden To Help Get Her Home
It has been months since WNBA star Brittney Griner has been detained in Russia after she was accused of having vape cartridges with hashish oil in her luggage. Her trial in Russia began last week, and now she has sent a letter to the White House asking President Biden for his help with bringing her home.
T.J. Quinn of ESPN shared an excerpt of her letter where she spoke about freedom and what it means to her. In the letter, Brittney said,
"On the 4th of July, our family normally honors the service of those men who fought for our freedom, including my father who is a Vietnam War Veteran. t hurts thinking about how I usually celebrate this day because freedom means something completely different to me this year."
She continued to say,
"I realize you are dealing with so much, but please don't forget about me and the other detainees. Please do all you can to bring us home. I voted for the first time in 2020 and I voted for you. I believe in you. I still have so much good to do with my freedom that you can help restore. I miss my wife! I miss my family! I miss my teammates! It kills me to know they are suffering so much right now. I am grateful for whatever you can do at this moment to get me home."
NEW: A letter from Brittney Griner was sent to the White House today, making a direct appeal to President Biden for her freedom. Representatives shared the following excerpts: pic.twitter.com/pvh4IpOfou

— T.J. Quinn (@TJQuinnESPN) July 4, 2022
ESPN shared that a rep for Brittney said they would not release the entire letter or share how her letter made it from Russia to the White House. She is scheduled to appear in court again on Thursday (July 7th). She has not yet entered a plea.
As previously reported, Brittney's wife Cherelle Griner spoke out about her detainment during an interview with Robin Roberts back in May and also shared that she would like to speak with Biden about getting Brittney home. At the time she said, "I keep hearing he has the power. She's a political pawn so if they're holding her because they want you to do something, then I want you to do it."
Brittney has been detained in Russia since late February.
Want updates directly in your text inbox? Hit us up at 917-722-8057 or click here to join!  
TSR STAFF: Jade Ashley @Jade_Ashley94