Its all over! Indie electro duo Monarchy has called it quits…
I wish I had better news to bring you on a hump day. It is all over for Monarchy. The clock has struck 13 for the indie electro-pop duo of Andrew Amstrong and Ra Black. In an announcement shared online, they said,
"The clocks have struck 13, and we've decided to call it a day on Monarchy. There were a lot of different factors that went into the decision, and we've decided it's best to now focus on our own, projects individually. However, as we go our separate ways, we'd like to leave you with our last album. It's called "SYZYGY" and is out now! We'd like to thank you for all the energy you've given back to us over the years. We had a blast."
They had a magnificent run. EQ Music Blog (Raj and I) is incredibly grateful to them for all the music. Monarchy poured nothing but excellence into their music. They produced albums where I would not find myself tempted to skip over tracks. Their sound was so unmistakable. I will not be sad because of the outstanding legacy they have left. The final album "SYZYGY" included, in that.
Of the album title "SYZYGY". It has the appearance of something typed by a cat that has walked over a computer keyboard. It is nonetheless genuinely a word -with meanings associated with astronomy, philosophy and mathematics. The former two being themes Monarchy had used on numerous occasions. The moon and the sun are again heavily represented on the final album, as is love and relationships, which are put under the microscope one last time. You won't be left disappointed by the album, but likely to feel pangs of nostalgia when reaching the closing track aptly named "Bye Bye". Musically Monarchy never hit a low point. "SYZYGY" and the singles "Glow Vision" and "Just Give Me Your Love" sees the synth-pop titans bow out on the same high they have maintained throughout their eleven-year run.
Want to know what comes next for Ra and Andrew?
Ra promises new music soon – Follow him HERE
The new solo project from Andrew Armstrong is called Daddy Squad. New music is coming very soon. He is releasing a single on 7th September with Dita Von Teese!
Connect with Daddy Squad
Facebook: https://www.facebook.com/daddysquad.official/
Instagram: https://www.instagram.com/andrewmonarchy/
Watch "Dopamine" by Purple Disco Machine Ft Eyelar
To be honest, it has been only a few hours since we arrived back home. Our heads are still very much wrapped up in a holiday state of mind right now and we are trying our best to ease ourselves back into the daily grind and all that it entails. But, while we've been away, topping up our suntan and cooling ourselves down with many refreshing glasses of raspberry and peach Gintonica cocktails. We have continued to delve into the treasure trove of new music releases in the EQ mailbag at leisure. We didn't get time to write up a post about the latest Purple Disco Machine release, the track "Dopamine," before we went on our travels. However, it is still dope and also superbly suits our current mood.
Besides, our publicist friends have been trying their hardest to persuade us to write about Purple Disco Machine for the longest time. "Dopamine" has us cracked because of its unmistakable use of 80s stylings, and Pharrell meets Laura Branigan esque groove. There really wasn't a more suitable fit than plugging this Purple Disco Machine track written about the feel-good hormone "Dopamine" into my ears. This track WAS definitely a contributing factor of how I topped up my Dopamine levels while sunbathing beneath the golden sunshine these past two weeks.
Joining the internationally acclaimed producer on the track is the Dutch-born singer/songwriter, Eyelar. She's already notched up a stellar career to date, having written and collaborated with Demi Lovato, Little Mix, Charli XCX, Bastille and David Guetta. But is also pushing forward with a solo recording career. A transition which in the evidence of this track is heating up considerably.
Although the master brains behind the Purple Disco Machine moniker, Tino Schmidt career almost spans a decade. He makes his official music video debut in the James Fitzgerald directed clip for "Dopamine". In keeping with the retro vibe, he's etched into the Purple Disco Machine brand so far. Tino takes inspiration from the iconic Robert Zemeckis "Back To The Future" trilogy. The plot. A time-travelling mission to rescue Eyelar from 2021 and transport her back to the neon era of the pop culture saturated 1980s.
I haven't watched this music video as much as I have listened to the track. Because switching off for the last two weeks, and lazing on a hot sunny beach has been my vibe. And yes, please. If anyone should know how I go about snapping up a one-way time-travelling ticket for myself… do tell. Not to get all "Yesterday" movie on you, living in a time when Ed Sheeran's "Shape of You" hasn't existed yet or can be heard playing in every leisure establishment on the promenade, sounds good to me.
Connect with Purple Disco Machine
Facebook: https://www.facebook.com/purplediscomachine
Twitter: https://twitter.com/PurpleDiscoM
Instagram: https://www.instagram.com/purple_disco_machine/
Connect with Eyelar
Facebook: https://www.facebook.com/eyelarx/
Twitter: https://twitter.com/eyelar
Instagram: https://www.instagram.com/eyelarx/
The Story Of ABBA: Mamma Mia!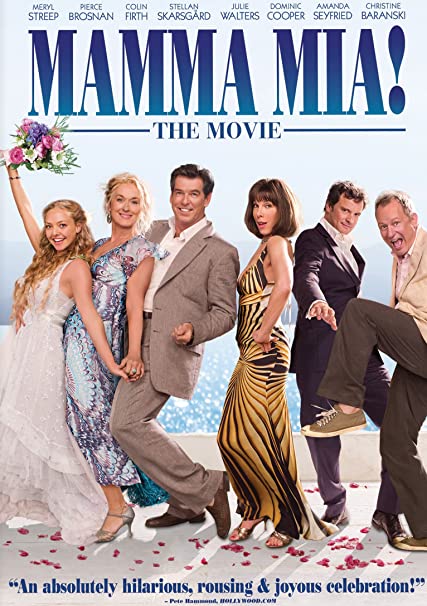 Adored the world over, the global reach of ABBA now extends to a box office record-breaking musical and movie. Classic Pop looks at the twin phenomenon that is Mamma Mia!
On any given day, numerous different productions of ABBA: Mamma Mia! – the musical inspired by ABBA's mammoth hits – plays somewhere round the globe. Its subsequent silver screen spin-off, Mamma Mia! The Movie, is now the most successful film musical ever. Not for nothing are songwriting partners Benny and Björn, cited as fourth best-selling artists of all time.
It was while the pair were working on the West End to Broadway musical, Chess with Tim Rice, in around 1983, that they first met theatrical producer Judy Craymer. The determined 20-something had risen through the ranks from stage manager of the original production of Cats, to Tim Rice's production assistant and onto his executive producer of Chess.
Inspired by the drama of The Winner Takes It All – Björn's ultimate break-up hit song – Craymer had the lightbulb idea of setting ABBA's best-loved songs in a stage context. 
Initially, the guys were not overly keen on the concept, and it took the would-be impresario 10 years to persuade them to give her the rights to their most treasured works. However, once in agreement, they were artistically involved from the start, along with ABBA's Anni-Frid in a financial capacity. 
ABBA: Mamma Mia! – trailer
Said to have sealed the deal was the pitching of a top-notch creative team – Andersson and Ulvaeus were already on good working terms with Craymer as proposed producer.
The script by 'savvy writer', Brit playwright Catherine Johnson was promptly sanctioned; while director Phyllida Lloyd impressed with her previous high-end output of Brecht and Shakespeare. Firing on all fronts, Craymer put everything on the line to make it all happen, selling her flat and giving up her day job in the process.
By 1997, the musical juggernaut was well and truly on its way. It lived up to its billing: 'The storytelling magic of ABBA's timeless songs with an enchanting tale of family and friendship unfolding on a Greek island paradise.' 
It was a surprisingly modern narrative centred round the wedding of a girl who had invited her three possible biological fathers to her important event. On the fictional Greek island of Kalokairi, Sophie aches for her father to walk her down the aisle – but does not know his identity. Discovering her mother's old diary by chance, she finds entries recording romantic dates with three men in swift succession.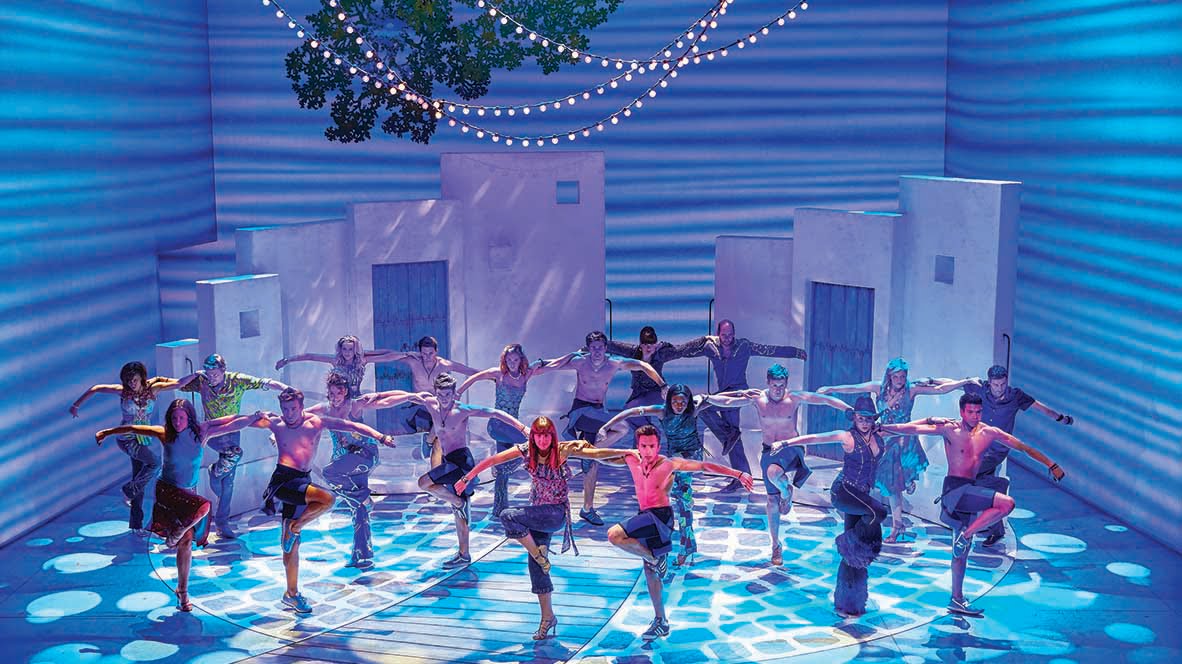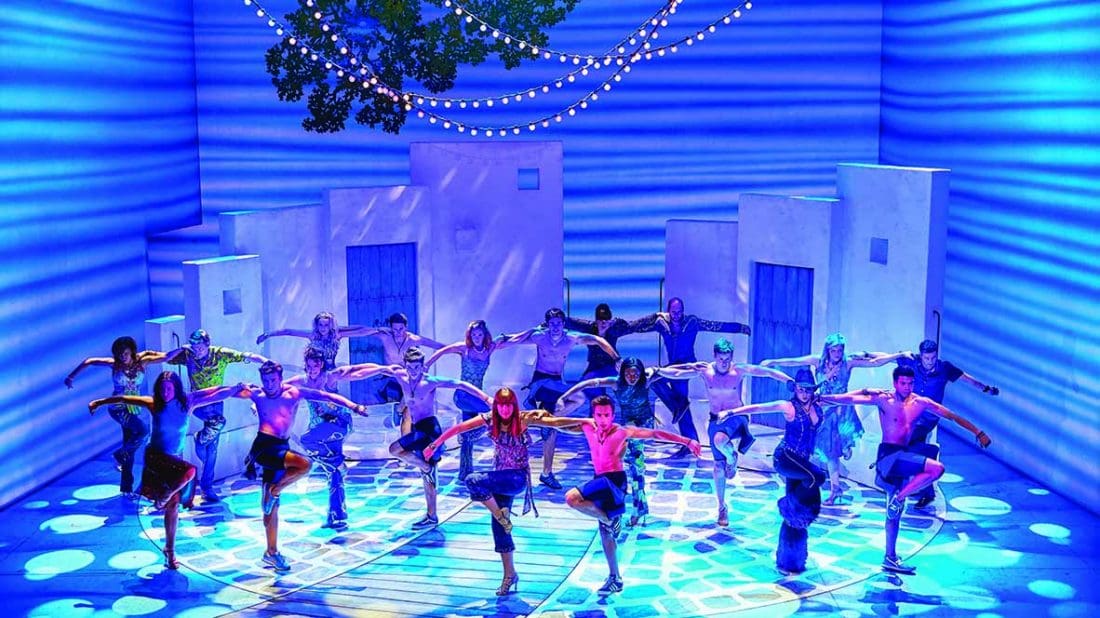 Thinking one of these may well be her father, ahead of the wedding she sends an invite out to each in the guise of her unsuspecting mother, Donna. As Donna is caught up with meeting guests at her taverna including old best friends (and ex-bandmates) Tanya and Rosie, in turn Sophie secretly meets each of her mother's ex-lovers.
Shocked to see the men after all this time, Donna exits overcome with emotion. Soon confusion reigns for both mother and daughter, with all three men wanting to escort Sophie on her big day. 
The somewhat soap-opera story breezes by ably abetted by a string of ABBA pearls including Super Trouper, Lay All Your Love On Me, Dancing Queen, Knowing Me, Knowing You, Take A Chance On Me, Thank You For The Music, Money, Money Money, The Winner Takes It All, Voulez Vous, and of course, Mamma Mia! – the title track taken from the band's 1975 smash.
Various plot twists and turns later, it all resolves with a giant 'sing' in the tale via I Do, I Do, I Do, I Do, I Do, and I Have A Dream, before a lively audience interacting finale and reprise of Mamma Mia and Dancing Queen. 
The non-stop ABBA jukebox musical proved to mesmerise an audience like no other production before or (so far) since. Currently entering its 18th year, the London production has now been seen by more than 10 per cent of the population.
Following its London premiere in 1999, the album ABBA Gold notably topped the UK charts again. By 2001, the musical opened on Broadway, and has now played in more than 40 countries in all six continents – to a worldwide audience of more than 60 million. 
Not surprisingly, Hollywood soon came calling. As Craymer later related, after all her hard slog: "There was no way I was going to sell the rights and have someone else do it." True to what would become her indomitable reputation as "the greatest showbiz impresario of the 21st century", she wisely insisted on refusing all Tinseltown offers until reaching an agreement to helm the film herself along with the original key team: Catherine Johnson as writer, and Phyllida Lloyd, directing. She fought suggestions for other experienced directors (such as Steven Spielberg) to take over. 
Equally, insistence was made that the musical's central middle-aged, hippie mother character remained just so. Politely declined were mentions of casting younger glamour girls like Kylie Minogue, and favoured from the start, was Meryl Streep. Self declared 'lifelong ABBA fan' Streep stated: "I am Mamma Mia!" on being cast, and said it was one of the happiest roles of her life.
She explained she'd found watching the 2001 Broadway musical version 'life-affirming' in the wake of the 9/11 Twin Towers tragedy, and thus made contact via a congratulations note, with Craymer. 
Finally, actor Tom Hanks offered to make it on the Brit producer's strict terms with his production company, and soon a useful 'ABBA-mad' high-up at Universal Pictures got things moving. 
Besides Streep – as spirited, single mother Donna – the stellar cast boasted Amanda Seyfried as her daughter Sophie, Julie Walters and Christine Baranski as her best friends, and as the trio of love interests, Swedish actor Stellan Skarsgard, ex 'Mr Darcy' Colin Firth and former 007, Pierce Brosnan. 
Ironically, as well as the main film location of the gorgeous Greek island of Skiathos, Donna's villa in the film was in reality a set shot on the 007 stage at Pinewood Studios. 
Most external shots, with the exception of the seaside hamlet of Damouchari in the Pelion region, were filmed on Kastani beach, on the small island of Skopelos. The beach bar and jetty were temporarily built for showcase song and dance numbers: who can forget the highlight of the cast strutting their collective stuff to Dancing Queen with such joy on the jetty? – all to that ABBA soundtrack.
Eagle-eyed ABBA fans may have spotted cameos by Benny Andersson as the Dancing Queen piano player, while more uncharacteristically, Björn Ulvaeus played a 'blink and he's gone' Greek god! 
Cast-wise, most naturally attuned to the ABBA repertoire, and known for their singing ability, was Meryl Streep. Having taken opera singing lessons as a child, she had previously performed in films including Postcards From the Edge, Silkwood, and most recently, Florence – about opera singer Florence Foster Jenkins.
Consequently among the movie's many awards, she was Golden Globe nominated for best actress. The fact that some of the cast had not been chosen for their vocalising led to some mixed reviews from critics. Most especially Pierce Brosnan, who may have looked the part but somehow didn't quite sound it – and as a result, won the Golden Raspberry award for worst supporting actor.
At least he had a great time making the film – "one of the best jobs ever", he said. "The Mamma Mia! experience that has been created and given people so much joy on the stage has bled into this film." The cast certainly looked like they were having a ball and allegedly, were whooping it up after hours, as contrary to usual film-making stipulations, producer Judy kept the party mood going with beers all-round for cast and crew.
Coming up to a decade after the movie was made, fans still make pilgrimages to the locations, particularly the picturesque – but admittedly petite – Ioannis white chapel used in the wedding scene. Beyond the likes of Grease and Dirty Dancing, Mamma Mia! instantly became the song and dance hit of the decade.
Packing in a cracking 24 ABBA hits, as a feel-good escape, it more than hit the mark. As Meryl Streep summed up: "It's about dreams, your hopes, your happiness." Opening in 2008, it opened at No. 1 in 35 countries.
Craymer had staked all on its success. In the 90s money had been so tight that on the verge of bankruptcy, she had had to sell her house. In interviews in the British press, she later related: "All my friends thought I was crazy. They said ABBA was so passe and I should get over it. But I knew everyone would want to see the musical. I had to make people believe in what I was doing and it became a complete obsession."
Her choice to, in effect, 'take a chance' on ABBA paid dividends to an astounding degree: overall from her Mamma Mia! concepts, she is reported to have made a reported £90 million. 
Awarded an MBE, she went on to produce Viva Forever!, the 2012 musical based on the Spice Girls' hits, and now spends much of her off-duty time fund-raising for Mamma Mia!-linked charities such as Breast Cancer Research.
In much the same way, Bristol writer Catherine Johnson shares a similar 'roughing it to riches' backstory. Her colourful life could itself create a compelling screenplay. Expelled from school at 16, married at 18, divorced at 24, she was a hard-up single mum with another child on the way when entering – and winning – a newspaper playwriting competition changed her life.
Her hard-hitting play, Rag Doll was staged by the Bristol Old Vic, and penning further plays followed – including Bay City Rollers-based Shang-A-Lang – before stints on popular UK TV series such as Casualty, Band Of Gold and Byker Grove. 
ABBA: Mamma Mia! – Here We Go Again trailer
Recommended to producer Judy Craymer by a mentor friend, she found the idea of the ABBA project entertaining but over-familiar with financial hardship, did not take its commercial chances seriously. For that matter, neither did ABBA's Björn: "I didn't have a clue that Mamma Mia! would be a worldwide success," he later admitted.
For the two years it took to write the book, it was a 'scary-ish time' for Johnson. "I couldn't afford for things to go wrong," she said, looking back on the time. It's now well-known that Johnson deliberately wrote the plot about a single mother – notably one 'who wasn't as the press often liked to paint, a drain on the state… a working single mother who had got her life together and the relationship she had with her daughter.'
As she told The Guardian: "I've had less years of being a success than I had of being a failure. For a lot of my life, I felt a complete letdown". 
Consequently, though she has gone onto create other plays, she is happy if Mamma Mia! is fated to remain her career's masterwork. Having initially given the musical a lifespan of three months, it's now going strong in its second decade, having amassed over an eye-watering £2 billion worldwide. 
Bankrolling nearly $610 million on a $52 million budget, Mamma Mia! is the highest grossing musical film of all time in the UK. Such was its unprecedented success that co-chairman of Universal Studios David Linde, made a press statement that in years to come, there could be a sequel – adding he would be delighted if the creative quintet of Craymer, Johnson, Lloyd, Andersson and Ulvaeus reunited to create a follow-up based round other ABBA songs. 
The world's premiere may have taken place elsewhere, but on 4 July 2008, all eyes were on the Swedish film screening. In attending this, all four members of ABBA were photographed together for the first time in 22 years. It was aptly held on ABBA's home turf in Stockholm, and at the Rival theatre – part of the boutique hotel owned by Benny, where each room has a copy of ABBA Gold – the album that spawned both memorable musical to movie productions. Agnetha and Anni-Frid arrived dancing with star of the movie Meryl Streep, before joining the ABBA boys and rest of the cast, on the balcony. 
A show of solidarity between the former band members, marking the next chapter in ABBA's enduring success: from international stage to screen, in 2021, their perfectly crafted pop legacy lives on. 
Comments
comments
The Best Pet Shop Boys Cover Art
For this feature on the best Pet Shop Boys cover art, we've selected key examples of design excellence from the duo's remarkable oeuvre… By Andrew Dineley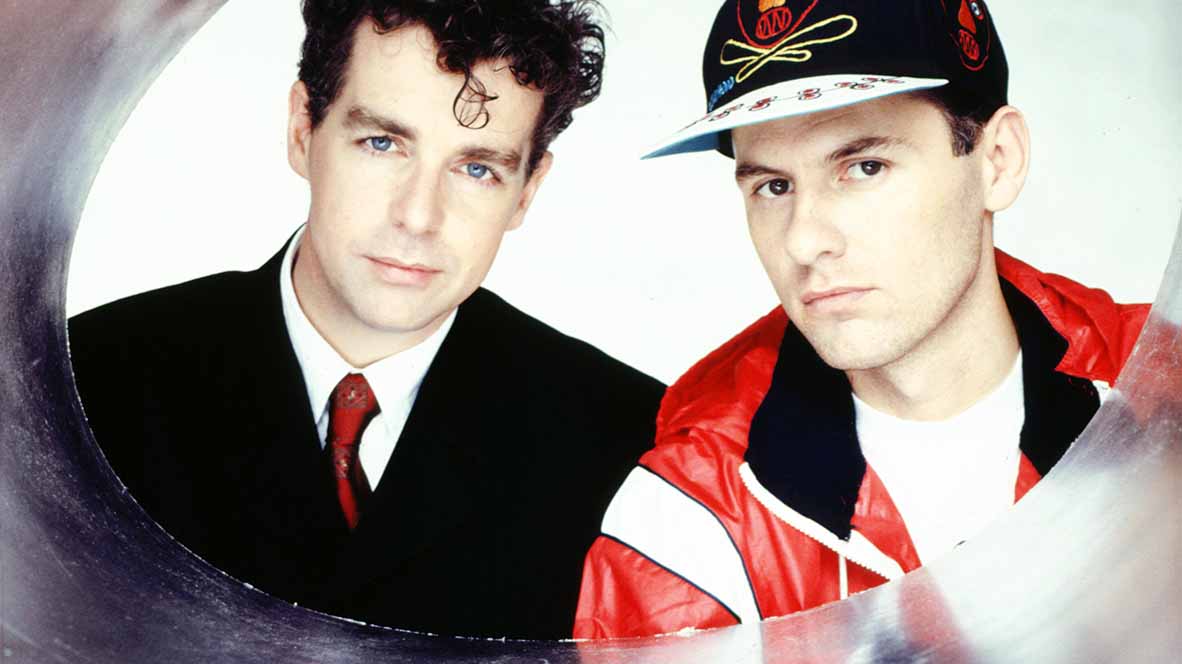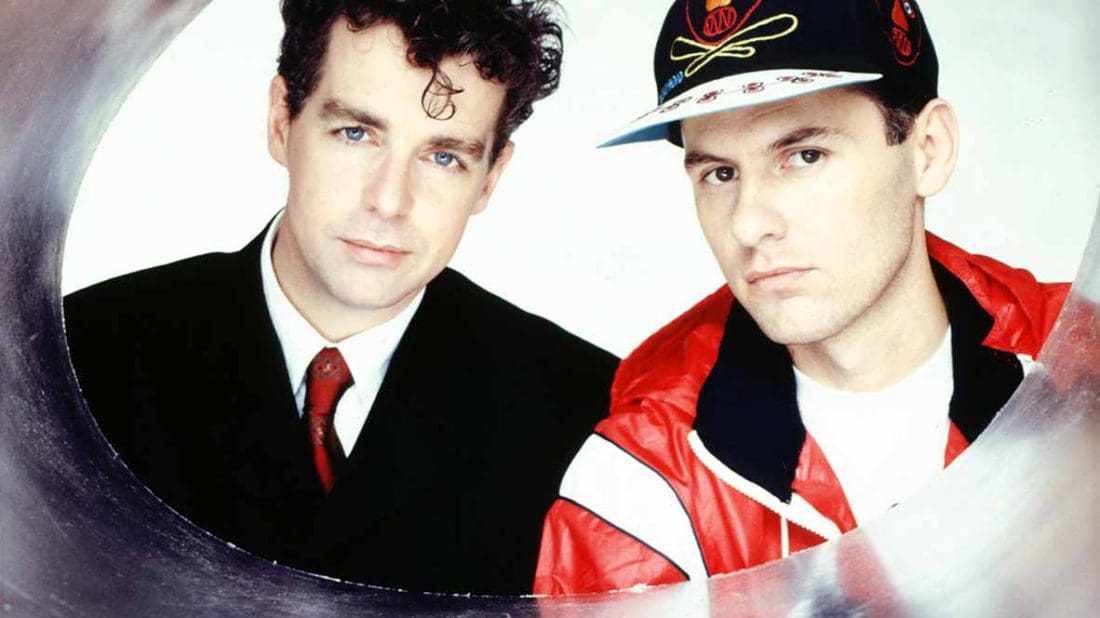 With backgrounds respectively in magazine publishing and architecture, it's no surprise that a keen eye for visual detail would permeate everything for Tennant and Lowe.
Combine this with their early association with Tom Watkins as manager, a man who himself had an impressive creative pedigree working with Terence Conran before establishing XL design studio in 1982, and we can see how things inevitably came to be…
Pet Shop Boys arrived during a period in pop that saw a massive expansion in formats. Never had so much been spread so widely. One single could be stretched out across numerous seven-inch and 12-inch discs, poster packs, limited edition boxes, cassette singles and picture discs.
It was a ripe period for creativity. A cynic may look back and speculate that it was all about rampant marketing and consumer exploitation, but music fans duly lapped it up… and nobody forced this writer into buying anything. 
In their 2006 book, an overview of Pet Shop Boys design entitled Catalogue, Neil Tennant confirmed their formative intentions. "West End Girls became a hit so slowly that there were endless formats to jig the charts," he said. "Chris and I were influenced by Scritti Politti – the idea of looking like a brand, a perfume bottle or whatever." 
After a couple of false starts, West End Girls became Pet Shop Boys' breakthrough single in 1985, heralding a sustained creative collaboration with Mark Farrow. His first PSB design was a re-working of the first single sleeve, which Chris Lowe himself had originally worked on.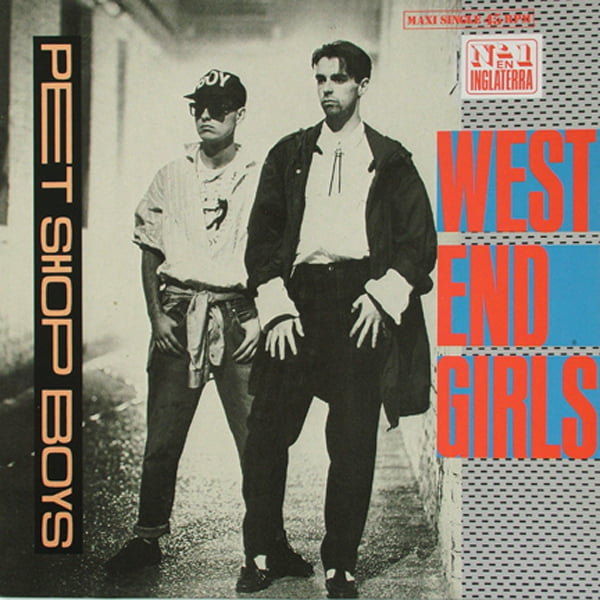 In his autobiography, aptly titled Let's Make Lots Of Money, Tom Watkins provided an interesting perspective on this radical redesign by Farrow; "He loathed and detested the sleeve for West End Girls. He hated everything: the design; the lettering; the feel. Christ, I thought, this man takes record covers very seriously."  
Watkins, Tennant and Lowe were admirers of Ettore Sottsass' Memphis Group in Milan, whose designs were recognisable by their bright colours and angular, pop-art-deco sensibility, and it comes as no surprise to see how Farrow had ticked the right boxes with his reductive re-interpretation for the West End Girls remix.
According to Watkins, "It was frankly a work of art. All excess imagery and uneven lettering was removed and he added bold blocks of red and blue, with a yellow circle at the centre like a record label.
Neil Tennant had apparently cried with admiration and jealousy when he saw the sleeve to New Order's Blue Monday. He must have been a blubbering wreck when he saw his own sleeve… from that moment on, Mark Farrow was a vital part of the team."
Within a few months, Please, Pet Shop Boys' debut album, was released. Its simple one-word title would set a trend in 1985 for every other album they would release. The album sleeve followed a similar minimalist ideal, with Farrow further channelling the reductive graphic style he'd grown up with as a designer for Factory Records, prior to XL.
The front cover's tiny lone photograph offset an inside sleeve featuring a grid of images, devoid of typography. In total, the image count ended up just one shot short of 100. For an exercise in restrained minimalism, that is a lot of photography, and all were largely taken by long-time collaborator Eric Watson.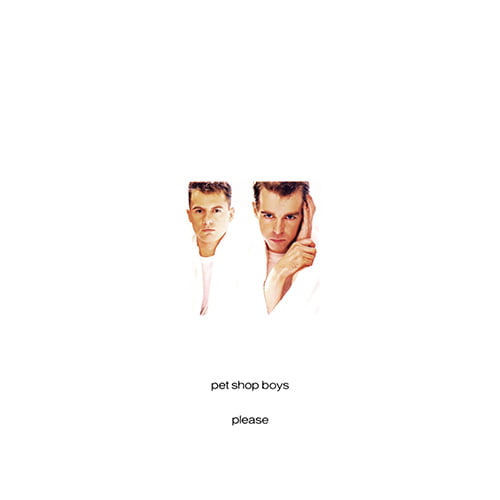 "We were creating images that were intentionally un-pop – some imagery around the first album, for instance, was quite bleak," said Tennant. "It's mostly black-and-white. We wanted, and still want, to look totally different to everyone else. At the very beginning, we put out this manifesto to accompany our demo tape that listed all the things we didn't want to be."
Mark Farrow's main objective was to create a sleeve that didn't look like a record cover. Please couldn't have been more different to its hyper-saturated chart competition and stood out for being the antithesis of sleeve design during the 80s.
Tom Watkins, however, originally had far more complex ideas. "I thought my concept was a great idea: a big fold-out lattice-work cover, opening out into a crucifix that contained all the mean and moody images they had created over the last couple of years.
"I excitedly folded the cardboard out in front of them, knowing they were going to just love it. An awkward silence ensued. Neil and Chris mumbled a few words with an overwhelming air of indifference. Perturbed looks flashed across their faces. They didn't like it. I didn't show it but I was mortified."
Sometimes images that will go on to define an act can come about in unexpected ways. This was the case for the single sleeve of Suburbia.
"I'd just bought this striped shirt and striped glasses and so I thought 'Wow! This is visually stunning!'" said Lowe. "Neil just wore a plain T-shirt and plain glasses so it was obvious that it was going to work as a photo – me all stripes and him all plain."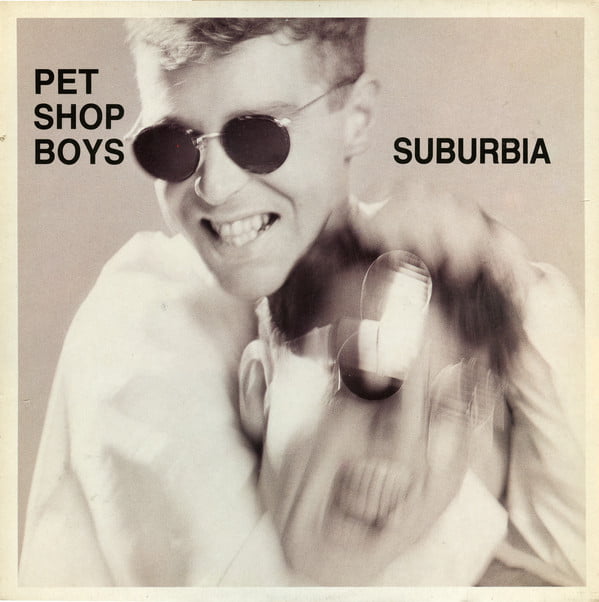 Elaborating on the use of Eric Watson's photographs for the single sleeve in the Pet Shop Boys book Catalogue, Mark Farrow concurred. "I've always thought that if the photograph is strong enough to do the work on its own then I don't really need to do anything. In my mind at that time Chris was the logo, if you like." 
Though the front cover did bravely eschew any distracting words, typography was used on the back cover, laid out in a visual homage to movie credits, appropriate given that the single's name was taken from a film. As simple as it may appear, this sleeve design was the first to earn Farrow a silver D&AD award. 
In contrast to the white space and minimalist cover imagery of Please, it was decided that a different treatment was required for 1987's follow-up album, Actually. Neil Tennant came up with the idea of commissioning Alison Watt, the Glaswegian winner of the National Portrait Award, to create an oil painting of the duo for the cover.
Tennant, Lowe, Farrow and Watson headed off to Scotland to see the artist and plan how it would look, but practicalities were part of why the sleeve ended up quite different.
"Alison wanted them to sit for three weeks but their schedule made that impossible," explained Tom Watkins. "She worked from a photo instead, but it looked quaint, stuffy and just un-pop." 
Eric Watson had supplied a series of photographs for Watt to use as reference material, which led to much to-ing and fro-ing between the painter and PSB camp, but the idea was eventually abandoned, partly because Chris Lowe was unhappy with how he looked. "My face was all wonky," he complained in the Annually book, published in 1988. 
The final sleeve design went on to become a much-loved and parodied design classic, and remains a favourite of Neil's.
"We liked it because it wasn't a cop-out 'please, please, buy me' photo. It was sort of uncompromising and funny at the same time. It fitted all the basic tenets – it looked really strong, it was noticeable in the shops, it was funny and of course people were obviously going to say 'Why are you yawning?'"
The sleeve of Heart, the last single to be taken from the album, is also classic Pet Shop Boys. The single had two covers, so buyers had to choose between 'Neil' and 'Chris', or simply decide to buy both – which can't have done any harm getting the song to No. 1 in the UK.
Images from this session were also used on the cover of their 1988 book Annually, combined to visually reference the sleeve of Actually. The sleeve featured the duo in outfits worn at the UK BPI Awards.
"We do awards if they give us an award," Neil – ever the aesthete – commented at the time. "If we don't get an award, we don't do it. They're bollocks basically. My main argument against the BPI Awards is the hideousness of the logo."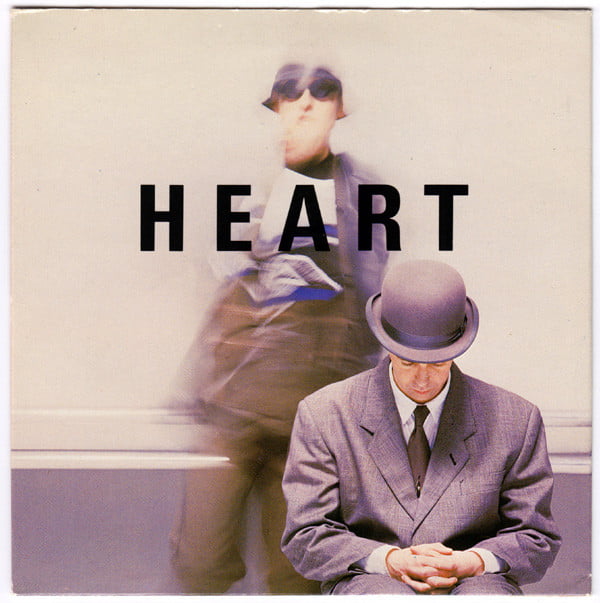 The sleeve of Introspective may not be a favourite of the duo, but it stood out on record store shelves at the end of 1988 and remains timeless in its simplicity. Each format of the release used a different combination of vibrant coloured stripes.
Manager Tom Watkins reportedly joked that subliminally, people would feel compelled to buy a copy of the album every time they saw the testcard on TV. The album contained just six tracks and in 1988 became their top-selling album, so perhaps the ever-shrewd Mr Watkins was on to something.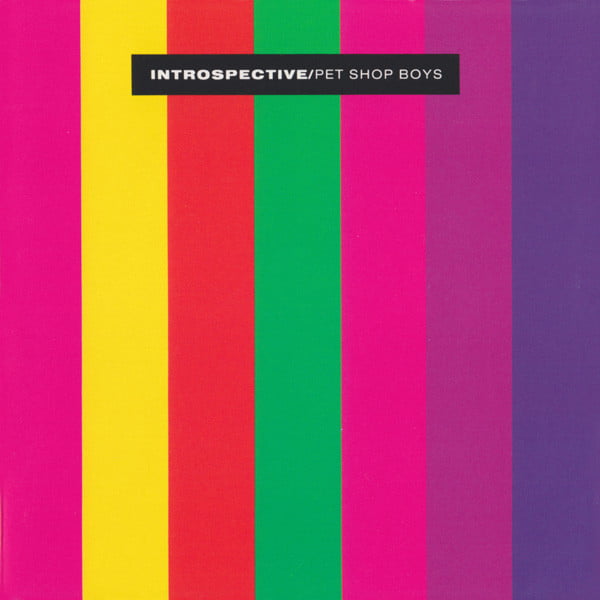 "I quite often look through our records and think how fantastic they look," summarised Tennant. "You want to make the record something special. It's not just nothing, the sleeve. I personally think it's as important as the music. You're buying an object, so you want it to be a beautiful object." 
Introspective's follow-up in 1990, entitled Behaviour, saw a return to form in terms of minimal design, if not sound. White space was back, making a perfect complement to some of the album's sombre lyrical themes.
The flowers in the cover photographs may seem to reference mortality but later sleeve booklet notes surprisingly reveal the intention was quite otherwise, according to Neil Tennant. 
"We had this idea with the roses because we'd been to Liza Minnelli's apartment in New York," he said. "She had this fantastic photograph, I think by Richard Avedon, of Judy Garland as a tramp holding a bunch of red roses. So we just nicked the idea." In contrast to the album's whiteness, hidden away inside Behaviour's original vinyl release was a wonderfully indulgent exercise in design decadence and detail – a sleeve lined in deep rose red.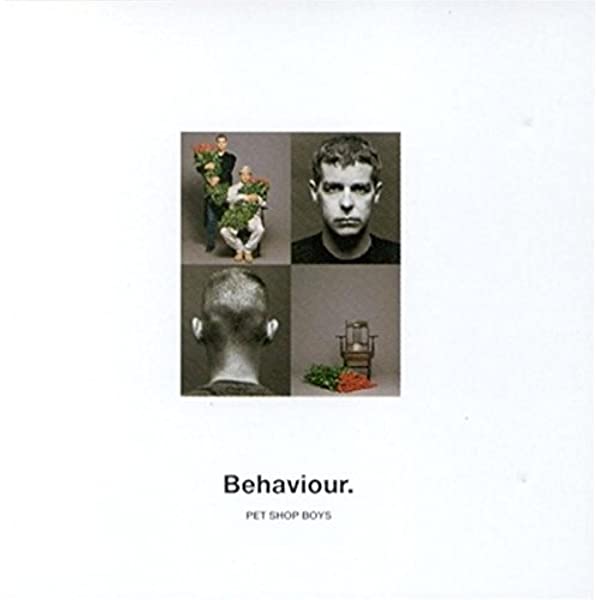 In 1991, Was It Worth It? was released. By this point, Tennant and Lowe had grown tired of appearing on their sleeves, so this single instead featured them as dolls, handmade by a fan in Japan.
"We thought they were really fantastic and we said at the time that they'd make a great sleeve. They seemed to capture something about us. All the drawings they do of you in Japan always present you in this same strange way, with big eyes, and we've always liked that."
The caricatures showed the duo with bunches of flowers, an homage to the photographs used on the sleeve of Behaviour the previous year.
For the two singles that trailed the 1993 album Very, Pet Shop Boys were transformed in a couple of other-worldly ways. For Can You Forgive Her? they wore orange suits with matching striped cone hats.
For the follow-up single, Go West, they appeared in blue and yellow uniforms with matching dome helmets. In 1993, with the pop chart saturated with Britpop mundanity, none of their looks could exactly be considered typical attire. 
For the packaging of Go West these images were reproduced in red, white and blue and presented in a brash promotional style, the kind of thing commonly associated with US presidential campaigns. It was a bold statement that was playfully extended to the promotional materials for the single, which included campaign badges and stickers. 
The album Very was an extravagant affair in every respect – the costumes, promotional videos, packaging and live presentation all pushed creative boundaries in 1993.
For the album's sleeve design, the duo had grown tired of the standard CD format and wanted to completely rethink the packaging concept. "We thought it was pathetic that, because of CDs, record design has just become a booklet behind a piece of transparent plastic," they commented.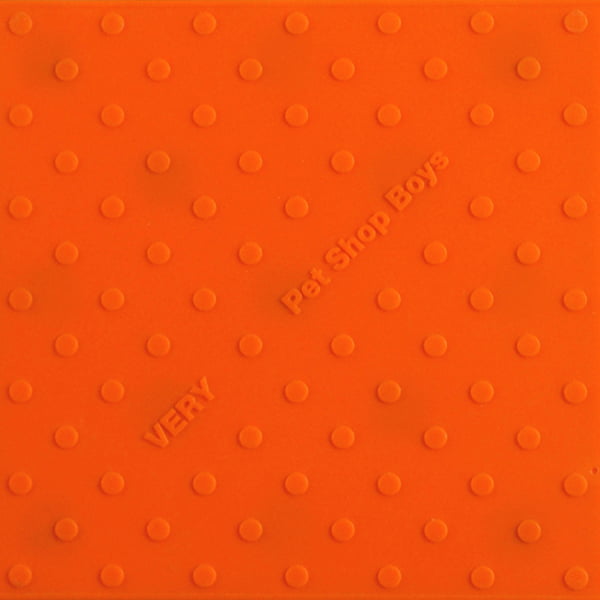 The duo gave Daniel Weil from Pentagram the audacious task of coming up with something unique. He delivered about a dozen viable concepts, two of which were chosen – one for initial quantities of the standard CD and another for Very Relentless, the limited edition double-pack.
Mark Farrow worked with Daniel Weil's textural packaging to devise some pop art-style graphics for the album, mainly consisting of the duo wearing their Go West costumes. These images also featured on a limited edition of 500 highly collectible Relentless DJ promo sets, pressed onto magenta, cyan and yellow vinyl with matching outer sleeves.
In 2002, Pet Shop Boys once again did something unexpected: for the first time in their career, they went to a different design company to work on the sleeve graphics for their next album, Release. Visionaire in the USA came up with a design solution that built on Tennant and Lowe's continuing desire to explore imaginative alternatives to the normal CD package.
The case's text was printed in white onto a solid white case, which was then enclosed within a foiled slipcase – an elegant end result that went on to be nominated for a Grammy award. In the UK, four different coloured variants were available, each featuring a different debossed image of a single flower in bloom.
The cover subject was germane to the album's title, which was suggested by photographer and collaborator Wolfgang Tillmans. Some rejected titles for the album included Whatever, Lovely, Tragic, Transition, Touché, Position and Home.
In 2003, Pet Shop Boys released Miracles, a single that trailed the release of their PopArt greatest hits collection. The album cover's bold typographic design referenced a couple of iconic moments in Pet Shop Boys design history – Chris Lowe's Issey Miyake sunglasses from Suburbia, and orange stripes lifted from the pointy hats of Can You Forgive Her?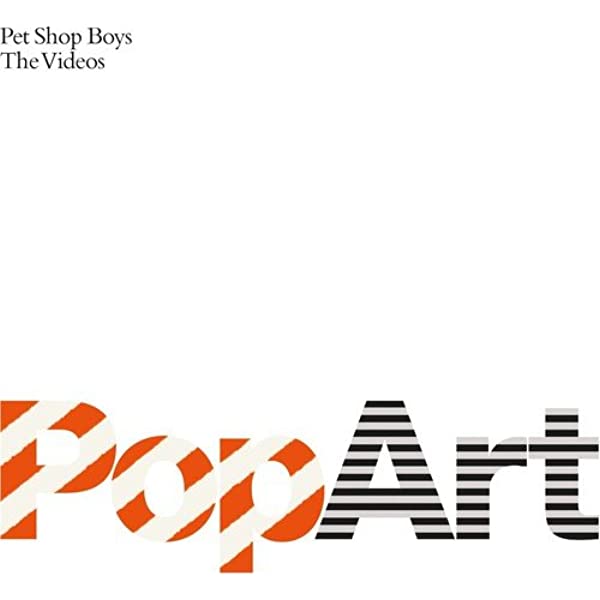 Despite reaching the Top 10 in the UK singles chart, Miracles is an often-overlooked track that's rarely played live. It's a shame, as the song and its sleeve design are both high points for the duo.
Essentially a love song, Miracles' lyrics refer to the wonders of nature, and this is what inspired Farrow's idea to elegantly combine silhouettes of Tennant and Lowe with images of cherry blossom.
"We really wanted the sleeve to be perfumed, as the promo versions had been, but by the time we had printed blossom onto every single surface inside and out, die-cut silhouettes of Neil and Chris into the cover and pressed the record on white vinyl, EMI finally applied the brakes," Mark Farrow reported philosophically. "Well, if you don't ask, you don't get…" 
In 2009, Pet Shop Boys released one of their most 'poppy' albums to date, entitled Yes. In some ways, this album's sleeve may appear to reference that of their debut album, Please. Both rely heavily on squares, but on this occasion, inspired by Gerhard Richter's 4900 art exhibition, colour was introduced and the concept was turned on its side.
"Although the Richter paintings look stunning on a gallery wall, as an idea for a CD cover it felt a little tired and we felt we had 'been there'," said Farrow.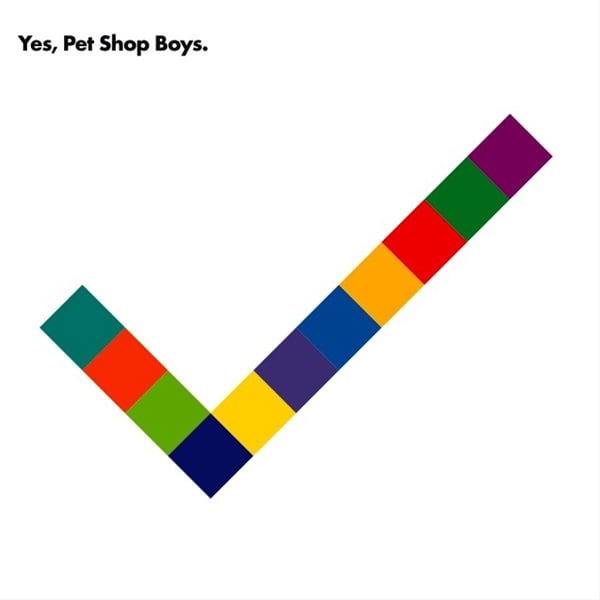 The 'square' theme was also extended and adapted for use on the album's singles, and was imaginatively brought to life by acclaimed creative director and set designer Es Devlin for the supporting Pandemonium live tour.
During these performances, everyone on stage at various points wore coloured cubes as headgear or had them incorporated into the various costumes. On top of that, Chris Lowe's keyboard set-up strongly resembled a luminescent version of a Richter artwork.
For Pet Shop Boys' 13th album, Super, released in 2016, the coloured squares of Yes were upstaged by circles, and the minimalism advanced further with the exclusion of even a band name on the packaging. A wider palette of vibrant colours was implemented across the various formats for CD, vinyl and streaming services.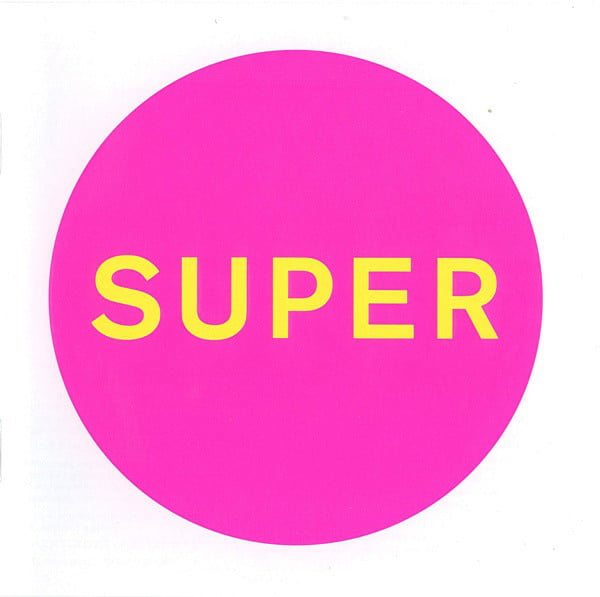 "In our initial conversations with Neil Tennant and Chris Lowe they described the album as being brash, pop and perhaps a little 'unhinged'," Farrow Design's Gary Stilwell explained in an interview with Creative Review magazine. "They also suggested a few titles, and we all agreed that Super was the strongest. 
"The simple brief was to encapsulate all these reference points in a single image. We quickly decided the cover should not be photographic and began to investigate bold graphic patterns and typography. Gradually, we reduced and refined these until we were left with a single fluorescent circle that, to us, conveyed the idea of Super."
Nearly four decades into their career Pet Shop Boys continue to surprise and delight a global fan base, and even if their next step is unknown, it's highly likely that we'll never have reason to accuse them of ever being boring. 
Comments
comments