Judge Orders For Richard Sherman To Be Released Without Bail-He Later Shares A Statement About His Arrest
Earlier this week it was reported that NFL free-agent Richard Sherman was arrested and charged with burglary domestic violence after he reportedly tried to force his way into his father-in-law's home. He was initially held without bail, but a judge has ordered him to be released without bail.
According to the Associated Press, during a hearing held Thursday, King County District Court Judge Fa'amomoi Masaniai found probable cause that Richard committed "criminal trespassing, malicious mischief, driving under the influence and resisting arrest."
The judge declined the prosecutor's request to set his bond at $10,000 bond, and continued to call him a "pillar of the community," and mentioned that it is assumed that he would be released because this was his first arrest. Richard was ordered to not have any contact with his father-in-law and ordered not to consume any alcohol or nonprescription drugs.
After the hearing, his wife Ashley Sherman released a statement and said, "I love and support my husband. I am committed to helping Richard get the support and care that he needs. Richard has always been a loving father and husband. And we are looking forward to seeing him at home with his family."
The police report stated that Richard had been heavily drinking, and was hostile and had spoken about killig himself when he left his home on Tuesday, his wife had alerted authorities to stop him. He was arrested the following day after he had crashed his car at a construction zone along the highway, and the tried to make his way into his in-laws' home.
Friday afternoon, Richard released a statement about his arrest and acknowledged that he would be getting help for his mental and emotional health, while thanking his loved ones for their support.
Want updates directly in your text inbox? Hit us up at 917-722-8057 or click here to join!  
TSR STAFF: Jade Ashley @Jade_Ashley94
A Fake Article About Billie Eilish Wanting To Be "Broke And Poor" So She Could Relate To Her Fans Went Viral, Forcing Her Brother To Defend Her
Lizzo's Self-Care Includes Cupping Her Stomach
Lizzo's self-care routine is unrivaled. The Grammy-winning musician regularly reminds her fans why it's important to treat their minds and bodies with TLC, and she always leads by example.
The singer shared one really valuable personal care practice, which she observes daily, with her social media followers back in February.
While looking into a bathroom mirror, Lizzo recorded a video of herself showering her stomach with affirmations and words of gratitude. "I love you so much. Thank you so much for keeping me happy [and] for keeping me alive," she said.
She documented another self-care technique on her Instagram Story yesterday. "ART," Lizzo captioned a photo taken while cupping her stomach.
Lizzo also shared a brief selfie video midway through the self-care session.
If you're wondering, cupping therapy is a form of alternative medicine that creates suction on certain parts of the skin and can be used to relieve pain, reduce inflammation, increase blood flow, and promote general relaxation and wellness, according to WebMD. It's an ancient remedy similar to a deep-tissue massage.
People have practiced cupping for thousands of years, but some celebrities are just discovering the versatile treatment. Dwayne "The Rock" Johnson tried it for the first time last March, and shared takeaways from the experience on Instagram.
Not going to lie, I'm a little bit intimidated by the prospect of cupping. But if there's anyone who can convince me to try something new for wellness' sake, it's Lizzo.
UPDATE
Lizzo shared a handful of snaps from her personal care session on Instagram this afternoon, including one that showed her cupping part of her leg, in addition to stomach. In another selfie, she gave followers a closer look at the acupuncture needles scattered across her face in yesterday's Instagram Story video.
BuzzFeed Daily
Keep up with the latest daily buzz with the BuzzFeed Daily newsletter!
Olivia Rodrigo Is Being Accused Of Talking In A "Blaccent" And Using AAVE In These Resurfaced Videos And It's Sparked Mixed Reactions
The 18-year-old singer can be seen talking in an accentuated blaccent and utilizing AAVE slang in some resurfaced clips from an Instagram livestream earlier this year.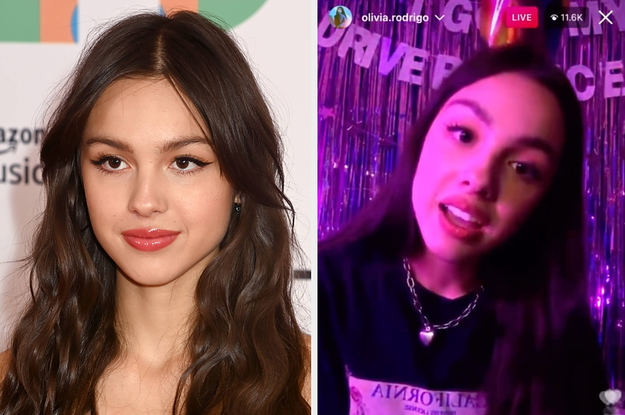 ---