Kylie Jenner Revealed 3-Year-Old Stormi Is "Working On Her Own Secret Brand" After Admitting She Wants Her To Take Over The Kylie Cosmetics Empire
"She has her own office where she gets all her business done," Kylie said of her toddler who is apparently launching the brand imminently.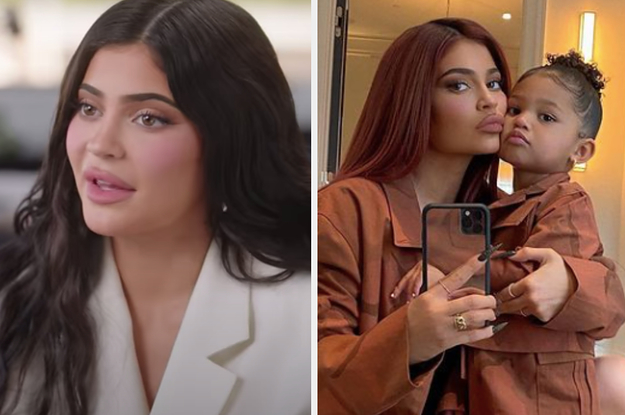 ---
19 Celeb #TBT Photos From This Week — July 29
Timothée Chalamet as a tween kicks off this week's #TBT.
1.
Timothée Chalamet shared this photo of himself hanging out with his friends in the late '00s:
2.
In celebration of last week's Comic-Con@Home, Gal Gadot shared this clip of the very first time she went to San Diego Comic-Con in 2014:
3.
Dolly Parton celebrated the 39th anniversary of her film The Best Little Whorehouse in Texas by posting this promotional photo she took for it:
4.
In honor of her longtime BFF Mick Jagger's 78th birthday, Tina Turner posted this photo of herself performing with him and the Rolling Stones in 1981:
5.
While Hilary Clinton posted this photo of herself and Mick in 1994 — when he visited the White House — in honor of his birthday:
6.
Snoop Dogg shared this iconic photo of himself, Dr. Dre, Tupac Shakur, and Suge Knight taken in 1996 for Vibe magazine:
7.
Trixie Mattel remembered her Phyllis Nefler from Troop Beverly Hills costume:
8.
While Cindy Crawford remembered when she did a commercial for the Japanese sports drink, Pocari Sweat, in the late '80s:
9.
Joni Mitchell posted this photo of herself performing at the Central Park Music Festival in New York City in 1969:
10.
Michelle Visage shared this selfie of herself from 1985:
11.
Michelle Pfeiffer was also feeling the '80s, and posted this pic of herself from then:
12.
Jenna Dewan found this photo of herself from 2018, where she is posing on top of stacks of her Vegas Magazine issue:
13.
Brandy shared this video of herself performing her debut single, "I Wanna Be Down," in 1994:
14.
Queen Latifah shared these photos from the stunning photoshoot she and the cast of Living Single did for Essence magazine in 1995:
15.
Jon Bon Jovi posted this photo of himself staring into the distance in the late '80s:
16.
Kim Kardashian shared these photos of herself vacationing in 2001:
17.
Mandy Moore celebrated the 20th anniversary of the iconic The Princess Diaries by sharing some photos from it:
18.
And, of course, the Princess of Genovia herself, Anne Hathaway, also celebrated the 20th anniversary of the film by sharing some photos of herself and the legendary Julie Andrews in it:
19.
Finally, Mark Ronson remembered Amy Winehouse on the 10th anniversary of her death by sharing this clip of himself explaining how he came up with "Back to Black" as well as her recording it:
Nostalgia Trip
Take a trip down memory lane that'll make you feel nostalgia AF
Da Baby Reportedly Dropped From The UK's Parklife Music Festival
According to @tmz_tv, #DaBaby has reportedly been dropped from the UK's #Parklife music festival. This comes after his controversial comments at the #RollingLoud festival that occurred a few days ago.
This comes after it appears his name appears to have been removed from the promotional material.  #MeganTheeStallion & #YungThug are also headlining the festival that takes place in September.
Parklife Music Festival has yet to release an official statement.
As previously reported, Da Baby also lost his partnership with boohooMan. "boohooMan condemn the use of homophobic language and confirm we will no longer be working with DaBaby," the retail company said in a statement posted to their official Instagram.
This news comes almost a month after DaBaby 
teamed up with the online retailer
 to co-create a fashion line. The collection included a 100 limited edition pieces, which reportedly embodied his "bold, creative and colorful style."
As you know, DaBaby made controversial statements involving the LGBTQ community and people living with HIV/AIDS, during his Rolling Loud set.
He stated, "If you didn't show up today with HIV, AIDS, or any of them deadly sexually transmitted diseases, that'll make you die in two to three weeks, then put your cellphone lighter up," DaBaby said during his performance. "Ladies, if your p***y smell like water, put your cellphone lighter up. Fellas, if you ain't sucking d**k in the parking lot, put your cellphone lighter up."
After receiving backlash, DaBaby released what seemed to be an official apology in a series of tweets. He began by calling out his critics saying they wouldn't show the same support when racist cops kill Black people. Then, he spoke specifically to people affected by HIV/AIDS and to the LGBTQ community.
"Anybody who done ever been effected by AIDS/HIV y'all got the right to be upset, what I said was insensitive even though I have no intentions on offending anybody. So my apologies. But the LGBT community…I ain't trippin on y'all, do you. y'all business is y'all business."
Want updates directly in your text inbox? Hit us up at 917-722-8057 or click here to join!
The post Da Baby Reportedly Dropped From The UK's Parklife Music Festival appeared first on The Shade Room.
Alaska And Willam Play Truth Or Wine Interview
HIEEEEE! It goes without saying that Alaska and Willam are two of the most sickening and famous drag queens in the world (I'd say even universe). As well as two of the most iconic queens to ever have competed on RuPaul's Drag Race. And since 2018, the two have co-hosted the wildly successful podcast Race Chaser.
But over the last year these two legendary icons have gone on to become not just successful biziness women, but moguls, by expanding their podcast empire through the launch of their MOM network — which is the company behind podcasts hosted by their fellow Ru Girls like Latrice Royale, Manila Luzon, and Shea Couleé, just to name a few.
And to celebrate the launch of their newest eight-episode limited series podcast, Pageant Pod — which is hosted by Alaska and Willam — we had the two divas play a little game of Truth or Wine to see how much tea these former Drag Race queens were willing to spill:
So what season of Drag Race do Willam and Alaska think is the best? Which drag queen would they want to host a podcast? And what is their current relationship with RuPaul? Well, you'll just have to watch the video to find out!
You can listen to Pagent Pod and Race Chaser on your favorite podcast streaming app. And if you want to be up to date on everything these two are up to you can follow the dolls over on Instagram at
TheOnlyAlaska5000 and at Willam.
BuzzFeed Daily
Keep up with the latest daily buzz with the BuzzFeed Daily newsletter!