Listen to "Neon Lights" by Annie ft Jake Shears
A cool thing has happened. Norway's Annie and Jake Shears have teamed up on a song produced by Stefan Storm of The Sound of Arrows. It's true. The synthy, retro-bop "Neon Lights" is Annie's first new music since the release of her Spellemannprisen (Norwegian Grammy), award-winning 2020 album "Dark Hearts". When ordinarily new track releases from Annie are, rather like gold dust. Her creative spark well and truly became ignited during the last twelve months of not playing shows or doing her hot DJ thing. Telling fans a short while ago, (over Instagram) that she "had been so inspired. Writing a lot of new songs and having so much fun in the studio." Even so there was little to indicate that Annie would be getting a track out everywhere post-haste.
How did this collaboration come about with Jake Shears I wonder? There hasn't been much shared by way of explanation. Nonetheless, it turns out, this is the collaboration we didn't know we needed. Annie and Jake sound so good together. Their harmonies flow in almost perfect symmetry, and their voices, shine bright while lighting up one another. This is a great, vocal partnership, made even more glorious by the stellar production touches of Stefan Storm.
Annie has, however, elaborated more about the inspiration behind the track, saying…
"I used to live just outside the city with my mum, and I remember at summertime. It was a boy from the city that travelled with his family and used to stay in a cabin, close to our house. Sometimes in the evenings, he knocked on my window..and I climbed out just after my mum fell asleep. If the weather was nice & warm we ran up the hills, where it was a hostel/cafe..and he bought us drinks from the vending machine. We climbed up the roof and sat there..close by the neon lights…and talked about everything." – "And every time I see those neon lights in the far distance…it reminds me of those summer days".
A radiant pop release, fresh and energising summertime listening. But it is the softly sung vocals and infectious hooks, that really seals the deal for us. Spellbinding. Dazzling. Exquisite.
Connect with Annie
Facebook: https://www.facebook.com/anniemelodymusic
Twitter: https://twitter.com/annieponannie
Instagram: https://www.instagram.com/anniemelodymusic/
Connect with Jake Shears
Facebook: https://www.facebook.com/JakeShearsOfficial
Twitter: https://twitter.com/jakeshears
Instagram: https://www.instagram.com/jakeshears/
Premiere: Listen to "Borderline" by Heidrunna
I have another new Nordic electronic-pop artist to introduce to you today. Although, not a Danish, Swedish or a Norwegian one, this time. I have realised we have not made a new Icelandic music discovery on this blog in a long time. Where better place to start than with Iceland's brightest new pop act, Heidrunna.
I learned about Reykjavik raised Heidrunna recently when debuting her dreamy, melancholic track "You Make Me Feel" in September. (Unfortunately, I was on holiday at the time and didn't get a chance to write about it). I really liked all I heard, though. Like a magnet, I was drawn to her delightful, whispy voice. Being very celestial like and heavenly, in the same way as Little Boots or Kylie Minogue are. She (Heidrunna) has a lot of the Little Boots flair, I feel. There is something quite sweet, delicately nuanced about her. But, also, she is whimsical and effervescently glowing.
It was clear to me that Heidrunna is an 80s pop girl at heart. Without question being, the vibe she is channelling into her newest offering, "Borderline". If you were wondering, it isn't a reimagining of the Madonna 1984 hit of the same name. However, what the track does have in common with the Queen of Pop, one is. It is softly melodic and sparkly disco, synth-pop in style. Madonna's "Borderline" became her first Hot 100 top 10 & ignited one of the most impressive streaks in chart history": writes Billboard. From what I have heard from Iceland's Heidrunna, she is keeping on with continuing an impressive, hot streak of her own.
We need to also speak about the accompanying visuals for the track. The clip details a colourful almost, watercolour painting in style aesthetic. That has been showcased throughout all of her musical creations thus far.
If you have forgotten how blissful it feels to be spellbound under a sparkling mirror ball, listen to Heidrunna, more specifically "Borderline" for the same feels.
Heidrunna's debut album – "Melodramatic" is coming out, early 2022, on board for production is Liam Howe (Lana Del Rey, MARINA, FKA twigs and Ellie Goulding).
Connect with Heidrunna
Facebook: https://www.facebook.com/heidunannabjornsdottir/
Twitter: https://twitter.com/heidrunnamusic
Instagram: https://www.instagram.com/heidrunna/
Duran Duran share new song Anniversary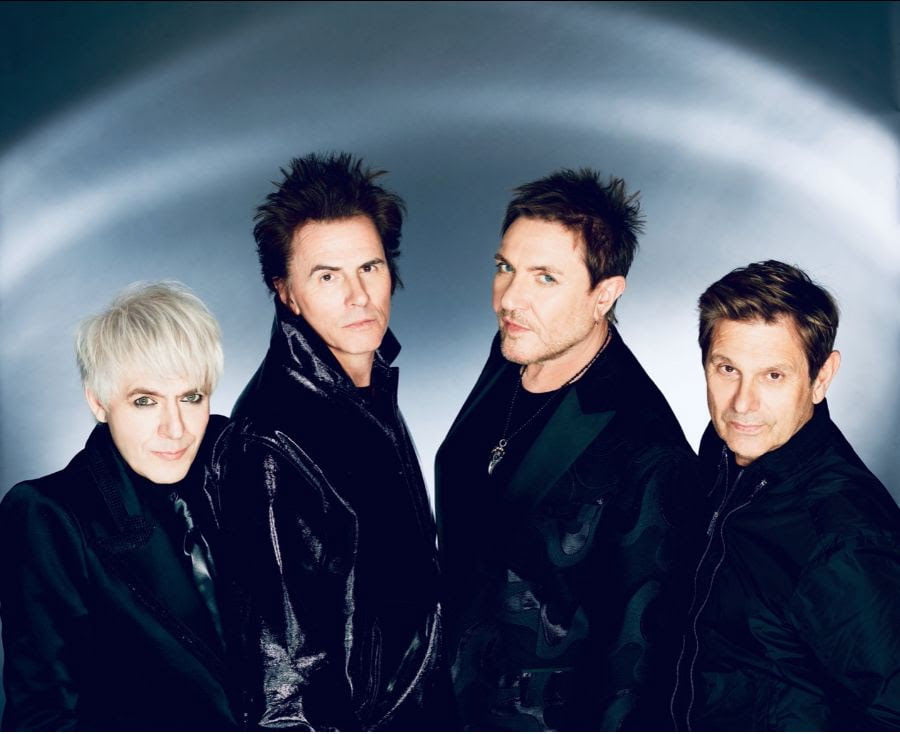 Duran Duran have unveiled the video for their latest single, Anniversary, directed by BAFTA-winning artist, photographer and filmmaker, Alison Jackson. The song is taken from the band's upcoming 15th studio album Future Past, set for global release on 22 October via Tape Modern for BMG. Pre-order it HERE.
The video was shot over three days at the historic Belvoir Castle in Leicestershire, and features the band alongside a gaggle of celebrity lookalikes including Elton John, The Queen, Daniel Craig, Lady Gaga and Dolly Parton.
Speaking about the video, Jackson said; "I'm thrilled to have been asked by Duran Duran to make their music video – creating an iconic party for their 40th anniversary, bringing celebrities together from past and present."
Additionally, on 21 October at 8pm BST, a special livestream event via Dreamstage will include an exclusive, live Q&A with the band and Billboard editor Larry Flick as they reveal untold stories about their time together. They will be joined by Alison Jackson for the global premiere of Double Take – a half-hour documentary film by award-winning director Gerry Fox and Una Burnand, that gives viewers an exclusive behind-the-scenes look at the video for Anniversary. Watch the trailer here.
The performance will replay for US audiences as 1am BST, followed by a 72-hour VOD period. The livestream will be the first event to be broadcast from the Now Arcade at the Outernet in Soho, London, prior to the venue's opening later this year.  Tickets are available HERE.
Duran Duran's John Taylor revealed, "Anniversary is a special song for us. Obviously, we were conscious of our own impending 40th anniversary of making music together, but we wanted the song's meaning to be inclusive in the broadest possible way. After playing and working together for so long, we very much appreciate what 'being together' and 'staying together' can really mean, it's not something we would have thought song-worthy 40 years ago but we do today! It was also fun to build a track with hints of previous Duran hits, they're like Easter eggs, for the fans to find."
Future Past, which features guest appearances from such artists as Graham Coxon, Tove Lo, Ivorian Doll, Mike Garson and Chai, is out 22 October.
Want more from Classic Pop? Try an issue for only 99p today. Click 

here

 for more details.
Comments
comments
Watch "Broken Mirror" by Elderbrook
Wow, producer/multi-instrumentalist Elderbrook really came through with the video for "Broken Mirror". He has linked up with the LGBTQ+ working director and photographer Jordan Rossi for a bold statement piece. The clip follows the day in the life of a queer performer, and no stone has been left unturned.
We see the multidisciplinary artist and creator Darkwah as they go about their daily routines. However, normal these activities and everyday situations may seem. Rossi's direction and Darkwah's performance in the visual make us acutely aware there are red flags everywhere they go and in everything they do.
Additional to the stunning electronic soundtrack provided by Elderbrook, as found on the musician's "Innerlight" EP. Darkwah finesses the track with a new spoken word verse of commentary of their own. Sparing none of the authenticity of the hard-hitting truths.
"I cannot tell you how exhausting it is being told, be yourself, we love you. We love everything about you… and then as soon as you are your whole self, you are told to go back into a box…" is just an excerpt of what is shared.
Tune in. The whole speech is enlightening. Very emotional, highly charged and poignant. But it needs to be this way.
"Having these occurrences shown at this level in conjunction with an artist like Elderbrook, I hope, will not only generate more conversation but result in change for the better as people check the ways in which they interact with performers, queer performers and queer people. I'm incredibly grateful to have been part of this project. I'm super excited for the change it will start to incite." Darkwah shares.
Well said. Applause all around for this important statement piece. I do love a music video that is both knowledgeable and educates. "Broken Mirror" certainly does this. To my mind, it should have millions of views. Do your bit, humans. Give it a watch NOW…
Connect with Elderbrook
Facebook: https://www.facebook.com/Elderbrookmusic/
Twitter: https://twitter.com/_elderbrook
Instagram: https://www.instagram.com/_elderbrook/