My Mom Said She Would Diss All Of My Celeb Crushes Instead Of Kiss Them And Now I Want To Know If You Agree With Her
Artists to Watch: Yung Dutchie Is Up Next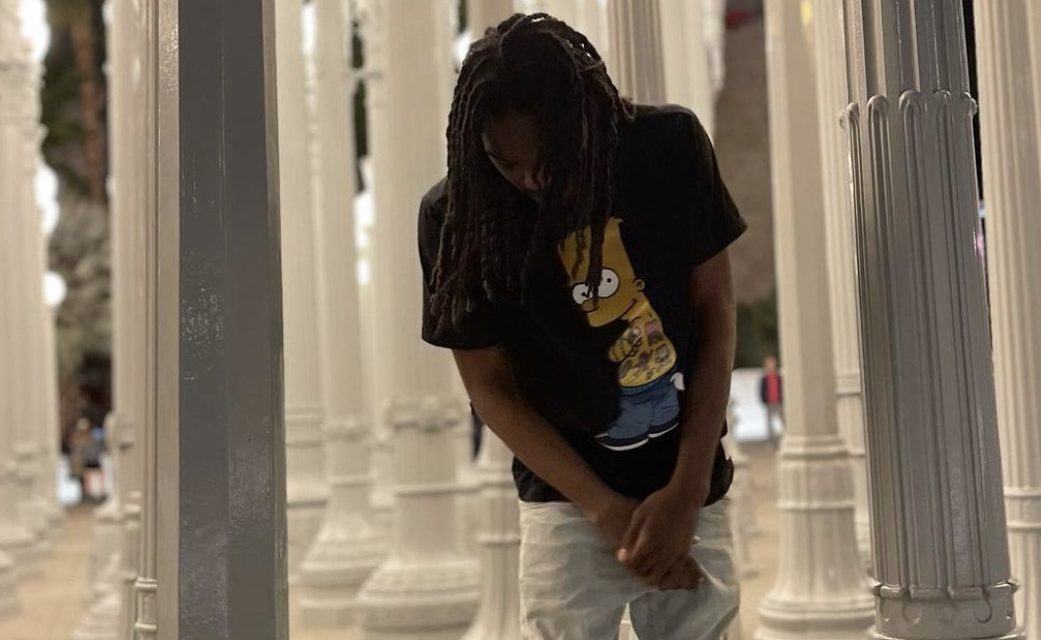 Recently there has been a revolution of trailblazing new artists in the hip hop game. One of these artists is rapper named Yung Dutchie. Born December 4, 1998; Dutchie came into this world with greatness in his spirit. No one knew it yet but je was destined to do big things through out his life. Born in Redlands, CA, young Dutchie would later move with his father at three years old. According to Dutchie, "my dad was the only suitable person for me to live with." His father moved him from his family, 1500 miles away to Minnesota.
Life in a new state was somewhat rough for Dutchie as a child. Even tho he wasn't accepted widely as a member of society yet, a few did recognize and see greatness within him! It was those people who helped forge a way for Dutchie to vent about his life thru a profoundly different sound ! 19 years later Dutchie moved back to California in order to peruse his dreams and career as a musician.
Dutchie lived in St. Paul Minnesota for a few years before his father moved him into a rural area know as St.Cloud. It was here where Dutchie created bonds with most of his friends. For elementary school Dutchie went to Oak Hill Elementary School, on the south side of St.Cloud. Instead of going to South Jr High School (the school closest to Oak Hill) he went to North JR High School. In 2010 Dutchies father moved him from the south side of St. Cloud into a house in the middle of Waite Park Mn. With a population of about 15,000 people at the time Dutchie became widely known in his community between sports ,community activities ,and numerous other extracurricular activities.
According to Dutchie, "I tried to get out as much as possible because I never liked staying in the house, I was always trying to chill with friends or excel in life i guess I always was trying to find where I belonged." After completeing middle school at North Jr High, Dutchie went on to graduating from Apollo Senior High School. After high school Dutchie started working at a local financial institution known as St. Cloud Federal Credit Union for about 6months. Dutchie states, "I really liked and disliked the banking industry simply because-yeah it was cool having my insurance paid for, a safe and secure job in a nice local area where everyone knew my name; but what I felt was lacking was substance I felt like I didn't mean anything yet." It wasn't until he got fired from his job that he realized that he had a gift in music.
During the time Dutchie got fired from his bank job he and his friends all started to rap in the closet of their one bedroom apartment. It wasn't long after starting rapping when things in his life got crazy. When asked about these events, he claimed "that year was a learning lesson for me the day after my birthday in 2018 I lost my job, immediately three days after my car that at the time I had a loan on broke down completely. Me and a couple friends were selling weed at the time ,and we all got a place together. I didn't know this but my homies had a play come thru for a "QP" and long story short I woke up to my brother Bobby having the best day of his life and an hour later when the guy came for the "QP" we were left with my brother in our arms rushing to the hospital." "I watched my brother die " Dutchie finished.
After this traumatizing incident Dutchie moved from Waite Park back into St. Cloud in his own house with the soon to be mother of his child. A few months in St. Cloud he then came up with a plan to move him, his baby's mother, and his dog "Cookie" to California. It was at this time that he believed he had found his sound! About three years in California making connections, Dutchie is finally ready to let the world hear his sound.
Musically inspired by his family and friends, Dutchie is dropping a project series based on the good, the bad and untold life struggles of his life titled; SHAMELESS the EP Series 1, of 9 Volumes. For each volume; Dutchie will drop a Single defining his life and it will have the name of one of the characters from the Netflix series Shameless. You are invited to the Journey! Follow Yung Dutchie on Instagram at @real_dutchie .
https://music.apple.com/us/album/shameless-frank-single/1613066032
Let's Check Out All Of The Super Fun Movie News We Received This Week
Cam Newton's GF Saying She's Submissive To Him Sparked Reactions
Comedian Jasmin Brown, better known as "Watch Jazzy" to Instagram followers, revealed she's happily submissive to her famous rumored boyfriend Cam Newton, and now the internet is picking her apart.
Hopeless romantic 24 hours a day, 7 days a week. 🌹

— Jasmin Brown (@watchjazzy) June 28, 2022
Fans think the father of seven, who admitted to spoiling his last relationship by cheating, isn't worth the effort.
Brown made the admission while appearing on Shan Boodram's "Lovers & Friends" webcast. The topic of Brown's "biggest flex" came up, where she revealed her biggest bragging point is how great she pampers her boyfriend, Cam Newton.
"You know, like packing his bag, unpacking his bag. Just making sure—all the things that he wants. I pretty much read his mind. If I know you and I study you, I know how you are in the morning; I know how you are by midday." She said."Before you can even ask me for something, I'm already on it. He's spoiled."
What does a submissive woman do for her alpha man in a romantic dynamic? @watchjazzy explains the Art of Being Submissive. Listen here https://t.co/8bWouwKzxi pic.twitter.com/X5p4BJUhSI

— Shan Boodram (@shanboody) June 29, 2022
Her Submissive Behavior Is "Like An 8-Count"
"Relationships and being submissive is like an 8-count," the 33-year-old entertainer declared to sexologist Shan Boodram. To her it's second nature, she revealed.
"If you have a long day and you are fighting the world, you will never come back and fight me."
To some, her submissiveness to Cam Newton, whom she's been dating publicly since last summer, can appear to be "enabling."  But 33-year-old Cam doesn't buy into the concern of his relationship naysayers. Brown alleged he says,  "of course, they are going to say that; they don't have anyone doing it for them."
Fans Drag Cam Newton's GF Who Lets Him Have Anal Sex
Jasmin may be proud of how she loves Cam. However, fans have a lot to say about her admission. The clip of Jazzy describing how she enjoys spoiling the athlete with little to no expectations from him is stirring the pot online.
In another admission during the episode, the entertainer also reveals she has anal sex with Cam, even though she doesn't enjoy it, but he does. This and her other revelations about their relationship sparked dozens of comments.
One Twitter user called Cam out for being a serial cheater, insinuating Jazzy was embarrassing herself:
Baby you date Cam Newton. A serial cheater with 15 kids and multiple BMs. Hearing her say this makes this video even more wild.
Baby you date Cam Newton. A serial cheater with 15 kids and multiple BM's. Hearing her say this makes this video even more wild. https://t.co/3mQSbr9J5v

— Skinny Minnie (@Da_mirror91) June 30, 2022
Even more comments poured in, picking a part her words. Scroll down to see them.
You're rubbing cam newton's back till he falls sleep every night meanwhile your asshole is tenderized. Where's your back rub?

— B(lack) E(vil) T(elevision) (@nottramar) June 30, 2022
This woman admits that she has anal NOT for pleasure but for HIM. She speaks on her abuse and sexual trauma. She speaks about her mother and the dynamics she witnessed there. She admits to getting nothing in return. Men: she's a dime 😬 https://t.co/4i9cXMXYO3

— Sis (@Safia00) July 1, 2022
Jazzy is dumb like I said. You gotta be a little dumb to date Cam Newton https://t.co/vmnxB6NOAs

— Dear Ashley… (@asj519) June 30, 2022
How is her man an alpha where she coddles and burps him to sleep and packs his school lunch? Wouldn't an "alpha man" be the last to sleep after securing everyone under HIS care is at rest first???? She's just a mother hen and her man is her chick.

— Bronzeddoll🇹🇹 (@PisceanGoddessa) June 30, 2022
Just started listening to Shan Boody's podcast interview with Watch Jazzy and basically she's codependent. But labeling it as submissive

— rudegyal☝🏾🇭🇹 (@unessdee) June 30, 2022
She is allegedly dating Cam Newton, who famously said this a few months ago. 🫥 Chile, if they like it and it works for them — Jah bless. pic.twitter.com/Z1pAYZiEhh https://t.co/GhGfIV4jwF

— – (@BasedJane) June 29, 2022
I always say stop listening to & taking advice from people who record videos in their cars. They always want prove themselves to be dumb

Now she's over there getting anal lacerations from Cam Newton and hating every minute of it but that's her man and she gon stick beside him 🥴 https://t.co/nQ8JkOlQfb

— The Hoochie Daddy Hunter (@HoochieDaddyLvr) July 1, 2022
Roomies, what do YOU think about Watch Jazzy's admission to submitting to her rumored boyfriend, Cam Newton? Peep her entire interview below.