Richard Sherman Hit With Five Misdemeanor Charges In Recent Domestic Violence Case—Including Criminal Trespass & Resisting Arrest
#Roommates, the details of NFL player Richard Sherman's arrest continue to pour in—and now we finally have an update regarding his official charges. According to newly released reports, following his recent domestic violence incident, Richard Sherman has just been hit with five misdemeanor charges.
@TMZ_TV reports, earlier this week, current NFL free-agent Richard Sherman made headlines when he was arrested for an alleged domestic violence incident after he attempted to break down his in-laws front door to get to his wife. Following the video of the encounter going viral and showing him in a violent rage, Sherman is now facing five misdemeanor charges for his behavior. Prosecutors in the case have officially charged him with second-degree criminal trespass domestic violence, resisting arrest, third-degree malicious mischief domestic violence, driving while under the influence and reckless endangerment of roadway workers.
During his court appearance, Richard Sherman pled not guilty to all charges—and surprisingly showed up hand-in-hand with his wife, the woman at the center of the domestic violence incident and who also initially called 911 on him. Speaking about the incident for the first time, Sherman had a lot to say about his behavior.
"I behaved in a manner I am not proud of. I have been dealing with some personal challenges over the last several months, but that is not an excuse for how I acted. The importance of mental and emotional health is extremely real and I vow to get the help I need. I appreciate all of the people who have reached out in support of me and my family, including our community here in Seattle. I am grateful to have such an amazing wife, family and support system to lean on during this time," he said.
As we previously reported, Richard Sherman was arrested and held at the King County Correctional Facility in Seattle.  Authorities say a 911 call from the residence was received at 2 AM The person calling said that an adult male family member who did not live at the residence attempted to force his way into the home.
When police arrived, the suspect was found outside the home. He allegedly fought with police but was eventually apprehended and taken to a local hospital to be checked but was cleared and then booked into jail.
Want tea directly in your text inbox? Hit us up at 917-722-8057 or  click here to join!
"Bobby & Whitney Were Their Time"
As Bobby Brown and his wife Alicia Etheredge prepare to celebrate 10 years of marriage together, the couple opened up about their journey to love, happiness and raising three children together in a new interview with PEOPLE.
Bobby and Alicia have been friends since the late 80's, and after Whitney Houston's tragic passing in 2012, Bobby recalls being in a "pretty sad place" and living out of his car. Despite his hardships at the time, the couple got married that same year and have since welcomed three children together.
He was in a pretty sad place. I saw him dealing with heartbreak. I saw him fighting to get back to his music and what he loves."
Mrs. Etheredge-Brown told PEOPLE she is the "ying to [Bobby's] yang," and understands the iconic connection and public relationship Bobby had with Whitney.
"Bobby and Whitney were their time. I also came from a place. So knowing that he loved hard and came out the other end and somehow we were meant to be and found each other again, that's what I like to focus on."
Bobby Brown and Whitney Houston's 14-year relationship became the standard for free flowing love and success. Things took a turn as the couple publicly battled drug addiction, leading to the end of their marriage in 2007. Just a few years later in 2012, Houston was found unresponsive in a Beverly Hills bathtub due to an overdose.
The details of their relationship were publicized even more when the couple agreed to star in Bobby's reality tv show Being Bobby Brown in the early 2000's. Bobby and his new wife are taking a similar path in a new reality series called Bobby Brown: Every Little Step, which will reportedly focus on their family dynamic.
"We walked into it of course with caution," Etheredge-Brown said. "We've been approached a few times, but A&E gave us the privilege to produce and have a say in what we're doing. We're really proud of it."
Want updates directly in your text inbox? Hit us up at 917-722-8057 or click here to join!  
Tory Lanez "It Doesn't Matter"


Thot boy shit. Hot off his "Shot Clock Violations", Tory Lanez rings off on the thotties for his Fargo Friday release. On the unapologetic tune, the Toronto rapper and singer references the toxic energy from that hoe over there. Source link



Source link
All These Marvel Actors Have Been In DC Movies, Too, But How Many Do You Remember?
There's a surprisingly large amount of actors with both Marvel and DC credits on their resumés, but how many do you remember?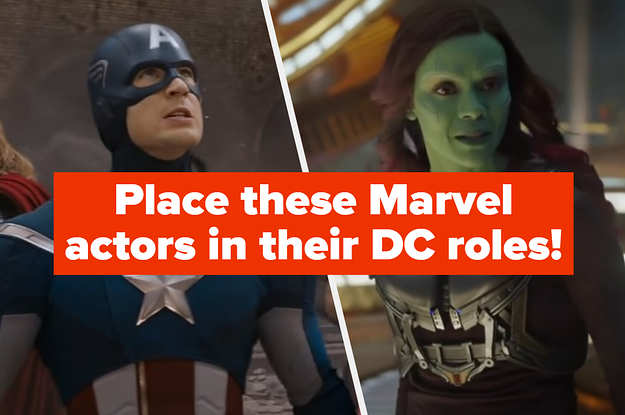 ---