St.Louis Artist Robbo Brilliant Talks 'Now or Forever' Project
[ad_1]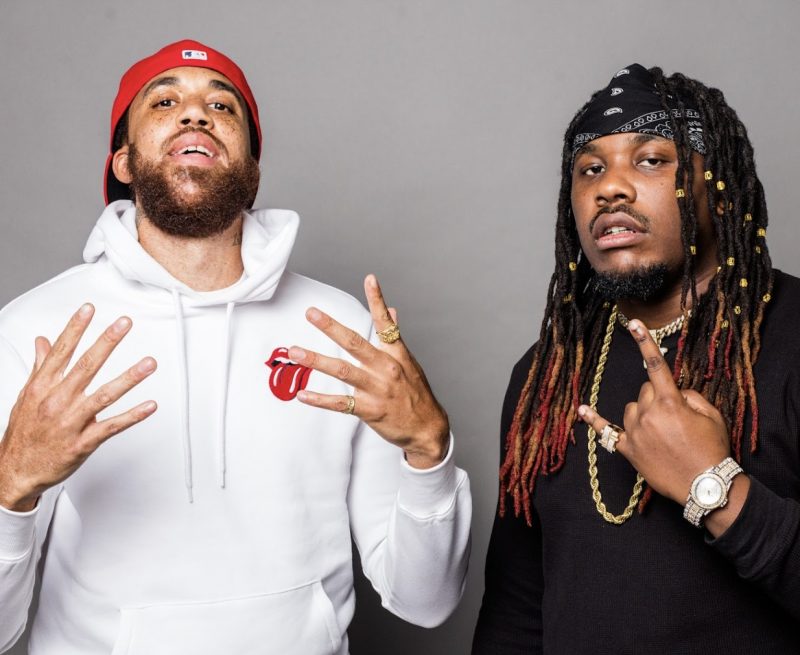 How did the project with EJ Carter come about? 
EJ, that's my brother. He is also from St. Louis. He is from the west side and I'm from the north side. We have a lot of mutual friends and we've known each other for a while. We are really locked in. We work really well together and we kind of built a rapport with each other. He had a video shoot one day and he was like bro, we should do a full body of work. 
So I bet you kind of felt honored that he'd wanna do a full body of work with you. 
It was definitely an honor. He doesn't work with just anybody. He takes pride in what he puts out. So for us to be able to do that and see it to completion, it was a good feeling. 
Can you talk about the duty? You feel like you have a duty to work with St. Louis artists? 
I feel like I have an obligation to an extent. I feel like I have an obligation to contribute and give back. Especially because there is so much going on in St. Louis. There are alot of crimes and bullshit. I want to connect with the people that are really trying to lock in and do something with themselves. I feel like I'm a leader and I just want to contribute. 
Can you describe the St. Louis music scene today? 
It is kind of divided a little bit. I call it trench music. The overall sound of the city is a lot of street stuff and things they go though. Then there is the other side just trying to make a hot single. 
How many tracks can we expect to see on this project? 
You can expect to see six tracks and the single "Black Ops.". I think it is something I think people will be excited to hear. Black Ops is like workout music. Its high tempo and high BPM. It is really bouncy. 
What is the meaning behind this project? 
Now or forever it's asking people what they are going to do now. It's like if you don't do it now then you'll have to live with the fact that you didn't do what you wanted to do.
What energy does EJ bring out of you? Can you talk about that because you could have worked with anybody, but I feel like this artist right here brought out another side. 
He just brings out that consistency. Seeing things to completion, seeing things through. He is very organized from rollout to beat selection, to quality. He has a lot of industry expertise and he passes it down. 
Can we expect any visuals? 
Most definitely we are coming back with high quality content. It is probably going to be "Black Ops" 
What do you feel like the music industry is lacking these days? 
Material and subject matter. You can put out a single or something catchy, but you still have to have some bars with a message. Our project includes all of that and the producer we worked with did the whole project so that's why we have that consistent sound. 
Any last words you wanna share about the project coming up so they could add into the article? 
Yeah for sure, go stream the project and thank you for this interview. Shoutout to EJ and the city! 
Link: https://open.spotify.com/album/42T6eIU20bHOs7NvXazZ3W 
ROBBO FACEBOOK 
https://www.facebook.com/robbobrilliant314 
ROBBO INSTAGRAM 
https://www.instagram.com/robbo_brilliant/ 
E.J. CARTER FACEBOOK 
https://www.facebook.com/therealejcarterworld 
E.J. CARTER INSTAGRAM 
https://www.instagram.com/therealejcarter/


[ad_2]

Source link
Photos Of The Queen Watching Horse Racing
[ad_1]

But the Queen's absence at Epsom Downs this year means that the world was deprived of one of the best opportunities to see the Queen break her regal, "stiff upper lip" demeanor.
Because when it comes to horses and horse racing, Her Majesty gets really into it, particularly because she often has her own horses in the races she watches.
So, in honor of her 70 years on the throne, here are 25 pictures of her in her element — watching horses do their thing.
[ad_2]

Source link
Boosie & His Son's Ex-Girlfriend Ramya J Exchange Words (Video)
[ad_1]

Boosie gon' keep it 100 at all times! Today the rapper was trending after calling out his son Tootie Raww's ex-girlfriend, Ramya J, over a plethora of alleged lies regarding a baby boy who he believed was his grandson. In the initial post, Boosie shared a video on Instagram with the caption, 'The things these women do these days is CRAZY. My son has had the most stressful year of his life because of this situation. Ok yall wanna do this too, my son bet, and the momma of the daughter the worst.
The last pic is the real mother and father."
The Baton Rouge rapper wasn't done setting it off. He continued to call out Ramya throughout the day. In one post, he claimed the young woman gave him a fake birth certificate for the baby, posted pictures of the family to who he believed the baby belonged and explained how Ramya brought the child to Tootie's high school graduation.
While Boosie continued to air the young woman out, she decided to clap back and make a few claims. She was specifically speaking about Boosie lying and spreading a false narrative. Ramya said that Boosie allegedly paid people to lie and say they were the baby boy's parents and that the rapper never wanted her to have the child. She claims he went as far as to offer to pay her $20K for an abortion. She shared the baby's birth certificate and DNA results as she revealed her receipts.
However, if you thought Boosie wouldn't respond, guess again. He continued to pull out receipts by posting a screenshot from The Sun that showed the same DNA test. Things took it up a notch when Michelle Brown, the mother of the man who Boosie claimed was the child's birth father, spoke out, also siding with the rapper.
Roommates, what did ya'll make of this drama?!


[ad_2]

Source link
2Pac – Enter Makaveli 👑🔥KINGSYOUV MUSIC remix 2022🔥👑 #tupac #2pac #remix #hiphop #viral
[ad_1]

👑KINGSYOUV MUSIC – Best hip-hop, R&B, Gangsta Rap, Chill Rap, Lofi Hip-Hop music for your soul. 👑
SUBSRIBE and turn on notifications to stay updated with the best musiv every day.
1subscribe=100 🔥🔥
Add my 2nd youtube page all the video clips produced by SHORTSVIDEO [CAR&LUXE]
https://www.youtube.com/channel/UC8SxoxsUYrOExQDiH3L25tw?sub_confirmation=1
SONG/
2Pac – Enter Makaveli 👑🔥KINGSYOUV MUSIC remix 2022🔥👑 #tupac #2pac #remix #hiphop
https://www.youtube.com/channel/UCbEuarFEP9a4xczHgi6vHVg?sub_confirmation=1
tiktok music
tiktok song
car music
bass boosted
slowed music
remix
trending music
gangster music
gangster music mix
car music mix
trap music
gangster
best car music
house music
gangster gang
gangster city
hd music
remix 2021
remix 2022
tik tok music
music 2022
#GANGTERMUSIC #CARMUSIC #HOUSEMUSIC ‌Теги: car music, mix 2021, car music mix, best gangster music mix, gangster music, g-house, guitar, trap music, bass, car video, bass music, remix 2020, gangster, музыка в машину, bass boosted, emre kabak remix, bass mix, car bass mix, best car mix, emre kabak, car bass, best car music, chill, cars, музыка, pop music, музыка в машину,лучшая музыка,клубная музыка,клубняк 2021,electro house,russian music,ceйчас в наушниках,club mix,club music,музыка в машину 2021,музыка в машину 2021,музыка в машину басс,музыка в машину с басами,музыка в машину русская,лучшая музыка 2021,лучшая музыка 2021 лучшая музыка всех времен,лучшая музыка для тренировок,лучшая музыка 2021 зарубежные песни хиты, крутая музыка 2020, крутая музыка басы,крутая музыка2021,крутая музыка в машину еlectro house,pop music,music video,bass boosted,magic music,trap music,trap mix,trap remix,bass boosted songs,bass boosted rap songs,bass boosted default dance,bass boosted old town road,magic music video,magic music instrumental,magic music visuals,magic music box,magic music mix,trap music 2021,trap music remix,trap music now,trap music playlist,trap mix 2021,trap mix bass boosted,trap remixes popular songs музыка в машину,лучшая музыка, клубная музыка, клубняк 2021,electro house,russian music,сейчас в наушниках,club mix,club music,музыка в машину 2021,музыка в машину 2021,музыка в машину басс,музыка в машину с басами,музыка в машину русская,лучшая музыка 2021,лучшая музыка 2021,лучшая музыка всех времен,лучшая музыка для тренировок,лучшая музыка 2021 зарубежные песни хиты,крутая музыка 2021,крутая музыка басы,крутая музыка 2021,крутая музыка в машину #carmusicmix2021
#bestgangstermusicmix #carmusic #music #deephouse #gangster #bassmusic #музыкавмашину #carbassmusic #gustavobabel #bassboosted #bestcarmusic #chill #cars #музыка #popmusic #gangsternights #bmw #slowed #slow #carmusic #music #girl #model #charango #topslowsong #you #whereareyoubass #whereareyouslow #otnickababel #ghouse #guitar #trapmusic #bass #carvideo #bassmusic #remix2020 #gangster #музыкавмашину #bassboosted #bassmix #carbassmix #bestcarmix #emrekabak #carbass2021#babel #otnicka #thomas #tomhardy #peakyblinders #cillianmurphy #sad #sadsongs #broken #explore #thomasshelbyedits #youtube #youtuber #instagram #music #love #follow #like #tiktok #spotify #youtubers #video #youtubechannel #explorepage #memes #gaming #instagood #twitch #subscribe #facebook #hiphop #gamer #viral #art #rap #rapper #twitter #fashion #f #xbox #itunes #vlog #game #producer #podcast #live #repost #o #applemusic #trap #sub #followme #life #youtubemusic #youtube #spotify #music #applemusic #itunes #deezer #newmusic #youtuber #soundcloud #tidal #youtubechannel #amazonmusic #hiphop #youtubevideos #youtubers #youtubevideo #rap #sub #tiktok #musicvideo #instamusic #spotifyplaylist #pandora #artist #rapper #youtubelife #musica #viral
👑KINGSYOUV MUSIC👑
[ad_2]

Source link