Texas Governor Greg Abbott Bans Mask Mandates, Threatens To Fine Local Officials Who Try To Enforce Them
TSR Politics: Not only is Texas Governor Greg Abbott banning mask mandates in his state, he's also threatening to fine any local officials who will try to enforce a mask mandate in their cities/towns.
Abbott issued the executive order this week saying, "Texans have mastered the safe practices that help to prevent and avoid the spread of COVID-19. They have the individual right and responsibility to decide for themselves and their children whether they will wear masks, open their businesses, and engage in leisure activities."
His order encourages residents in areas with high COVID-19 transmission to "follow the safe practices they have already mastered," such as wearing masks where social distancing is not feasible, according to The Hill.
Government entities such as county, city, school district, or public health authorities cannot require people to wear face coverings, according to his order. Local government entities that institute mask mandates may be fined up to $1,000.
The order also targets government entities that may have considered requiring employees to be vaccinated. The order said local agencies cannot "compel any individual to receive a COVID-19 vaccine administered under an emergency use authorization."
Governmental agencies, public entities and private entities that receive public funding, cannot require people to provide proof of vaccination as a condition of receiving services, according to the order.
The order does not stop nursing homes or living facilities from requiring residents to be vaccinated, though.
Abbott's order comes after the Centers for Disease Control and Prevention (CDC) issued new guidance stating that fully vaccinated people in areas with "substantial" or "high" transmissions of COVID-19 should wear masks indoors as cases continue to climb thanks to the virus' delta variant.
Florida Governor Ron DeSantis made a similar announcement Friday, banning mask mandates in public schools in the state.
Want updates directly in your text inbox? Hit us up at 917-722-8057 or  click here to join!
Hamilton Facetime After Emmys And More Celeb Tweets
Britney Spears Told The Story Of Justin Timberlake Giving Her A "5 Minute Pep Talk" Before Her 2001 MTV VMAs Performance After He Finally Apologized For His Past Treatment Of Her
This is the second time that Spears has made reference to her ex-boyfriend since he extended an apology for his past treatment of her following their 2002 breakup.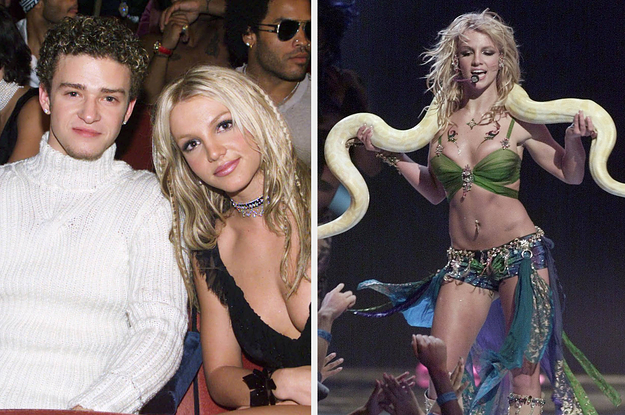 ---
The 25 Best Love Island UK Contestants, Ranked
Lovely, lovely Kaz, always stylish, has this infectious, confident, energetic kindness. Also, she is ridiculously good in an argument.
Unfortunately, many Series 7 men were blind. Kaz spent her first days with an uninterested Toby (who we'll get to, don't worry), then she went on dates with the A+ Teddy and the too-bad-to-discuss Danny, both of which did not go anywhere except the aces friendship couple of Kaz and Aaron. Then Tyler walked in, charm, extraversion, and beauty headed straight for Kaz, and she was smitten. Though, quite soon, Tyler forgot she existed at Casa Amor, which was the catalyst's for Kaz to couple up with Matthew. In the aftermath, Kaz calmly, clearly, concisely, extremely intelligently ripped Tyler to shreds. 
But they gravitated towards each other again. Within weeks, Tyler asked Kaz to be exclusive in an homage to Love Actually because Kaz adores rom coms. The couple came in fourth place, but they should have come in at least third. At least. Kaz was astute, fun, wise, empathetic, suave, and an exceptionally first-rate friend, notably to Liberty. Their perfect friendship was the best relationship of Series 7 by a thousand miles.
If you think the treatment of Kaz, including how she and Tyler placed fourth as the first entirely Black couple in a finale, does not have to do with racism, look inward and see how wrong you are. Love Island isn't good to Black women, particularly dark-skinned Black women. Kaz had to swim upstream in a system designed to eliminate her from the show. She isn't on this list because of that, she's here because of her impeccable personality and (somewhat) her drama, but the role racism played in Kaz's experience cannot go unmentioned. 
During all the fights, snakes, and lesser men vying for superior women, Kaz was battling a much more prodigious war, one she did not sign up for.
In the end, Kaz slayed the lawless, icy, ever-reigning goliath: Love Island.