Thomas Lane Pleads Guilty To Manslaughter In George Floyd's Death
Thomas Lane is taking some accountability for his role in the May 2020 murder of George Floyd, but it's not in exchange for nothing! You may recall that Thomas was the former Minneapolis Police officer who held George's legs as his old co-worker and convicted murderer Derek Chauvin executed the deadly restraint. According to Minnesota Attorney General Keith Ellison, Thomas pled guilty to second-degree manslaughter.
"My thoughts are once again with the victims, George Floyd and his family. Floyd should still be here with us. But I am pleased Thomas Lane has accepted responsibility for his role in Floyd's death," AG Keith tweeted.
The attorney general added that Thomas' guilty plea for "aiding and abetting second-degree manslaughter" is an important step, particularly in the healing journey for George's family.
"His acknowledgment he did something wrong is an important step toward healing the wounds of the Floyd family, our community & the nation," AG Keith tweeted. "While accountability is not justice, this is a significant moment in this case & a necessary resolution on our continued journey to justice."
Thomas Lane Accepts Plea Deal In Exchange For Dismissed Murder Charge
But the former cop didn't entirely lose out by taking accountability. Authorities dismissed Thomas' "abetting second-degree unintentional murder" charge in exchange for his guilty plea, per AG Keith. A conviction for that murder charge means a mandatory 12-year prison sentence. So, with this guilty plea, Thomas dodged the possibility of spending more than a decade behind bars.
Additionally, CNN reports that both the state and Thomas' attorneys have recommended a sentence of 36 months–just three years for aiding in George's death. His lawyer Earl Gray said Thomas copped the guilty plea because he wanted to be a present father.
"My client did not want to risk losing the murder case so he decided to plead guilty to manslaughter with a 3-year sentence, to be released in 2 years and the murder case dismissed," Earl said. "The sentence will be concurrent with his federal sentence and he will serve his time in a federal institution. He has a newborn baby and did not want to risk not being part of the child's life."
What Role Did Thomas Lane Play In The Death Of George Floyd?

Thomas had only four days on the job when Derek restricted George's airways for nine minutes. He was one of four officers, including Derek Chauvin, Tou Thao, and J. Alexander Kueng, present during the horrific crime captured on video. Thomas pinned down George's legs, and J. Alexander pinned down his torso as Tou kept the growing and protesting bystanders at bay. Meanwhile, Derek pressed his knee into George's neck and back as George begged for oxygen, called for his mother, lost consciousness, and died.
Lane reportedly attempted to intervene in Derek's handling of the arrest twice, per body camera footage. First, he asked Derek about putting up George's legs, as taught in the police academy. Derek replied, "No, we're good." Thomas later wondered if they should roll George onto his side. Again, Derek rejected the suggestion saying, "No, we're good like this."
When the ambulance arrived, CNN says Thomas joined the first responders in the vehicle and performed CPR on Floyd's limp body.
The Minnesota Judicial Branch website says Thomas will receive his sentence for the manslaughter charge later this year on September 21.
Want tea directly in your text inbox? Hit us up at 917-722-8057 or click here to join!
Meet Jonathan Daniel Ross – an American Entrepreneur, Model, Public figure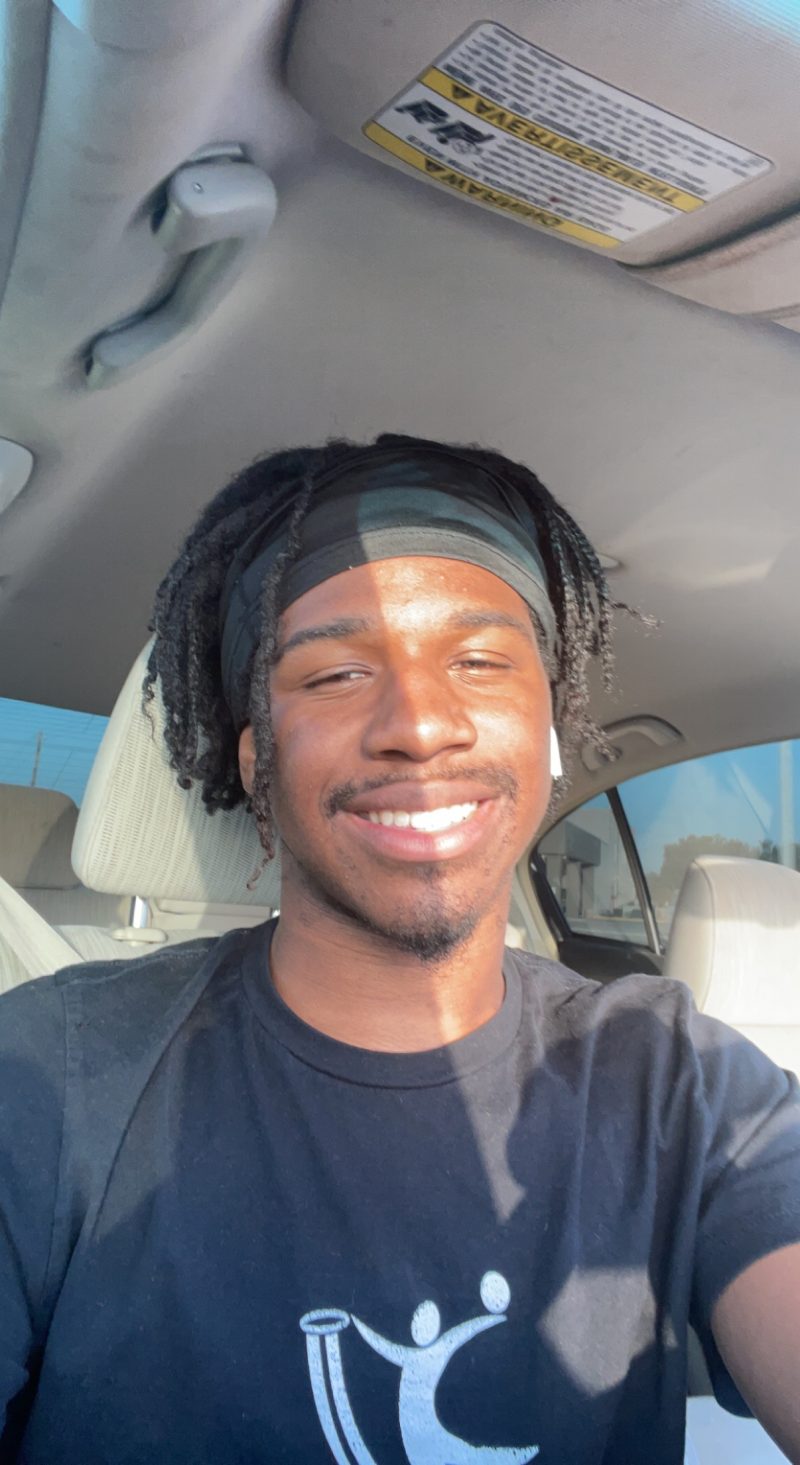 Thank you so much for doing this with us! Our readers would love to get to know you a bit better. Can you share with us the backstory of how you came upon this career path and to where you are today?
I started off doing small charity and food drive for the homeless and needed. My parents always had me giving back to community, rather it was working with my church activities to other. Therefore my parent are main reason why I give back to the community and try to help out many people I can. Now these day I am a social media model for Habits 365, a verified brand who created a clothing brand for motivation. I use my ambassador/ modeling with Habits to help the youth out and spread positive vibes. However Habits365 has inspired me to start my own Merchline " Conquer 224″ !!Coming Soon!! and which trying to get the youth to conquer their fears and dreams today, tomorrow and forever , (meaning of 224) I'm also getting into partnership deals with brands.
In fact perhaps most people who tried to follow a career path like yours did not succeed. Do you have any words of advice for others who may want to embark on this career path but know that their dreams might be dashed?
The best thing I can say is to invest in yourself and take your time, don't be so easy to give up on your goal."Conquer today, tomorrow and forever!"
Can you share with our readers some of your strategies you've used to build an engaged, loyal, and large online community?
For me I just took every chance I got online and tried it from brand deals, ambassador to other online team to help boost my online presence. I started working with agency also and celebrity campaign to help benefit me to getting more paid sponsorship deals. It all start with investing in yourself. Working with the right people also can help you get to where you want to go.
Can you share a story with us about the most humorous mistake you made when you were first starting? What lesson or take-away did you learn from that?
The biggest mistake I ever made was letting other people make decision for me and it back fire and definitely scammers. People out there don't care or trying to help you succeed. They just want to take and take from you. Your an easy fallen victim and they won't feel bad for you.
Who inspires you the most to do what you do?
I can say my parents did as they raised me to be the best I can be. I also like thank my friend Prince as he is a motivated speaker growing his brand and himself to. Finally big shutout to Habits 365 clothing brand for giving me so much knowledge.
What is your greatest achievement as an entrepreneur?
My greatest achievement so far is to work with some big brands as of /Current and Ridge Wallet.
What is one book you recommend, and why?
One book I recommend to read is "breaking the habits of being yourself".
What are the three best pieces of advice that you would give to anyone starting a business? What do they need to know from the very beginning?
1.You have to invest in yourself see results.
2.you have to keep pushing and pushing yourself.
3. Don't give up to easy!
What is the best way our readers can follow you on social media?
Best way reach out to me is my Instagram @jdr.jojo or visit my personal website jonathandanielross.com
"The Kardashians" Executive On Kourtney Kardashian's Criticism
"When they don't like the show, I like the fact that they say it."
One of the key executive producers on The Kardashians has given his take on Kourtney Kardashian's recent criticism of the show.
But first, if you're confused and wondering how or why Kourtney might be hating on her own TV show, allow me to give a quick explanation.
So, we were witness to a major fourth wall break in the penultimate episode of the season when Kourtney aired her frustrations about the way the show's editors had presented her engagement to Travis Barker in the fourth episode.
During an intimate conversation with one of her close friends, Stephanie Shepherd, Kourtney admitted that she was unhappy with the narrative that the editors had woven into the engagement episode — more specifically, the fact that they'd included an uncomfortable discussion about her ex, Scott Disick.
In case you've not seen it, fans got an inside look at Kourtney and Travis's lavish beachside proposal earlier in the season. And, despite not being present at the family's celebrations, Scott — with whom Kourtney shares three kids — wound up being one of the episode's biggest talking points.
For some context, Scott and Kourtney dated on and off for about a decade, during which time their relationship was plagued by his issues with substance abuse and infidelity. They eventually called it quits for good in 2015, though Scott has remained a huge part of the family's inner circle.
It's for that reason that at one point during the engagement dinner, Kendall Jenner confronted Kourtney about whether she had any "empathy" for how Scott might be taking the news of her engagement, which wound up prompting a detailed discussion between the five sisters about his feelings.
Upon realizing that it probably wasn't appropriate to be having a lengthy debate about Scott on the day of Kourtney and Travis's literal engagement, Kim Kardashian put a stop to the conversation, telling her sisters: "Can we talk about this tomorrow and let them enjoy their night out there?"
Kourtney directly took issue with this in a later installment of the show, telling Steph that she and Travis were "so annoyed" that the Scott drama had been such a prominent aspect of the engagement episode.
"We film and have the best time ever, and then we've been watching the edits and we're just so annoyed because they're swirling us in with this drama," she said, before going on to call out the editors for seemingly manipulating the narrative.
"Especially when I saw my engagement episode," she clarified. "Editors or whoever [are] taking it as, 'Let's take Kourtney. She's the chosen one to be the drama.'"
Kourtney went on to discuss the topic in more detail in her confessional, claiming that the team behind-the-scenes had blown the conversation about Scott completely out of proportion.
"That night I wasn't like, 'God, everyone's such fucking assholes for bringing up [Scott],'" she recalled. "It wasn't a part of the night. It was like two seconds of the night. I didn't even remember it until I saw the cut of the episode."
"It wasn't 50% of the night like it's made to be on the episode. I wish they would take that out and put it in the next episode and give us our respect… Let us have our moment," she said.
The Poosh founder went on to accuse the show's editors of "enabling this old narrative and buying into something that just doesn't really exist," saying instead: "It should be an empowering episode about me getting out of toxic relationships and really having this fairy-tale love story that is my reality."
"I am in one of the best places I've ever been in my life, and it's time for our show to catch up," she said in her confessional, slamming the show's depiction of her and Travis's life together.
Of course, seeing Kourtney flipping the script on the behind-the-scenes team was pretty shocking for viewers. However, one of the show's executive producers has spoken out in her defense, arguing that Kourt's candid perspective provided them with a "fascinating" new angle.
Speaking alongside his fellow executive producers — Kris Jenner, Kendall Jenner, Khloé Kardashian, and showrunner Danielle King — during a panel discussion earlier this month, one of the show's key creators, Ben Winston, broached the topic of Kourtney's criticism and explained their reasoning for including it in the final cut.
"I liked the fact that we put that in there," he said, arguing that they were able to do her feelings more justice by including them in the show.
"We've almost given her her voice of the cut that she didn't like, and we put it on air and I think that's fair to her," he went on.
Ben also said that he appreciates that the family are honest and open about their opinions on the behind-the-scenes aspects of the show, adding that they deserve credit for allowing their unfiltered thoughts to be included in the final cut.
"When they don't like the show, I like the fact that they say it, even if that means there are articles saying, 'Hey, you're doing stuff they don't like,'" he said. "I think that's a really fascinating bit, and they deserve huge credit for allowing that."
And with season two (hopefully) just around the corner, maybe we'll get to see a bit more of the behind-the-scenes drama. We'll have to wait and see.
Ceaser Ex-Girlfriend Suzette Denies Leaking The Animal Abuse Video
Whew! Ceaser Emanuel made some strong allegations against his ex-girlfriend Suzette regarding the leaked video of him abusing a dog. Suzette has been silent, so we reached out to the realtor to find out what her role in the drama is and what she had to say is something else. Suzette exclusively told TSR that she did not leak the footage and that she was the one who ended the relationship.
"I'm not the only one who had access to that video. Three people have that video. Ceaser is beefing with two of them," she claimed. Suzette said that Ceaser has so many enemies that someone tried to kick their door down in their former home last year, and that's why she moved. "Why would I leak the video?! He was threatening me that if I left, he would have production make me look crazy this season," she explained. "So I sent a text saying, 'You know I have this video of you, so when the show airs in September if y'all ni***s make me looking crazy, I'm ending all of y'all."
Suzette said Ceaser's assistant reassured her that she had nothing to worry about. However, she feels Ceaser uses 'Black Ink Crew: New York' and the production team to manipulate people. "I wasn't with him for clout. I'm not a tattoo artist. I have my own brand," she declared. Suzette also claimed that her ex wasn't making the coins, as people may believe. She said he didn't pay for things until seven months into the relationship. She paid half the bills and said Ceaser never contributed financially to her surgery, as seen on the show, nor was he there for her.
The tea is far from over. Although Suzette doubled down that she didn't release the animal abuse video, she said she planned on using it as leverage if she wasn't displayed in the correct light on the upcoming season of 'Black Ink Crew: New York.' "He called my friend's phone last week and had a three-hour conversation saying the network was going to destroy me," she told us. 
The allegations continued to fly as Suzette shared a photo on Instagram alleging abuse at the hands of Ceaser last year around Christmas. While it's unclear if any charges were pressed against Ceaser, we asked her about the photo. She says she ended things with him after the abuse, but they got back together after she and her daughter caught COVID-19, as Ceaser was there to take care of them.
While Suzette tried to stick it out through this year, things got toxic again, and she officially called it quits two weeks ago. This comes after finding out Ceaser was in Jamaica with another woman before his birthday. Before ending the conversation with Suzette, she mentioned another one of Ceaser's ex-girlfriends, former 'Black Ink Crew: New York' cast member, Dutchess. Suzette said she co-signs everything Dutchess noted in a recent Instagram live about Ceaser trying to use the network to destroy someone's image and have them look crazy. Thoughts Roomies?
Want updates directly in your text inbox? Hit us up at 917-722-8057 or click here to join!