TSR Exclusive: Jack Harlow Seemingly Shot His Shot At Saweetie During A Red Carpet Interview With Us At The BET Awards—He Later Said "That's A Friend Vibe"
Roommates, social media is still talking about the BET Awards—and one red carpet moment between Saweetie and Jack Harlow, during a red carpet interview with The Shade Room, is still a top trending topic. As Saweetie walked up and granted us a red carpet interview, she was interrupted by Jack Harlow, who quickly took her hand and seemingly put in a bid to shoot his shot…or that's how it looked.
Following the viral photo of Saweetie and Jack Harlow that set social media on fire with thoughts that the two could possibly be the new "It" couple on the block, the rumors surrounding the two got even more intense during a red carpet interview when they officially stepped in The Shade Room while on the red carpet at the 2021 BET Awards.
When Saweetie walked up to give us a quick interview, she was caught off guard by Jack Harlow grabbing her hand and formally introducing himself in a pretty flirty manner. Their exchange went like this:
"Hi, Saweetie," Jack said. Saweetie then hesitantly responded saying, "I know [who you are]," she said. Jack then added, "You don't like getting caught off guard?" However, Saweetie fired back with, "Why you shaking?"
A little later when we caught Jack alone without Saweetie present, he informed us that he was not shooting his shot and instead only introduced himself to her on a platonic level. "That's a friend vibe," he told us.
Well Saweetie and Jack Harlow may not be hip hop's new couple—but that definitely won't stop social media from talking about them.
Want updates directly in your text inbox? Hit us up at 917-722-8057 or click here to join!
Artist Dre Banks recoups monies in less than a year under XMG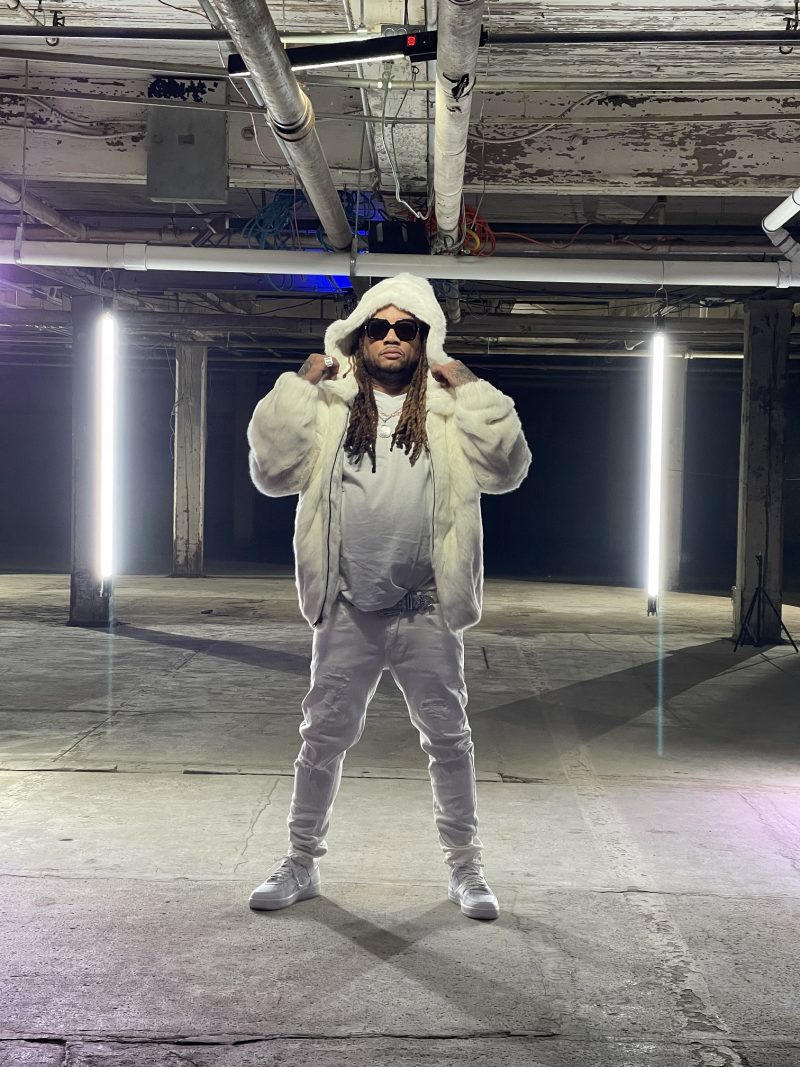 Dre Banks is a fast-rising American artist who has been a staple in the midwest rap scene, hailing from Grand Rapids Michigan. He started like many other young men in the inner city. He was pulled into the allure of the streets and then, unfortunately, found himself caught up in the system.
After being caught in this revolving door he knew it was time for a change. "I knew I had to break it and make the change myself. I knew I had to start from scratch and get back to just the music," he says. With a clean slate and a new focus, Dre Banks hit the studio to prep his freshman release entitled "Check" which hit streets in October of 2015, again featuring Amil as well as another New York hip-hop legend, AZ, and was co-executive produced by Dre's childhood friend of many years, Baby Paul aka BpZy (formerly of "Da Beatminerz") – producer for talented artists like Nas, AZ, Fat Joe, Remy Ma, Dj Clue, Consequence, others.
In 2018, Dre followed up with a street album released on the internet for promotional purposes entitled, "Coke Iz It" hosted by legendary Queens NY mixtape staple, Dj Mr. FX. The project featured Jay-Z protégé Amil, Nature, of the New York supergroup, The Firm, and Roc-a-fella Records/State Property veteran Omillo Sparks (of Oschino and Sparks). Currently Dre Banks is an independent artist who has a distribution agreement with XMG (Xxelulous Music Group) which is under 300ENT/Sparta.
In support of the release, Banks performed several show dates along a mid-Atlantic and northeast tour with various artists at each venue. Striving to stay consistent with his music, Dre Banks is already putting the finishing touches on his next project "Checkmate" for release in the 2nd quarter of 2022, the new album will include the HIT single, "Boyfriend, Girlfriend" ft. Trina of  "Love and Hip Hop" fame.
This song was released in 2020 and streamed over 1.5 million plays on Spotify along with the catchy street anthem "Off the Chain" which is currently streaming at over 2.5 million plays on Spotify.
Can you share the most interesting story that happened to you since you started this career?
Dre Banks – I believe the opportunity to meet the legendary female rap star Trina to collaborate on my record, "Boyfriend, Girlfriend" was an interesting moment for me, we had so much fun together shooting the music video in Miami.
Can you share a story about the funniest mistake you made when you were first starting? Can you tell us what lesson you learned from that?
Dre Banks – I would say the funniest mistake was agreeing to do business with an independent label called "Real Life Music" based in Kansas, the owner had fewer resources and financial backing to support my music releases than I did on my own previously but I had to discover this after the fact!
What are some of the most interesting or exciting projects you are working on now?
Dre Banks – I am currently working on my album "Checkmate" which will feature legendary artists like Styles P of the LoX, Trina, AZ, Ms. Toi, and singer extraordinaire Ne-Yo all coming this year in 2022!
Who are some of the most interesting people you have interacted with? What was that like? Do you have any stories?
Dre Banks – I would say I met Benzino of LHH "Love and HipHop" fame, we got to tour together in the midwest and also made a song and video together – It was a crazy time on tour with Benzino, we were driving on the highway doing 90 mph, and the Ohio state police who are notorious for pulling people over stopped us on the road and gave us a ticket for having a half-ounce of marijuana and for speeding!
IG: @iamDreBanks
Downton Abbey: Dowager Countess Best Lines
"I have plenty of friends I don't like."
If you can believe it, it's been three years since the release of the first Downton Abbey film. And now, the Crawley family and the staff of Downton have returned to the big screen for Downton Abbey: A New Era.
If you're a fan of the show (and first film), you'll definitely want to check out Downton Abbey: A New Era. It's like a warm, comforting hug from an old friend, and let's be honest, who DOESN'T need that right now?! As always, the costumes and production design are GORGEOUS, and there's a lot of wonderful wish fulfillment for so many characters. Basically, you'll laugh, you'll cry, and you'll wish you could live in that world forever.
Of course, one of the best parts of Downton Abbey is the Dowager Countess herself, Violet Crawley — played by the legendary Maggie Smith.
So, in celebration of the latest addition to the Downton legacy, here's an appreciation of some of Violet Crawley's best, funniest, and most brutal moments over the years…
1.
Like the time the Dowager gave a cold, but honest, reception to her potential, future in-law:
2.
And the time she said this HIGHLY relatable line about friends:
3.
The time she made this perfect set up for a joke:
4.
The time she felt she wasn't clear enough:
5.
The time Lord Grantham tried out a new fashion trend (black tie) and the Dowager threw this shade at him:
6.
The time she threw this roadblock down:
7.
The time she laid down this fact:
8.
The time she took (another) jab at enemy-to-best-friend Mrs. Crawley:
9.
The time she questioned technology:
10.
The time she wanted to make it clear she wasn't a romantic:
11.
The time she wanted to clear the air about her allegedly meddling with Mary and Matthew's romance:
12.
The time she tried to give Edith advice after she was left at the altar:
13.
And then proceeded to get frustrated with Edith a few seconds later:
14.
The time she got brutally honest about handling the very arrogant Dr. Philip Tapsell:
15.
The time she took this lil' jab at sweet Mr. Molesley's dancing:
16.
The time she agreed with Branson about illogical British aristocracy titles:
17.
The time she sat in a swivel chair, nearly fell off, and was still able to make a joke about it:
18.
The time she made sure to remind Lord Grantham who's the mother and who's the child (when he was acting up):
19.
The time she took YET ANOTHER jab at Mrs. Crawley:
20.
The time she actually supported Mrs. Crawley (and also gave more sage advice):
21.
And finally, the time she said this ICONIC line:
Fourth-Grade Teacher Eva Mireles Identifed As One Of The Victims
One of the Robb Elementary School shooting victims has been identified as Fourth-grade teacher Eva Mireles. Lydia Martinez Delgado, Eva's aunt, told Abc News that her niece was employed in the Uvalde Consolidated Independent School District for 17 years. In a statement, she said,
"I'm furious that these shootings continue. These children are innocent. Rifles should not be easily available to all. This is my hometown, a small community of less than 20,000. I never imagined this would happen to especially loved ones," she said. "All we can do is pray hard for our country, state, schools, and especially the families of all." 
As we reported earlier, Eva is one of several victims whose lives were cut short at the hands of 18-year-old Salvador Ramos. Everyone has spoken out about the shooting, including President Joe Biden. While addressing the nation, he condemned the shooting saying,
"I had hoped when I became president I would not have to do this — again." He added, "Another massacre. Uvalde, Texas. An elementary school. Beautiful, innocent second, third and fourth graders. And how many scores of little children who witnessed what happened — see their friends die, as if they're in a battlefield, for God's sake. They'll live with it the rest of their lives."
In addition to the victims, CBS News reports that Customs and Border Protection agents exchanged gunfire with Salvador, which resulted in one agent being shot in the head. Fortunately, the agent is in stable condition at the hospital. Department of Homeland Security spokesperson Marsha Catron Espinosa said,
"U.S. Border Patrol Agents responded to a law enforcement request for assistance regarding an active shooter situation inside Robb Elementary School in Uvalde. Upon entering the building, agents and other law enforcement officers faced gunfire from the subject, who was barricaded inside."
Our thoughts continue to go out to all the victims involved in this tragedy.
Want updates directly in your text inbox? Hit us up at 917-722-8057 or click here to join!