Watch "Stung" by TIN – EQ Music Blog
Out, with a new, track "Stung", today (because, believe it or not, Adele is not the only one dropping new music today) is the Australian pop singer-songwriter TIN. After covering several releases by TIN on the blog, I have noticed he is an artist who thrives on creativity. Someone who is always looking for a way to change things up and give his audience something different. And yet, authentically rooted in queer intentions. More often than not, this means we have gotten to see TIN dress-up as a way of portraying various characters. (Or dress down to his Andrew Christian briefs as in the video for "Firm"). Supporting the release of "Stung" he's taken his biggest artistic step yet.
You know, watching RuPaul's Drag Race UK season 3, I had been convinced into thinking Choriza May or River Medway were the new queens for me this season. But that was before I caught sight of the foxy lady in pink who appears in the TIN's "Stung" video. The name of this stunner?… it is TIN (but I think she requires a drag name so I'm putting 'Tin Ahh Glitter' out there as a suggestion). Who garbs up in drag alongside some of the fiercest queens London has to offer. Polka Dot, Le Fil, Coco Couture and JVST TINA. Visions of loveliness who exude the same BETTER big drag energy of the kind we were introduced to last night on the latest episode of RuPaul's Drag Race UK
"Stung" is a song of substance as well as fizzing with B.D.E. because of the video… TIN explains the track further…
"Stung" is about not being underestimated and not putting up with other people's rubbish. I wrote it after a night out at a trashy club in Brisbane, having met so many gay men who were taking themselves way too seriously. I get exhausted by people who are arrogant with nothing to show, and I wanted to write something a bit tongue in cheek about the experience."
Sure to catch on quick, is the buzzy refrain "you betta watch out or you'll get stung" . Practice, practice, practice this, girlfriends, TIN wants you, word perfect for EQ Music Live next Saturday 23rd October – Ticket details HERE
Connect with TIN
Facebook: https://www.facebook.com/tinofficialmusic
Twitter: https://twitter.com/tinofficialau
Instagram: https://www.instagram.com/tinofficialmusic/
Listen to (Feels Like) "Heaven" (Fiction Factory Cover) by Roosevelt
Should you be searching for a thoroughly decent indie electronic-pop album to wrap your ears around at the moment. A good one to look at that might have skipped your notice is "Polydans" by the German producer Roosevelt. In comparison to his first two albums. I haven't spoken an awful lot about "Polydans", his third one (released in March). Let me share some feedback on it now. This release locks in with spirit of the 80s. Production-wise, the album remains consummate in its entirety. And the body of work is unskippable throughout. With the stats totted up, streaming figures suggest the track "Strangers" has proved most popular. I am sticking with calling out my first choice, "Sign", as a standout, that I wrote about on the blog.
The reason why I am writing about Roosevelt today isn't to share a quick outline of the latest album. I wanted to bring his sparkly cover version of the Fiction Factory, 1983, top 10 chart-topper track (Feels Like) "Heaven" to your attention which appears as a bonus track on the Deluxe Edition.
According to the internet, there have been 18 recordings of (Feels Like) "Heaven" by different artists. Roosevelt's glittery, upbeat makeover comes in as #19. What I like about the new interpretation of the song it is significantly different in style to the darker new-wave vibes found on the original Fiction Factory edit.
I think the Roosevelt version of the track will go down a treat when played live. He starts a US tour next week and will eventually snake it's way over to Europe next year.
(Feels Like) "Heaven" is out now – Find it ONLY on the deluxe edition of "Polydans". (One of 8 bonus tracks)
Connect with Roosevelt
Facebook: https://www.facebook.com/iamroosevelt
Twitter: https://twitter.com/iamroosevelt__
Instagram: https://www.instagram.com/roosevelt_music/
Listen to "Sweet Talker" by Years and Years and Galantis
The thing about Galantis is. I pretty much know what to expect from the Swedish dance hit-makers because their signature sound is easily identifiable. The thing with a Years & Years and Galantis collaboration is. I pretty much can guess how it will pan out musically as well. Had they not delivered a bona fide dance banger like "Sweet Talker" is. I may have needed to send them over some serious questions. What I do like, though, on Years and Years part. The upcoming album "Night Call" seemingly, covers more ground in a music sense than the previous projects. Because as I have noticed with the singles to date. "Starstruck", "Crave", and now "Sweet Talker", the styles explored differ vastly.
I am the kind of music listener who likes to play dance tracks in the winter months to help keep the winter blues at bay. Therefore, I am happy, "Sweet Talker" is the euphoric, fist punching anthem I was hoping for. I am also glad that the track includes a big orchestral arrangement by way of embellishment. Without this, it may have sounded too similar to Whigfield's seminal bop "Saturday Night", methinks.
It genuinely pleases me both the lyrics and narrative of the track are self-explanatory. There is a time and a place for tracks steeped with lyrical depth. "Sweet Talker" just isn't one of them. It's a dance track, through and through, of the kind that needs to be played turned up loud. That is all.
If you were looking for some exciting Years & Years news. Olly has exclusively revealed in an interview with Radio One DJ Clara Amfo. (In a chat during "Sweet Talker" premiere as Hottest Record In The World) He will be hosting this years' New Year's Eve celebrations on the BBC. (In previous years, there have been special live concerts from Queen and Adam Lambert, Robbie Williams and Gary Barlow.) Olly teased he will be counting us down to midnight playing Years & Years tracks (duh!) and some covers. There will be some extra special guests making an appearance also.
This, New Years Eve. With Years & Years on the television I have no reason to go out. I will definitely need to get some special snacks in, though.
Years & Years third album "Night Call" comes out via Interscope Records on January 7th, 2022. – Pre-order HERE
Connect with Years & Years
Facebook: https://www.facebook.com/YearsAndYears
Twitter: https://twitter.com/yearsandyears
Instagram: https://www.instagram.com/yearsandyears/
Connect with Galantis
Facebook: https://www.facebook.com/wearegalantis
Twitter: https://twitter.com/wearegalantis
Instagram: https://www.instagram.com/wearegalantis/
NOW That's What I Call Electronic coming this January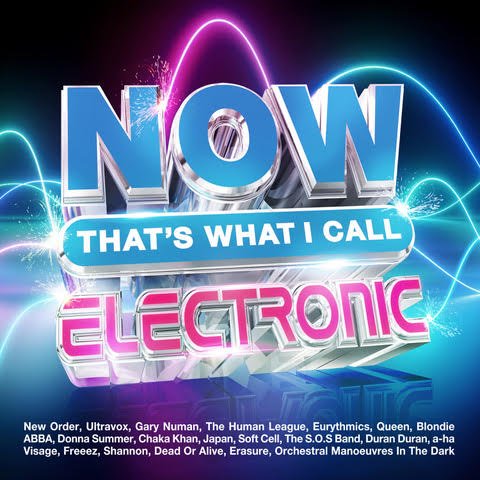 Synth-pop fans rejoice, as NOW have announced a major 78-track 4CD compilation of the very best in electronic music.
NOW That's What I Call Electronic will feature songs from artists such Queen, Blondie, Duran Duran, Eurythmics, ABBA and more.
The album showcases, it says, "the emergence of synth-pop as a dominant sub-genre of new wave". 
Containing such classic tracks as Visage's Fade To Grey, Japan's Quiet Life, Ultravox's Vienna through to OMD's Enola Gay and Paul Hardcastle's 19, it promises to be a comprehensive history of synth-pop.
NOW That's What I Call Electronic is released 7 January 2022.
NOW THAT'S WHAT I CALL ELECTRONIC 4-CD SET TRACKLISTING
CD 1
Queen – Radio Ga Ga

New Order – Blue Monday                  

Eurythmics, Annie Lennox, Dave Stewart – Love Is A Stranger

Ultravox – Vienna 

Visage – Fade To Grey

Japan – Quiet Life

Soft Cell – Tainted Love

The Human League – The Sound Of The Crowd

Duran Duran – Planet Earth

Spandau Ballet – To Cut A Long Story Short          

Gary Numan – Cars

Orchestral Manoeuvres In The Dark – Enola Gay

Landscape – Einstein A Go-Go

Tears For Fears – Mad World

Heaven 17 – Temptation

Blancmange – Living On The Ceiling

Fiction Factory – (Feels Like) Heaven

The Lotus Eaters – The First Picture Of You

A Flock Of Seagulls – I Ran (So Far Away)

Yello – The Race
CD 2 
Donna Summer – I Feel Love (12" Version)

Chaka Khan – I Feel For You 

Freeez – I.O.U. 

Shannon – Let The Music Play 

Company B – Fascinated                           

The S.O.S Band – Just Be Good To Me

Nu Shooz – I Can't Wait                            

The Pointer Sisters – Automatic 

Man 2 Man – Male Stripper

Patrick Cowley feat. Sylvester – Do You Wanna Funk

Liza Minnelli – Losing My Mind

Eighth Wonder – I'm Not Scared

Animotion – Obsession

Trans-X – Living On Video 

Dazz Band – Let It All Blow 

Harold Faltermeyer – Axel F (From "Beverly Hills Cop" Soundtrack)

Art Of Noise – Close (To The Edit) 

Malcolm McLaren – Buffalo Gals 

Joe Jackson – Steppin' Out
CD 3
ABBA – Gimme! Gimme! Gimme! (A Man After Midnight)

Blondie – Atomic 

The Buggles – Video Killed The Radio Star

M – Pop Muzik

Paul Hardcastle – 19

Falco – Rock Me Amadeus (The American Edit)

Phil Lynott – Yellow Pearl (First 7″ Remix)

Kim Wilde – Kids In America

Altered Images – Don't Talk To Me About Love

a-ha – Take On Me

Philip Oakey & Giorgio Moroder – Together In Electric Dreams

Howard Jones – New Song

Nik Kershaw – Wouldn't It Be Good 

Limahl – Never Ending Story  

Thompson Twins – Love On Your Side

Men Without Hats – The Safety Dance

Kon Kan – I Beg Your Pardon (I Never Promised You A Rose Garden)

Peter Schilling – Major Tom (Coming Home)

Midge Ure – If I Was 

China Crisis – Christian

Jan Hammer – Crockett's Theme (From "Miami Vice II" Soundtrack)
CD 4 
Dead Or Alive – You Spin Me Round (Like A Record) (Performance Mix)

The Human League – Love Action (I Believe In Love)

Propaganda – Dr Mabuse

The Cure – The Walk 

Joy Division – Love Will Tear Us Apart                    

Orchestral Manoeuvres In The Dark – Messages

Our Daughter's Wedding – Lawn Chairs

Iggy Pop – Nightclubbing

Bronski Beat – Smalltown Boy

Erasure – Drama!

Scritti Politti – Absolute

The Associates – Party Fears Two

Furniture – Brilliant Mind

Talk Talk – It's My Life                               

Simple Minds – Glittering Prize 

Swans Way – Soul Train

The Passions – I'm In Love With A German Film Star

Soft Cell – Say Hello, Wave Goodbye
Comments
comments