Watch "Tell Me" by Avec Sans
You know, I don't usually cover album reviews on this site. But that doesn't mean that my listening habits are purely playlist-driven, or I don't listen to albums at all. I wanted to make that point because, since its release at the end of May, I have enjoyed playing "Succession", the sophomore album from Avec Sans, a lot. It is a nice hit of synth-pop amazingness. A special indulgent treat that I have gleefully and willingly incorporated into my music diet. Alice, Jack and Willow took time with the sophomore album, wanting to progress their sound and explore the electronic realm further. They have nobly released it independently during a pandemic. I am most grateful that they did. Listening to it has helped me keep on track when I've felt a wobble of anxiety kicking in these past few months.
This campaign is no different to any other they have continued with serving us singles aplenty. "Altitude", "Slow Dance Down", "I Will Be With You", and "Backtrack" are joined by "Tell Me". A track that seems to speak about pushing through the hard times with the help and support of family and friends. Very applicable to the stage where we are now in this COVID 19 pandemic.
A song of support and encouragement as we venture out and carefully recommence socialising and interacting again. The vibe of the track is very much that of brushing down and picking ourselves back up. In its own way, think of it as a self-help guide. Soothing sonics, vibrant sonics teeming with motivational lyrics. "Tell Me" is on point in musicality and capturing the mood in these times. The music video encapsulates these feelings, expressed in the fluidity of sweeping motions and freestyle dance movements. "Tell Me" is the release we need, while the music video reminds us what freedom feels like. While we can't all be like an astronaut, we can nevertheless experience similar intoxicating feelings by enjoying a visit to a wide-open space. And luxuriate in the enveloping sonics of "Tell Me".
Connect with Avec Sans
Facebook: https://www.facebook.com/avecsansband
Twitter: https://twitter.com/avecsans
Instagram: https://www.instagram.com/avecsans/
Ultravox – The Complete Guide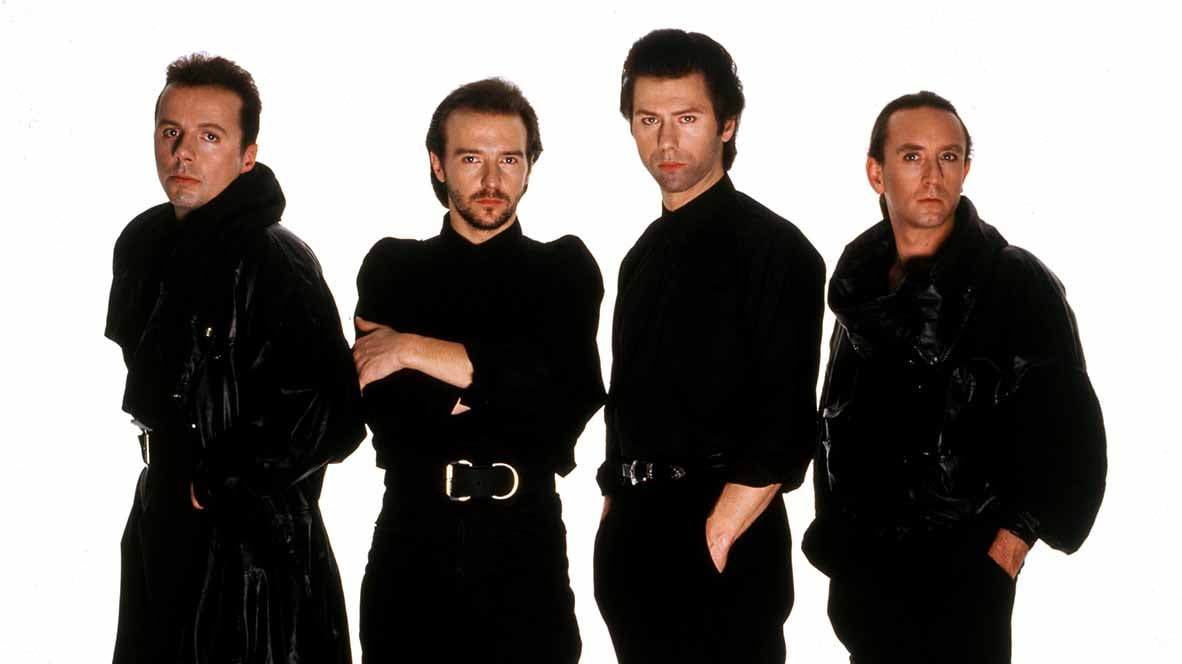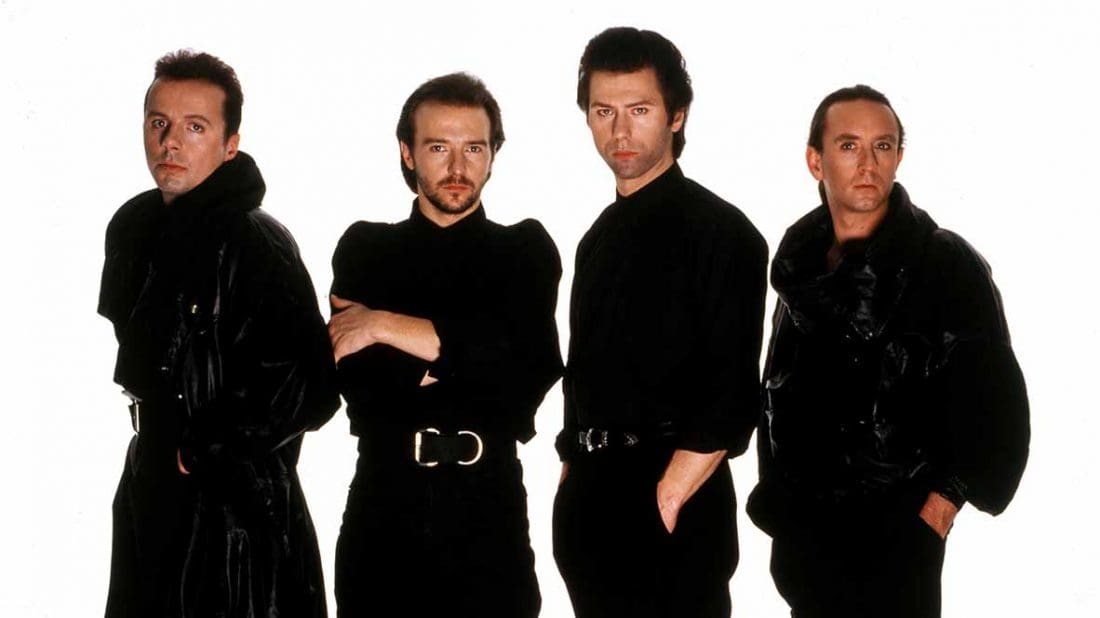 From their origins as art-rock innovators with John Foxx to their seminal success as synth-pop saviours with Midge Ure, Ultravox may have changed their sound and their line-up but their ability to produce quality pop was continual… By Mark Lindores
Beginning life in 1973 as Tiger Lily, a glam rock band who wore their influences − Bowie, Roxy Music and New York Dolls a little too literally, they released just one single, a cover of Fats Waller's Ain't Misbehavin', before establishing a style of their own, scoring a deal with Island Records and deciding to call themselves Ultravox!
With lead singer/songwriter John Foxx at the helm, the band became known for their off-the-wall lyrics and their willingness to incorporate elements of glam, prog-rock and electronica into their music, assisted by producers such as Brian Eno, Steve Lillywhite and Conny Plank. However their reputation as a formidable live act failed to translate into commercial success and the departure of John Foxx to pursue a solo career and being dropped by Island Records left Ultravox in a state of limbo at the end of the 1970s.
Following a period in which remaining members had worked with acts they had been an inspiration for (Gary Numan), Ultravox reformed with new recruit, Billy Currie's Visage bandmate Midge Ure taking over Foxx's lead singer role. With a new line-up and new vision in place, the 80s incarnation of Ultravox leaned heavily towards an electronic sound, something that brought them the commercial success that had previously eluded them, with fans seduced by the seminal synths and strings of their defining hit, Vienna.
The new line-up garnered a reputation as being po-faced poseurs by purists alarmed at the reinvented Ultravox's live act which saw them immobile behind their synthesizers. However, any fans that the band lost due to the changes, they more than made up for, going on to score an incredible run of success, notching up 16 Top 40 singles and 10 Top 40 albums, becoming one of the defining acts of the decade. 
By 1984, inter-band tensions jeopardised their future with Midge's involvement in Band Aid and Live Aid and solo success proving to be its eventual finale, leaving behind a legacy encompassing both the art-rocker experimentalism of the Foxx era or Ure's electro-imperialism which continues to excite and inspire fans over four decades later.
The Must-Have Albums
Ha!-Ha!-Ha!, 1977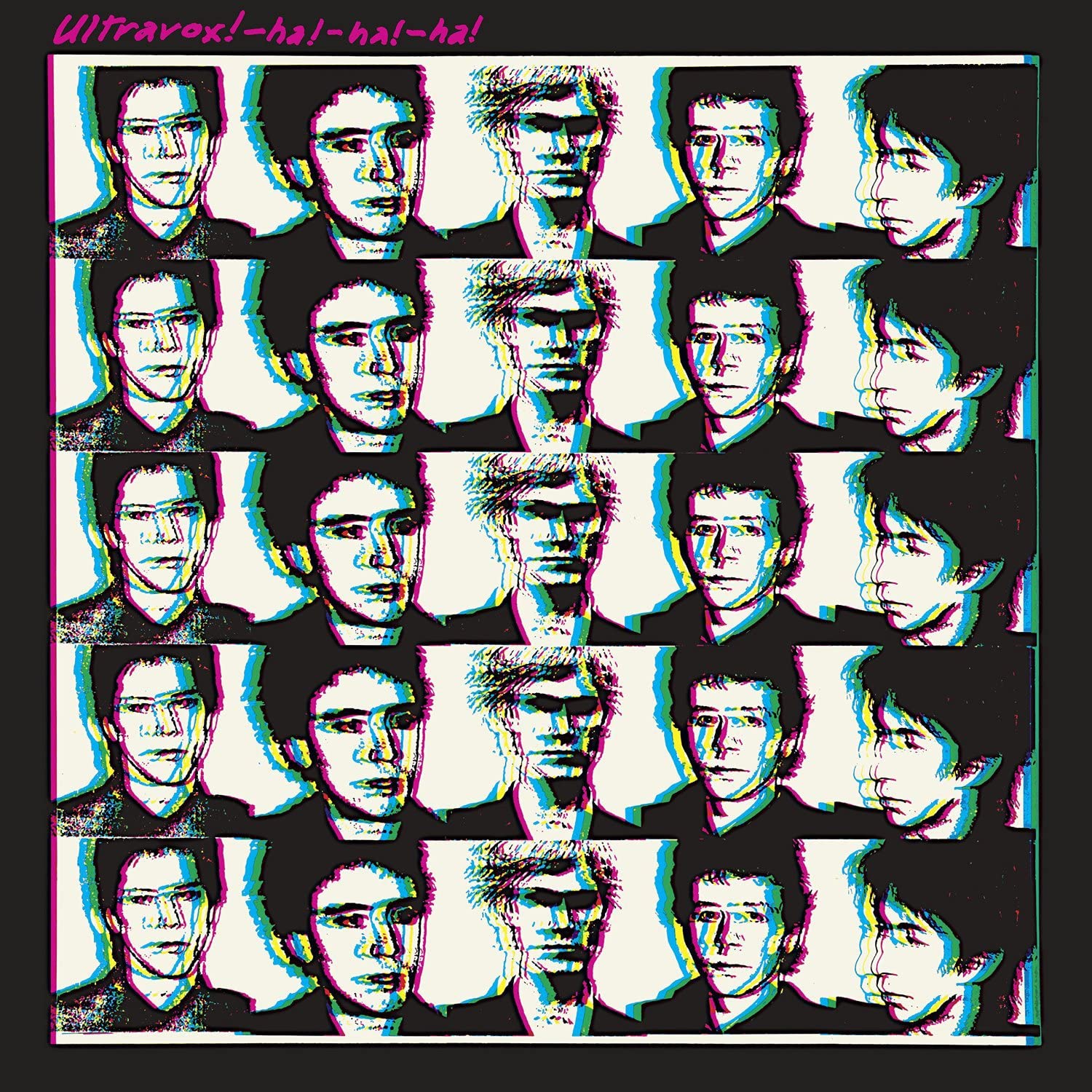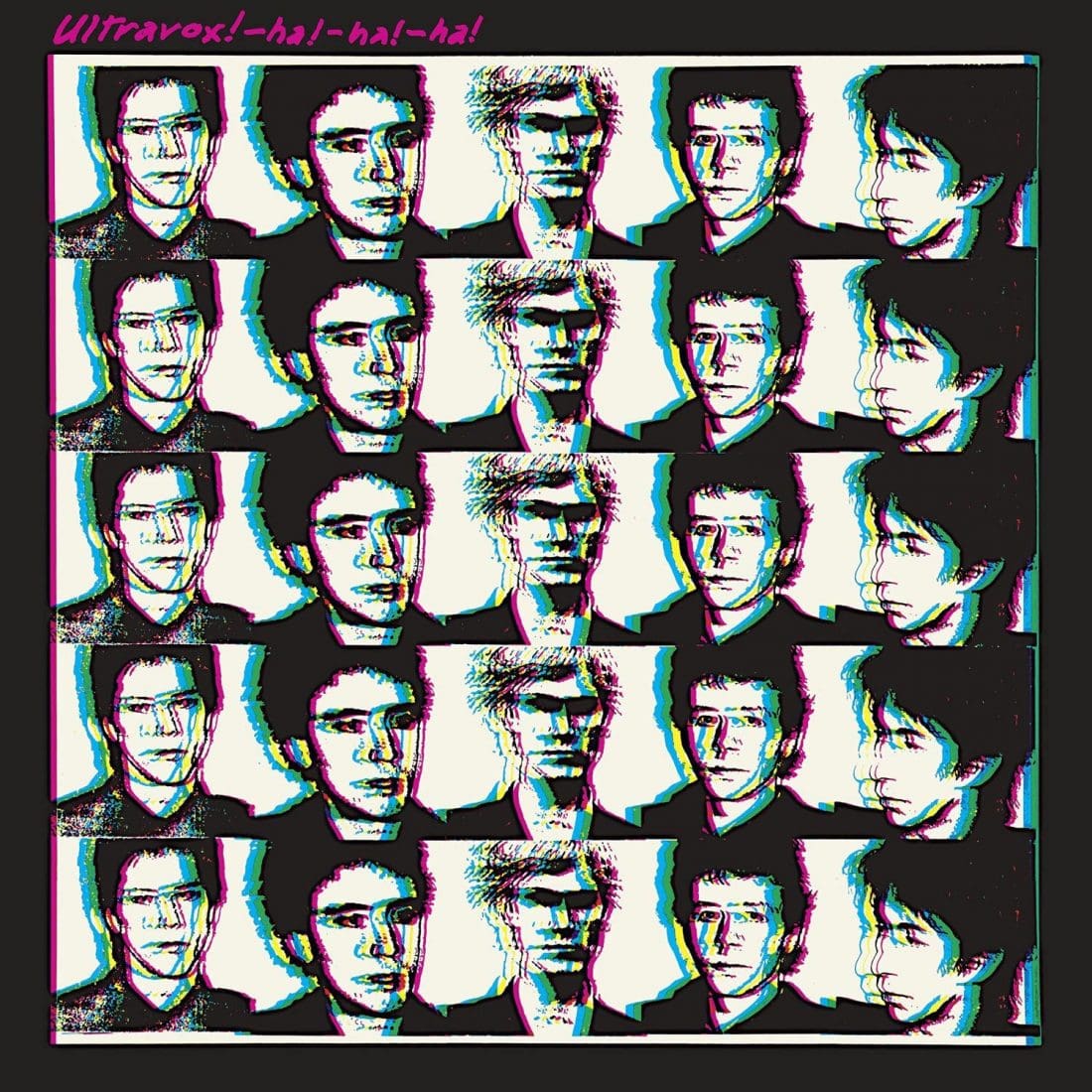 Bruised by the commercial failure of their debut album, Ultravox! quickly brushed themselves down (it was released just eight months later) and adopted a "what have we got to lose?" attitude which freed them to experiment more with their music, lacing their frantic punky rhythms with electronic flourishes and experimental sounds, with screaming guitars and distorted violins vying for precedence. 
Perhaps sensing the end of punk was in sight, Ultravox!, again with Steve Lillywhite, jumped ship from being part of a dying trend by introducing different styles and influences including hypnotic, robotic beats and atmospheric peaceful waves to ferocious punky pop laden with distortion. Of the album's highlights are chugging opener ROckWrok and Fear In The Western World, Distant Smile − with its gorgeous piano intro and The Man Who Dies Every Day, but the best is saved until last with the superbly sparse electro of Hiroshima Mon Amour, a teaser of where the band were heading.
Like its predecessor, the album was a commercial failure on release, its brilliance and originality only realised in hindsight.
Systems Of Romance, 1978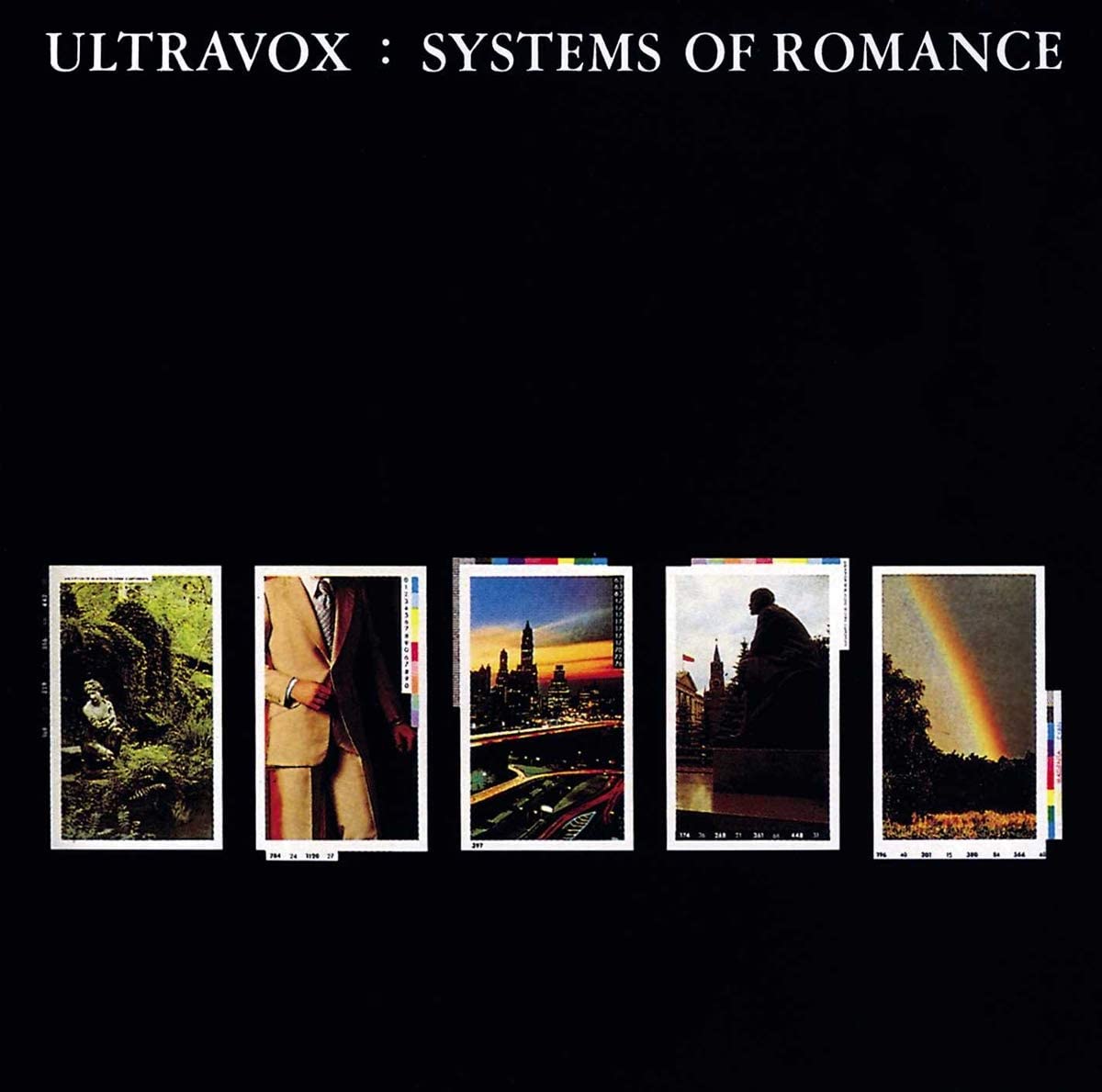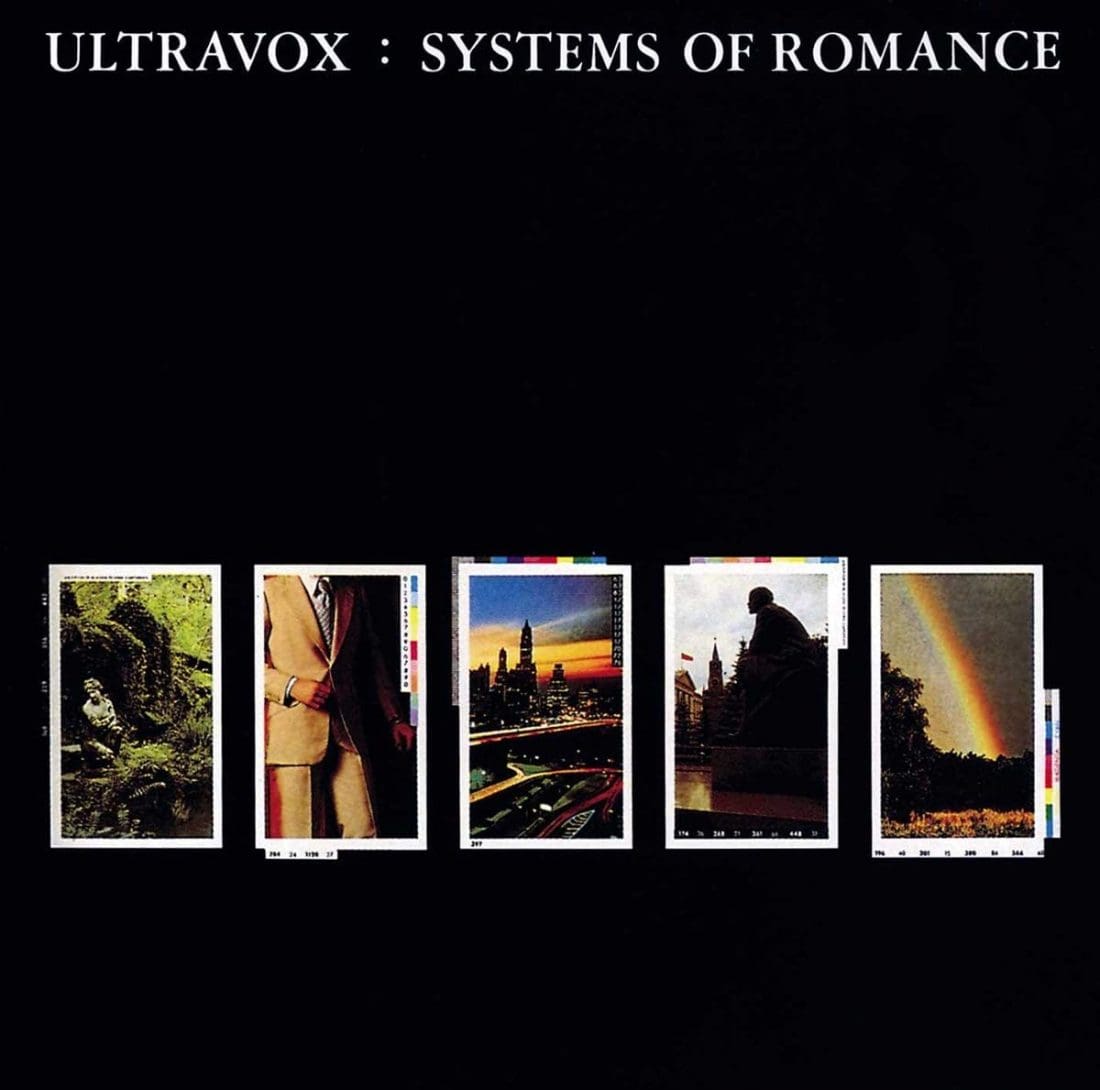 Having failed to achieve any semblance of success outside of their small fanbase, Ultravox took a fresh approach with their third album, discarding the punk and glam influences in favour of a more streamlined, European electronic sound, achieved with the help of Kraftwerk producer Conny Plank.
Recording in Cologne with new guitarist Robin Simon, the band embraced a new approach with the mechanised sounds that had been hinted at on their previous work now brought to the forefront, creating an enveloping wall of sound, at times an interesting juxtaposition with Foxx's quintessentially British delivery. Singles Slow Motion and Quiet Men are both highlights, though the album as a whole is cohesive and of consistently high quality with tracks such as Maximum Acceleration, Some Of Them, I Can't Stay Long and Just For A Moment ranking among their very best.
Quite possibly one of the most underrated and influential albums of all time, Systems Of Romance is an obvious influence on Gary Numan and Human League, who went on to achieve the success that continued to elude Ultravox at this point.
Vienna, 1980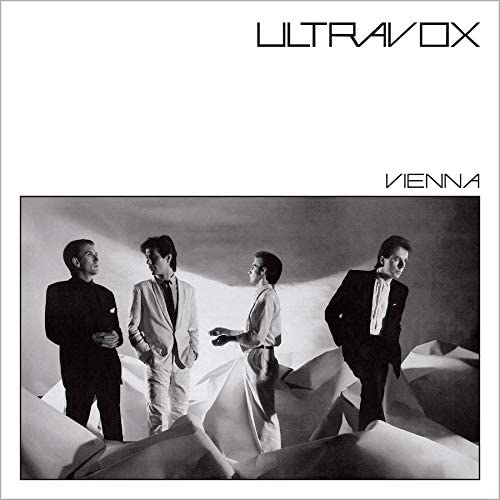 New line-up, new sound, Vienna was the turning point for Ultravox. Having failed to achieve any commercial success, Island Records released Three Into One, a best-of compilation album and dropped the band. This led to John Foxx and Robin Simon departing the group, leaving them in limbo until Midge Ure joined, marking a new phase in their career.
Now signed to Chrysalis Records and once again with Conny Plank at the helm, Vienna signalled the rebirth of Ultravox, this time with an eye on success, honing their experimental tendencies into mainstream hits with a succession of melodious melodramas, housed in a stylised package featuring the photography of Anton Corbijn and the design of Peter Saville.
At its strongest on New Europeans and the sparse synthpop of Sleepwalk, Mr X and the title track, Vienna is a snapshot of its time, synonymous with the posturing, preening New Romantics.
Establishing Ultravox as an entirely different beast from the John Foxx years, Vienna gave them the chart success they had craved reaching No.3 in the chart.
Lament, 1984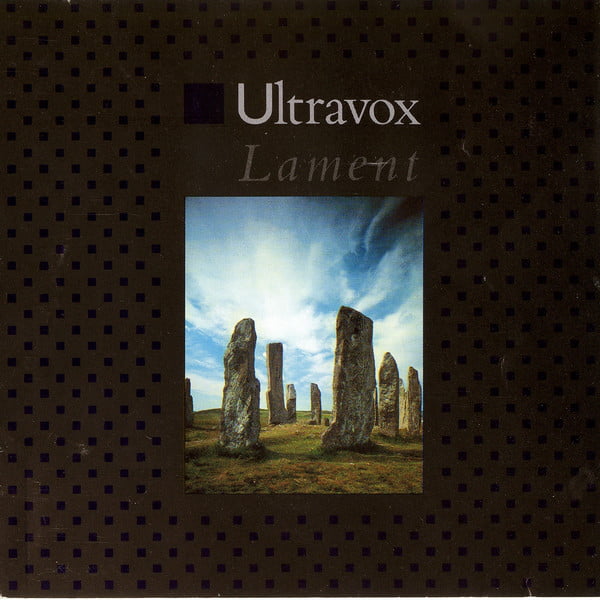 Having adopted a rockier element to their sound on 1982's Quartet, by 1984 they expanded those influences into a more traditional rock/pop direction, mirroring the career paths of fellow art-poppers-turned-stadium rockers U2 and Simple Minds. 
While songs such as the title track, One Small Day, When The Time Comes and A Friend I Call Desire are all personal tales of break-ups, depression and feelings of inadequacy, the band also incorporated global affairs on tracks such as White China, Man Of Two Worlds, Heart Of The Country, which dealt with issues affecting China and Scotland while the album's biggest hit Dancing With Tears In My Eyes considered
the prospect of nuclear war. 
Despite being one of their more harmonious records, Lament belied the behind-the-scenes tensions within the band. When Midge Ure co-wrote and produced Band Aid's Do They Know It's Christmas? later that year, they were barely speaking and Warren Cann and Billy Currie weren't invited to the recording of the song. With a title that proved prophetic, Lament was, in many ways, their swansong.
And The Rest…
Ultravox!, 1977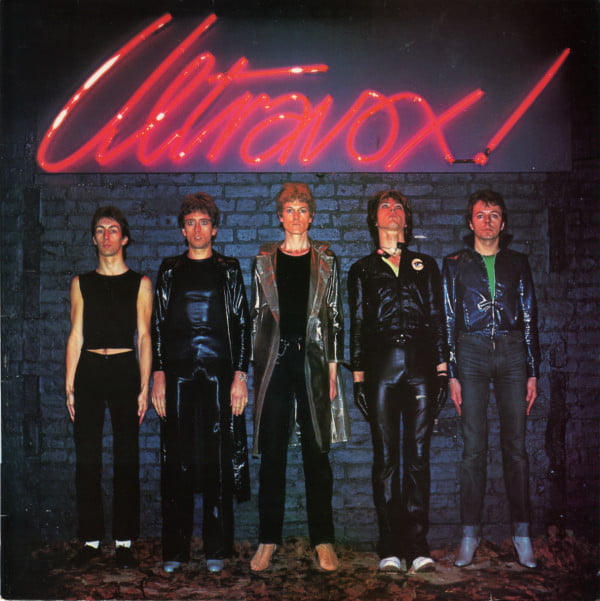 Having established a reputation as a solid live act, the yet-to-be-named Ultravox! signed to Island Records in 1976 and began work on their debut album, much of which had already been written while the band were functioning as Tiger Lily.
Influenced by fellow art-school rockers Bowie and Roxy Music, Ultravox!, together with producer Steve Lillywhite, crafted a set of songs bristling with a punky/glam fervour in line with their heroes. While Eno's involvement has been subsequently overplayed (he was enlisted initially as a "name" to get the band noticed), the album's helmsman is undoubtedly John Foxx, whose vulnerable voice and lyrics bring to life the tales of alienation, destruction and disillusionment resulting in a promising debut, particularly Wide Boys, My Sex, The Wild, The Beautiful And The Damned and I Want To Be A Machine.
Rage In Eden, 1981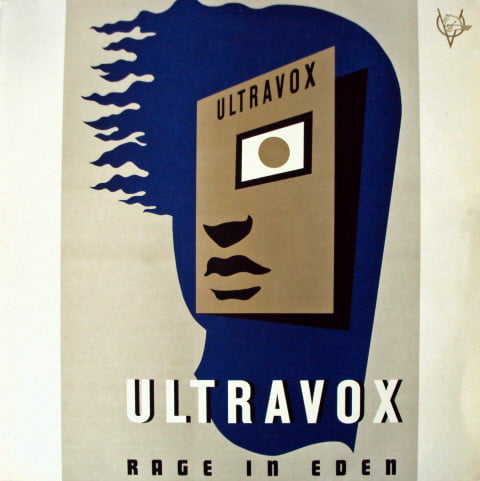 Having finally broken through to the mainstream with Vienna, Ultravox continued their run of success, both creatively and commercially, with Rage In Eden. While the previous album had been a relative breeze, Rage In Eden was a much more prolonged affair, taking three months to complete. As well as feeling pressure at the prospect of repeating or topping Vienna, Midge and Billy were still working with Visage and Warren Cann suffered a broken arm in a car crash.
Once again produced by Conny Plank, the album came from the same sonic palette as its predecessor, hooky-synthpop with cinematic flair. Opener The Voice set the bar high, matched only by the upbeat I Remember (Death In The Afternoon). The absence of an instrumental is compensated for by many tracks akin
to extended versions.
Quartet, 1982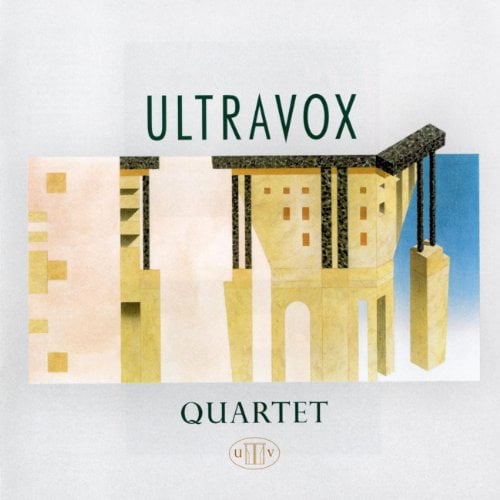 Firmly established as one of the leading lights of the synthpop scene, 1982's Quartet was a major departure for the band, heading in a rockier direction, which Midge Ure claimed was as much to keep things interesting for the band as it was for their fans. Following three albums with Conny Plank, Ultravox enlisted George Martin to steer them in their new direction. Martin agreed to work with them as his daughter was a fan.
Much lighter in tone than Ultavox's previous two albums, Quartet dispensed with the experimental arrangements keeping the songs to the point with mixed results. Visions In Blue, Hymn, Reap The Wild Wind and We Came To Dance are among the highlights, the latter an ode to the New Romantic movement. The shift in style proved successful with Quartet becoming the band's biggest seller internationally.
Brilliant, 2012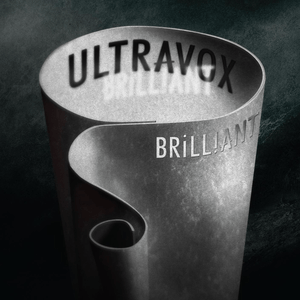 A full 28 years after the Lament album, the "classic" (ie. The Vienna-era) line-up of the group reformed for the Return To Eden Tour. Originally planned as a one-off venture, the tour's success was the catalyst for the band getting together in the studio to see if they could write and record new material without past problems resurfacing. 2012's Brilliant was the result. 
While not quite living up to its title, Brilliant did contain some tracks which stood up next to vintage Ultravox, namely Rise, Flow, Live and the title track. Unfortunately, they fail to maintain momentum and the album suffers from too many overwrought ballads.
Always a band that prided itself on being unique, on Brilliant Ultravox managed to retain their identity without ever falling into the trap of creating a pastiche of former glories.
The Essential Singles
Young Savage, 1977
Unsettled by the failure of their debut album, Ultravox! immediately headed back into the studio, experimenting with various styles and sounds in preparation for what would become their second album, Ha! Ha! Ha! Though Young Savage didn't make the final tracklisting of the album, it served as a taster of the direction in which the band were headed.
Despite the inclusion of a psychedelic keyboard line from Billy Currie, Young Savage is a straight-up punk song with a lyric so poetic it makes the underbelly of society sound romanticised. With its infectious guitar riff, Young Savage has remained a fan favourite and was always a frenzied highlight of their gigs, though it was also the moment where one of the most unpleasant audience rituals was at its zenith – being the point in the set where the audience would spit at the band to show their appreciation.
ROckWrok, 1977
Released in October 1977 as the lead single from the Ha! Ha! Ha! album, ROckWrok (its unique spelling using random capitalisation was insisted on by John Foxx as that's how he'd written the title while composing the song) is a Roxy Music-inspired slice of glam rock based on a beat "borrowed" from Chubby Checker's Let's Twist Again and achieved the rare feat of garnering airplay on Radio 1 despite featuring the F-word in the chorus – inaudible to the censors apparently due to John Foxx's vocal delivery.
Even more impressive than ROckWrok itself was its B-side, an early version of Hiroshima Mon Amor, a song which was rearranged in its more electronic form for the album after the band began using the Roland TR-77 drum machine. Based on the 1959 French film of the same name, the rockier, demo version of the track is favoured by fans over the album version.
Sleepwalk, 1980
The first single from the Vienna album, Sleepwalk is the song that jump-started Ultravox's career. Following three brilliant though unsuccessful albums with John Foxx and being dropped by Island Records, Ultravox regrouped with Midge Ure and adopted a more electro sound.
Sleepwalk was the song that secured them their deal with Chrysalis. Having been asked to submit a demo cassette, rather than record three demo tracks, the band made the decision to fully realise one track instead. Again with Conny Plank on production duties, the band went into the studio and wrote, recorded, mixed and mastered Sleepwalk and submitted that to Chrysalis. As the first song completed in their new line-up it was a natural choice for opening the Vienna album and as its first single. Released in June 1980, Sleepwalk gave Ultravox their first chart success, reaching No.29.
Vienna, 1981
Ultravox's signature song, Vienna spent four weeks at No.2 in January 1981 − famously held off the top of the charts by John Lennon's Woman and Joe Dolce's Shaddup You Face. The song has regularly topped polls as the greatest song to stall at No.2 in the charts.
Widely believed to have been inspired by the 1948 film The Third Man, Midge Ure has since revealed that he made that story up and the song is actually about a holiday romance he'd had. Released as the third single from the Vienna album, the band had to fight to have it released as a single.
"We knew it was the musical high point of the album and were determined that it would be a single and fought with Chrysalis over it," says Warren Cann. "They thought it was far too long at six minutes, too weird for a Top 30 chart hit, and too depressing and too slow."
Hymn, 1982
As tensions between the band members continued to marr the recording sessions of 1982's Quartet album, Midge Ure later claimed that producer George Martin "smoothed things over". 
Feeling their sound and process of working was becoming stagnant, Quartet saw Ultravox attempt to shake things up, replacing Conny Plank with the aforementioned Martin steering them to a much more polished, expansive sound.
Hymn, the second and most successful single from the album dealt lyrically with self-realisation, corruption and the struggle to hold on to faith in an increasingly faithless society, emphasised by paraphrasing the Bible and its terminology in its lyrics. 
Dancing With Tears In My Eyes, 1984
Ultravox scored their second biggest hit with 1984's Dancing With Tears In My Eyes, the second single released from the Lament album. While impending gloom had been a consistent theme in some of the band's lyrics up to this point, Dancing With Tears In My Eyes brought it to the forefront, setting the song in the face of an impending nuclear disaster – their social commentary being a key factor of Bob Geldof approaching Midge to co-write and produce the Band Aid single.
The song eloquently evokes a man taking comfort in the memory of a night spent with the love of his life while he awaits the inevitability of his life ending. It reached No.3 in the UK and was their final Top 10 hit.
Comments
comments
Top 40 Vince Clarke Songs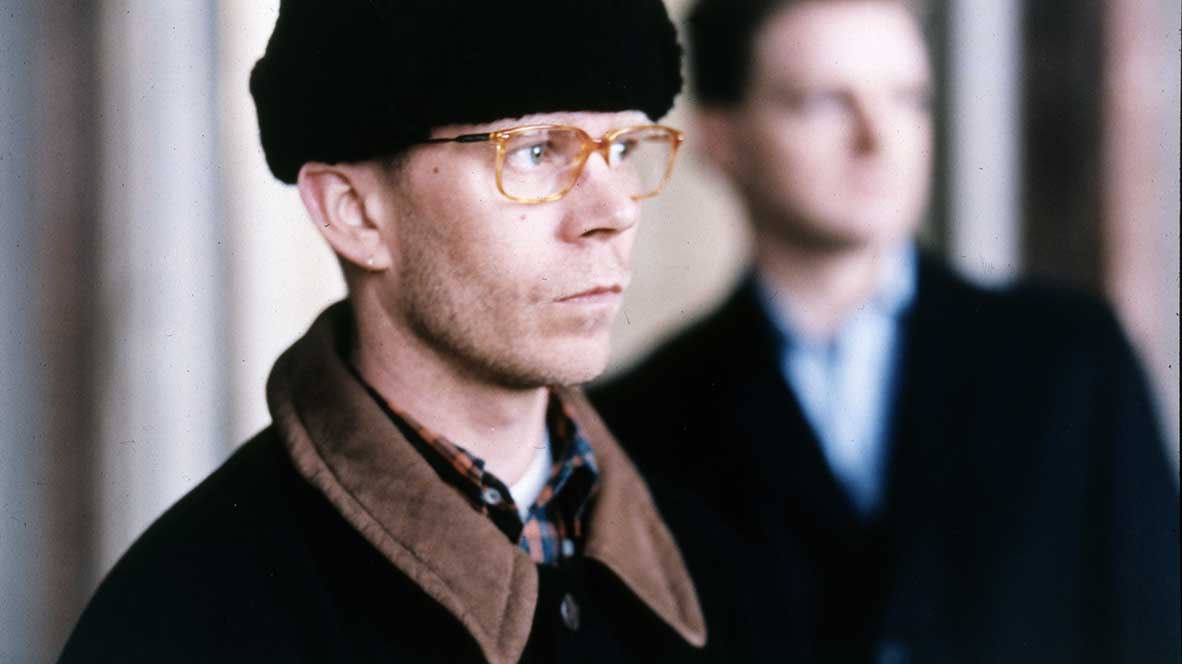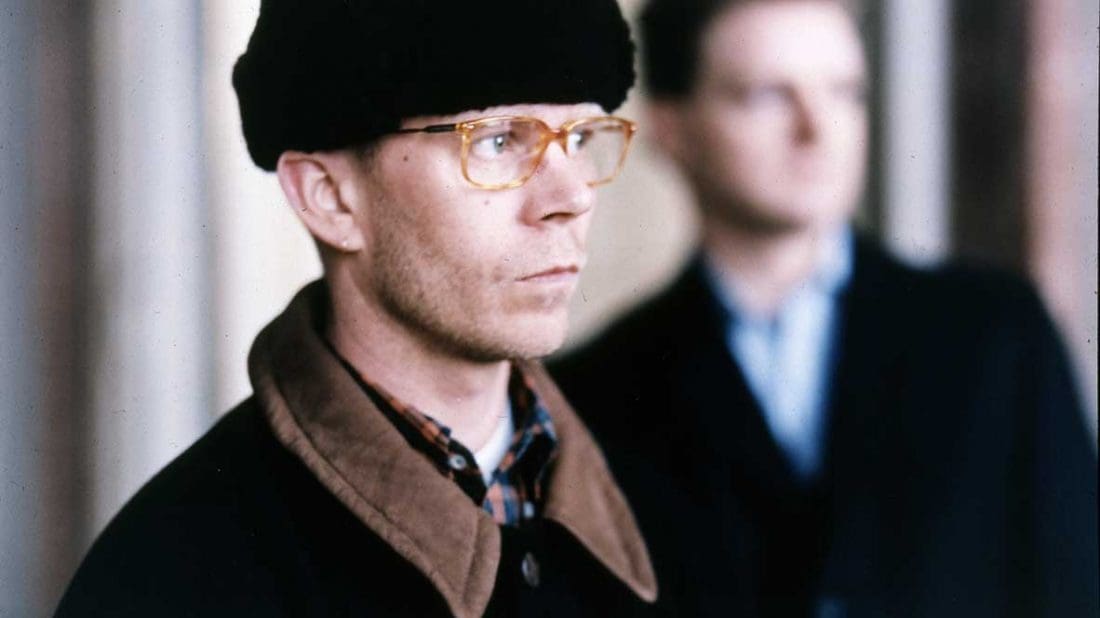 Timeless synth-pop nuggets, stunning ambient textures, soaring, life-affirming singles and album cuts – all these, and more, have earned their place in our round-up of the best Vince Clarke songs…
While it may seem easy to some, writing a good pop song is an extremely tricky undertaking; writing a great one, even more so. Believe us, we've tried. Mute boss Daniel Miller has penned at least one synth-pop classic during his stint as a pioneer of the genre, and he recognises absolute genius when he sees it. After all, it was Miller that saw the potential in a green, baby-faced Depeche Mode, snapping them up early for the Mute roster. 
When we had the pleasure of speaking to Daniel about Vince, we asked him to offer up his top five tracks from his label's main man. Of course, he politely refused, likening the task to choosing his favourite children – and, frankly, we're not at all surprised.
Mute Records' founding father knows Vince's expansive catalogue more intimately than most and he's well aware of the sheer volume of quality material, be it Depeche Mode's early stuff, Yazoo's near-perfect soulful electro, well-known hits from Erasure, or some obscure album track made in a one-off collaboration. Nevertheless, as ever, it's an irresistible challenge. If nothing else, to explore all four corners of Clarke's creations is always a pleasure; in this case, it's made the current global situation far more bearable. 
But where, indeed, to start? And how do you compare early Depeche and Yazoo with recent Erasure, or perhaps Vince's epic synthscapes made with Martyn Ware? As ever, we needed a compass. We agreed our criteria as follows: anything in which Vince was involved was fair game, bar remixes (see p104 for that!), pure production jobs, and covers (so no Abbaesque, and honorary mention goes to Fly On The Windscreen made with vocalist Ana Brun).
This allowed us to survey and weigh up the breadth of Vince's output. We've delved deeper than most, giving some of his rarities a decent chance at entry. As it happens a fair proportion of the tracks included here were singles, but there are some other standouts too.
On another day, this list could have looked completely different, but for now, enjoy our pick of Vince's finest moments.
4o
Green (You Are In A Forest),
Vince Clarke & Martyn Ware (2001)
Ware-Clarke's 2011 album Spectrum Pursuit Vehicle borrowed its name from the futuristic tank-like vehicle seen in Captain Scarlet, and its ethereal synthscapes explore locations from forests to the beach, heaven and inside the womb. Celestial choral pads, flowing water, even birdsong… it's as entrancing as it sounds. Another empyrean Ware-Clarke creation worth digging out is Open Our Eyes, an immersive morning sunrise of electronic delights, best enjoyed via headphones.
39
It Doesn't Have To Be,
Erasure (1987)
In the wake of Sometimes' success (UK No.2), this second single from Circus may not have fared quite as well (UK No.12), but it bore a lyrical weight missing from its predecessor's cheap tales of bedroom ecstasy. It Doesn't Have To Be set its sights on the injustice of apartheid, with a portion of the track even sung in one of the country's native tongues, Kiswahili. Flip it over for an epic analog synth take on 19th century composer Edvard Grieg's creeping odyssey In The Hall Of The Mountain King.
38
The Echoes,
Clarke:Hartnoll (2016)
Vince and Orbital's Paul Hartnoll concocted 'home house' as a definition for their one-off album collaboration 2Square, humorously decoded by The Guardian as "electro-pop for dad dancing". Still, there's plenty to love even if you're commandeering the lounge to cut a rug, not least All Out's funked-up punch with its processed soul timbre by Kenya Hall, VeryRecords launch track Better Have A Drink To Think with its sliced-up hook, and this grandiose build that stretches its cultivated tech tapestry over five and a half engrossing minutes.
37
Dead Of Night,
Erasure (2014)
The reach-for-the-lasers uplift of Sacred or Elevation would perhaps be the obvious picks from Erasure's The Violet Flame, but for us the album's curtain-raiser does the business. It's a masterclass in the manipulation of analog synths, from the repurposed disco of its driving arpeggiated central thread to its sumptuous – slightly eerie – chorus hook. As such, the duo created a Halloween-themed video: "A most classic horror Hallowe'en video using clips from the old masters. Some of the best scenes from the genre, they're all in here," said Bell. 
Top 40 Vince Clarke Songs – Dead Of Night
36
Hallowed Ground,
Erasure (1988)
One of our favourite album tracks from our favourite Erasure album, The Innocents, this brings a potent narrative to life as Bell fleshes out the bleakest of scenes: one of bullets on the streets, of teen mothers surviving in poverty, of regretful lives lost to gambling and the bottoms of bottles, with murder almost a part of the everyday. Around these images Vince lays an equally dramatic foundation, almost A Little Respect's sullen twin; wounded, never quite willing to let loose a gratifying release, it ably reflects a brutal, "uncertain future".

35
World Be Gone,
Erasure (2017)
The title track of Erasure's 17th album is a windswept departure from the high-energy fare, immersed in a broken social and political climate. This simplistic, blissful-yet-mournful synth ballad houses one of Andy's purest vocals as he evokes scenes of illusions as shattered glass, heads in hands and shadows on empty screens. Still, it's not all doom and gloom – "silver linings in the leaden sky" hint that all could be right in the world. Mojo applauded "a triumph of achingly beautiful pop protest music". The UK agreed; it made a healthy No.6.
Top 40 Vince Clarke Songs – World Be Gone
34
Take Me Back,
Erasure (1994)
The briefest moment of discord in the sequencing unbalances before levelling off, Elysian synths rise and swell, and Andy's arching falsetto pierces the surface with vivid reflections of a blissful childhood: a past of waterfalls, poppies and butterflies, lost in the blink of an eye. 1994's I Say, I Say, I Say – the tenderest of junctures in Erasure's discography – was raised further heavenward by this gorgeous, cascading ballad, cleverly expanded by producer Martyn Ware. It's a lovelorn gem that crests deliciously before gently petering out. 
Top 40 Vince Clarke Songs – Take Me Back
33
Dreaming Of Me,
Depeche Mode (1981)
Wonderfully naïve and more than a little wonky, this first Depeche single proper may be a postcard from the early 80s but it still very much stands up to scrutiny. Having just inked their first deal with Mute, the Basildon teens likely disappointed their new boss, managing only to sneak into the lower section of the charts (surely the reason this never made the debut album, even though it deserved to be there). The early rustlings of a darker edge begin to poke through on the excellent underside, Ice Machine, also featured here.
32
Hideaway,
Erasure (1987)
Just as Bronski Beat nailed bitter isolation with their salient synth-epic Smalltown Boy, so Erasure actualised their own indelible portrayal of a boy coming out as gay in an era of debilitating fear and alienation. The protagonist yearns for his father's touch and grieves his mother's lost pride over popping synths, deft orchestral augmentations and a stoic, chunky rhythm that binds it all together. Bell was brave enough to lower his guard while other stars were still firmly in the closet, and Hideaway is a commanding moment in Erasure's catalogue. 
Top 40 Vince Clarke Songs – Hideaway
31
Photographic,
Depeche Mode (1981)
 It would be remiss of us not to laud the record that started it all for the fresh-faced Basildon boys – and Vince himself. Not that it isn't utterly brilliant, of course. With a Korg Rhythm 55 unit beating at its heart, Clarke's pulsing blastoff moment featured on Some Bizzare's legendary compilation album, the wonderfully unrefined collection that introduced such talents as Soft Cell, Blancmange and The The. The lyrics may be a tad on the green side, but as various boorish synth lines vie for attention the wide-eyed teenage charm is undeniable.
3o
Fingers And Thumbs (Cold Summer's Day),
Erasure (1995)
"Life is a wonderful thing when you're humming the words to a love song," sings Andy as we're drawn into one of the central tracks from Erasure's seventh album – and, wow, their 22nd consecutive UK Top 20. Originally commissioned to soundtrack Wigstock: The Movie, a doc about a Manhattan drag festival, it was re-recorded for the duo's mid-90s collection. Flip it over for a effervescent take on Evelyn Thomas' 1984 sky-scraping classic High Energy ("Hi-NRG" here) – and for Andy in full flight.
29
Who Needs Love (Like That),
Erasure (1985)
By this point Vince had a pretty good track record, but few groups muster a debut as strong as this pop-savvy 1985 account opener. 21-year-old Andy was starry-eyed when he recorded his audition tape, part of which comprised an early version of this very song (available on YouTube or on Erasure's 2006 curios collection Buried Treasure II). It went well: Daniel Miller, Vince and Flood all thought Bell was the man for the job. Though it stalled at No.55, Who Needs Love introduced a phenomenon.
Top 40 Vince Clarke Songs – Chorus
28
Chorus,
Erasure (1991)
A space-age, frequency-flexing klaxon announces a rolling arpeggio that fixes up the Moroder-disco of the title track of Erasure's 1991 album, Chorus. This was a smash hit on the dancefloors of the US and a huge pop hit for the duo in the UK, peaking at No.3. The track was accompanied by a video that depicted Vince and Andy rising from the seafloor to introduce a visual melee – knives, clocks, metronomes, a wedding cake, heads buried in sand, landscapes, a dystopian future lounge, even dungarees… it's utterly bananas. 
Top 40 Vince Clarke Songs – Chorus
27
Ode To Boy,
Yazoo (1982)
Up there with our favourite synth-pop hooks, this is as sparse, atmospheric and sophisticated as early VC tracks get. Ode To Boy was originally released as the flipside of Yazoo's springy hit single (and Moyet's least-favourite track) The Other Side Of Love. It's unusual in that Alf played a part in the songwriting with Vince supposedly as her subject, and she's on smoky form, her chatty lyrics adding a sense of urgency to the slowest of tempos. Moyet later revisited the track as an acoustic alt-rocker for her 1994 album Essex, but this is better.
26
Spock,
VCMG (2011)
It took a wee while (!), but when Martin Gore and Vince Clarke regrouped in 2012 for VCMG, they took a deep dive into what Gore described as "minimalist techno". Clarke's neurons had been sparked by remixing scene godfather Plastikman; Californian EDM bod Timothy Wiles (aka Q/XOQ/Überzone) offered a hand in the production, but perhaps the real allure is the fact that it sounds as if it's been made by synth-pop artists with an ear for a tune rather than warehouse party tech-heads. For us, at any rate, it's all the better for it. 
Top 40 Vince Clarke Songs – Spock
25
Nobody's Diary,
Yazoo (1983)
 Written by Moyet at just 16 when she was knocking about the Canvey Island scene ("None of my mates were particularly complimentary about it"). Vince viewed the song differently. With the anonymity of the title universalising the fidgeting intimacy of adolescence, and with Clarke's childlike lead lines lining up in parallel, this was a depiction of innocence and behind-the-bikesheds sincerity. Neil Tennant reviewed it in Smash Hits as "strong on emotion and weak on melody," but two TOTP appearances led to a UK No.3. 
24
You Surround Me,
Erasure (1989)
Never released in the States, Wild!'s second UK single showed off Andy's sturdy lower-register vocals, nicely complemented by Vince's serving of pulsating synth, giving added impetus when the falsetto chorus kicks in. It deservedly marked Erasure's 10th UK Top 20 entry. The approach is subtle, yes, but just as catchy; as Andy Bell sings, "You've got your finger on the pulse of my soul" in that warm, deeper timbre, it's overflowing with genuine feel. For a completely different take on the track, check out the Mark Saunders/Gareth Jones remix.
Top 40 Vince Clarke Songs – You Surround Me
23
Ave Maria (Om Ganesha),
West India Company
(1984)
A curio in Vince Clarke's output, this stuttering, sample-heavy take on Ave Maria was the product of a grouping that included Indian vocalist Asha Bhosle (the voice of Bollywood, subject of Cornershop's Brimful Of Asha and the most recorded artist in history), percussionist Pandit Dinesh and Blancmange's Stephen Luscombe. As well as a single in its own right, it served as the B-side to Blancmange's Lose Your Love. Vince's part in this masterpiece? "Pyrotechnics".
22
Ice Machine,
Depeche Mode (1981)
Hidden on the underside of DM's Dreaming Of Me was one of Clarke's more shadowy early exploits, once a demo from the Composition Of Sound days. Aside from painting a picture of the future-obsessed zeitgeist of the early 80s, it's a vintage moment for many fans, made all the better thanks to Dave Gahan's untrained baritone. Ice Machine was thrillingly brought up to date by Röyksopp and vocalist Susanne Sundfør; visit YouTube for a rare 1981 live take from DM's show at Paris' Paradiso, the blueprint for the Röyksopp version.
Top 40 Vince Clarke Songs – Ice Machine
21
State Farm,
Yaz (1983)
"Souped up, jacked up, cracked up, stacked up…" Alf's in particularly vociferous form as Yazoo embarked on one of the tougher-edged cuts in their set. Rightfully sharing double-A status with Nobody's Diary in the US, this sputtering treasure reached the top of the dance charts in the States (as Yaz) thanks to its tapestry of gobby vocal clips, juddering synth stabs and liberal tom-tom fills, ideal for late-night dancefloor gyrations. For the full experience, get your listening gear around the 12" – a marvellous way to spend six and a half minutes of your life.
2o
Chains Of Love,
Erasure (1988)
Released in spring 1988, this ninth Erasure single is very much of its time (is it just us, or is there something very Stock Aitken Waterman about that melody?), but it still displays the duo's keen nose for a good hook or three. This second satellite from The Innocents just missed the UK Top 10, but perhaps more pertinently – thanks to some serious love from MTV – cracked the US, landing the No.12 spot, a major deal at the time that, with the help of its popularity in clubs, led to huge units shifted. Over there, it's still Erasure's highest charting tune.
19
The Circus,
Erasure (1987)
The title track – and final single – from Erasure's second album was far removed from shiny pop; it featured a haunting accordion and lyrics that highlighted the societal problems caused by receding industry (the experience of Bell's father at work in his native Peterborough fed into the song's subject matter, the singer revealed to Hot Press). The single made UK No.6 in September 1987. It was remixed by Grumbling Fur in 2015 for Always, a best-of collection toasting 30 years of the duo.
18
Phantom Bride,
Erasure (1988)
 Rumours circulated that Phantom Bride was chalked up to be the fourth single from The Innocents, but for some reason it was never to be. Nonetheless, this upbeat-yet-melancholic Stephen Hague-produced tale of two lovers certainly gave the duo a leg-up to their first No.1 in the UK album charts – and their best-selling long-player to date. All concerned clearly love the track: a remastered version surfaced on the Phantom Bride EP, released in 2009 to celebrate 21 years of The Innocents, accompanied with eight new remixes from Almighty, Frankmusik, Dogmatix and Vince Clarke – unmissable.
17
Love To Hate You,
Erasure (1991)
 It's a boilerplate adage that talent borrows and genius steals – so when, in 1991, Erasure dropped the second single from their fifth album Chorus, melding Dino Fekaris' string arrangements from Gloria Gaynor's I Will Survive with a rhythmic, Moroder-like pulse, it didn't stop the public (and the critics) liking what they heard. This theatrical, disco-fuelled tale of disingenuous philanderers made the UK Top 5, and soared in several European countries too, no doubt helped by the duo's Euro-friendly mindset – they recorded versions in Italian (Amo Odiarti) and in Spanish (Amor Y Odio).
16
Home,
Erasure (1991)
 It's not so well-known with the wider audience, but Vince's all-time favourite track from his own catalogue is more than worthy of attention. Gently drifting into view, coaxing goosebumps on the thickest of skins, it harbours all of the key ingredients that make up a classic Erasure tune: an electro-orchestral arrangement, playful keyboard layers and an emotive tune. Of particular note is the choral backing, grandiose without being overblown, elevating Andy's rapturous lead line still further. It's a gorgeous, perfectly-paced blend of touch and melody to close the masterful Chorus album.
Top 40 Vince Clarke Songs – Home
15
Oh L'amour,
Erasure (1986)
Funny how certain tracks make little or no impression first time round but prove to be blinding beacons in a group's catalogue once the dust settles. Their third single is one of those. Arriving after 1985's debut discs Who Needs Love Like That and Heavenly Action, it only just scraped the Top 100, but has since risen up the playlist to receive full accolades. It really found traction in the clubs and made third spot in the US dance charts. In 2003 it was remixed to promote Hits! The Very Best of Erasure and finally broke the Top 20, reaching No.13.
14
A Victim Of Love,
Erasure (1987)
Released as the flowers bloomed in the spring of 1987, this punchy third missive from The Circus gifted Erasure with their second Top 10 hit at home. The key elements that would serve the duo so well going forward were all present – acoustic guitar, cadenced synths, euphoric melody and a splash of tinsel. Empowering loud-and-proud lyrics arrive via Andy's shining falsetto hook, while Vince proudly enters the Eurozone for the sonics. Daniel Miller and Rito Conning's bubbling Victim Of Love (Vixen Vitesse Mix) took things up a notch.
13
Never Never,
The Assembly (1983)
With Feargal Sharkey at the mic, Never Never is the sole evidence of a planned Clarke/Eric Radcliffe project that would employ guest vocalists (also in the frame: Blancmange's Neil Arthur). It's infuriating – this little electro-pop wonder leaves us screaming "What if?!" Sharkey's quivering tenor gels well with Vince's style, and this UK No.4 is a unique gem in Clarke's catalogue. The track was aired live for the very first time when Sharkey was invited to 'Short Circuit presents Mute' at London's Roundhouse in 2011. On BV's was Andy Bell. 
12
Stop!,
Erasure (1988)
 What better way to fill the time between two hit albums than to write one of your boldest, brightest hits? Erasure's Stop! arrived sandwiched between The Innocents and Wild!, introduced via a montage of wild, flexing electronica that supported the purest of pop melodies. It led the way for the Crackers International EP to climb the UK charts (though, frustratingly, it stalled at No.2 on New Year's Day 1989, held at bay only by Kylie and Jason – or rather, Charlene and Scott – with their slush-fest Especially For You). Still, it set the duo up for Best British Group at the '89 Brits.
Top 40 Vince Clarke Songs – Stop!
11
Drama!,
Erasure (1989)
Building from a pinging music-box synth into a pumping four-to-the-floor dancer cleverly cued by Andy's delayed line, "Your shame is ne-veer… ending", the opening single from Wild! is one of Erasure's most absorbing, with Eastern-edged harmony, a shameless fairground synth solo, and well… plenty of drama. Is there a touch of early Morrissey about the way Bell sings "just one psychological drama after another"? Talking of fandom: recording next door were indie guitar legends The Jesus and Mary Chain, who provide the chant of "Guilty!" "We needed a football crowd," Bell told the NME.
1o
Ship Of Fools,
Erasure (1988)
After three albums and seven singles, the duo clearly felt they could afford to take a risk. The sublime Ship Of Fools was the pair's first ballad exposed as single, and it clicked, unveiling a new, maturer sound, the ideal mood-setter for The Innocents. With the help of Stephen Hague (PSB's Actually, New Order's True Faith) Vince and Andy secured their third UK Top 10, landing No.6. Plus, Bell gave his most stripped-bare performance thus far, both affectionate and melancholy… a vibe reimagined in country form for 2007's On The Road To Nashville live album.
9
Situation,
Yazoo (1982)
One of Yazoo's finest sides, with a genius preface from Clarke, playfully interrupted by Moyet's laugh. Situation started life as the lowly flipside to Only You in the UK, but was given A-side status in the US. While it only managed No.73 over there, its popularity in clubland was reflected by its No.1 standing in the parallel dance chart, a position it reclaimed in 1999 after a flurry of remixes. François Kevorkian's 12" remix is a must-play, although The Saturdays' 2008 UK hit If This Is Love – which heavily samples it – is a crime.
Top 40 Vince Clarke Songs – Situation
8
Don't Go,
Yazoo (1982)
Things really caught fire for Vince and Alison on this second mighty dalliance with the UK Top 5. Clarke's blend of synths – A Pro-1 for the minimal bass, an ARP 2600 for the trumpeting hook – is one of his classiest, while Alf's passion-loaded vocals are soul power personified. As with many of their tunes, Don't Go proved to be a magnet on dancefloors in the States, where it stormed the top of the dance chart. What better way to commence their debut album Upstairs At Eric's… and the spooky, haunted house mis-en-scene in the video added a nice bit of uncharacteristic silliness, too. 
7
Just Can't Get Enough,
Depeche Mode (1981)
The song's current ubiquity – from hipster clubs to drunken weddings – underlines its genius, but in 1981 Depeche Mode were pretty green, which makes this all the more impressive. The phenomenal New Life had planted the seed, but Just Can't Get Enough vindicated Vince and the young Essex band as far above the realms of one-hit wonders. The UK No.8 spot gave Mute Records a massive leg-up and helped shove synth-pop into the UK mainstream. Almost overnight, Depeche leapt from the big fish-small pond arena of Essex's Croc's night club and onto the world stage.
6
Blue Savannah,
Erasure (1989)
As Vince often proves, brevity is everything. On this transcendent love song from Wild!, restrained synth and an unfussy production allow one of Andy's finest performances to soar. By the time that nimble piano upift bursts through, the sweet surrender of the lyric is inevitable. This UK No.3 remains one of the duo's best-crafted singles – and we must mention Shep Pettibone's Out Of The Blue remix; the promo it featured on is hard to find, but Erasure released it on the anthology From Moscow To Mars and on their RSD 2020 release – on blue vinyl, no less.
5
Sometimes,
Erasure (1986)
Three singles in, with debut album Wonderland languishing in the lower realms of the charts, Erasure badly needed something to go their way. Producer Flood, Mute's Daniel Miller and Vince and Andy knew there was a hell of a lot riding on their new track; it had to be perfect. The first mix was rejected, the chorus lyric was tweaked, and Miller spent hours toiling at the mixing desk with Flood. Released ahead of The Circus, Sometimes gave Erasure the big hit they so desperately sought, breaking the Top 40 on release and rising high to No.2. 
Top 40 Vince Clarke Songs – Sometimes
4
New Life,
Depeche Mode (1981)
From "an old R&B riff" and some meaningless lyrics rose forth a synth-pop classic, and with Depeche Mode only two proper singles into their innings, it's extraordinary that Clarke could create such vivid pop music so early on. Taking pole position on Speak & Spell, New Life illustrated the point where naïvety met pure, raw talent. Having journeyed from Basildon on a train with synths underarm, the foursome's inaugural TOTP performance would invite the major leagues in, allowing them to clock out of their day jobs for good.
3

 

Always, Erasure (1994)
 The declaration of undying love delivered via the medium of electronic music has thrown up its fair share of horror shows but this ambrosial piece of pop balladry proved that when done right, the two are well suited. Refined programming engaged beautifully with the softer end of Vince's palette, allowing space for that affirmation of devotion to shine candle-bright, a dance of almost balletic grace. The bleeps, bloops, lifts and dips were filtered through producer Martyn Ware, who helped the duo to a UK No.2 and a US No.20. 
2
Only You,
Yazoo (1982)
The celebrated 'arranged marriage' of pop in which Alison 'Alf' Moyet and Vince Clarke fell into success may be somewhat peculiar, but their union provided the world with one of its brightest crowning pop moments. Perhaps it was serendipity. Friends of friends, the two misfits met when Vince was just 10 years old in Basildon, lived on the same estates growing up, and attended all the same parties.
As Moyet didn't own a cassette player when Vince asked her to sing on his first post-Depeche material, she saw it as an opportunity to record a vocal demo – in his kitchen, no less, where all great things start. The record label shrugged it off, and Vince almost gave up on it, but the publishers requested an album. The band name was agreed upon when Alison wrote it in the condensation on the car windscreen, and so began Yazoo.
"Only You has a nursery rhyme aesthetic," said Moyet. "It's easily remembered and not a challenge to sing. It has a melody that invites all comers. Great classics do that. Music hall, family song sheets… it suggests the age-old community purpose of song." Though this pop marvel falls just one place short of the very top of our Top 40 list, it's a perfectly measured Vince Clarke arrangement, laden with bags and bags of Alison's natural, soulful intensity.
1
A Little Respect,
Erasure (1988)
No surprises here, we'll admit, but everything fell into place for Erasure on this career-defining single taken from The Innocents. For us and for many others this is the outright pinnacle of both the duo and Vince Clarke's achievements. The uplift of the chord pattern is unmistakably Vince, while the seasoned layering of acoustic guitar and Euro-friendly, roof-removing synths gives way to the crescendo of all pop crescendos.
It's an utterly divine delivery from Andy, who visits all corners of his vocal range, and it's one of those rare songs that draws out an immediate sing-along whenever it's aired (albeit with the vast majority floundering at that glorious, sustained, compassionate top note). And all that, filtered by way of producer Stephen Hague, at the height of his powers. How did this miss No.1 in 1988? Well, the limelight was stolen by Whitney's One Moment In Time, Bobby McFerrin's Don't Worry Be Happy and D-Mob's zeitgeist-capturing We Call It Acieed – but unlike those victors at the time, A Little Respect has transcended the mortal realms of the charts to reach timeless status.
As with Bronski Beat's Smalltown Boy, the song served to strengthen the LGBTQ cause, a paean for those on the edges of wider acceptance. Simply immaculate.
Comments
comments
The Story Of Now That's What I Call Music
Now That's What I Call Music! was many people's introduction to chart music when they were young. Classic Pop traces the story of the big daddy of all compilation series… By Paul English
The Now That's What I Call Music! brand is quite simply a phenomenon. Initially launched by EMI and Virgin in November 1983, it's currently now at volume 109 with spin-offs and other series bringing the total number of releases well past the 250 mark.
Right from the beginning, Now… looked different to other compilations with its liner notes, artist photographs and generally luxurious feel.
For many people, these releases are totally tied to nostalgia. They represent the building blocks of a record collection with their contents exposing young listeners to a wide variety of music hanging together in a logical sequence. The person responsible for this was Ashley Abram, who in 1983 was creating compilations for Ronco, and joined the Now team just before the second volume.
He remembers those early 1984 days: "The first Now album had the whole year to choose from but there was only a limited period of time to compile Now 2 and a more limited pool of tracks. Now 1 had cleared big names like Rod Stewart and Genesis and coupled them successfully with current pop acts and we felt it was important to do this for the follow-up.
"We managed to get David Bowie and Eurythmics who'd refused permission for the first one and ended up striking a deal with Queen on the agreement that they would appear in the TV ad and be the first track on the album. On the basis that it would encourage other 'superstar' acts, Virgin and EMI went to great lengths to clear The Rolling Stones and Paul McCartney for Now That's What I Call Music 2 as well."
After a hugely successful summer with Now 3, a new rival entered the market which meant that CBS and WEA started to refuse tracks for the next instalment of Now, instead keeping them back for their own compilation, The Hits Album.
However, Now That's What I Call Music 4 sold a million copies and, in addition, to the regular vinyl and cassette also came out as a 15-track CD, which now sells for over £500. Abram looks back: "When the CD format first appeared, there was no blueprint for compilation clearances and, as I remember, it took a long time to get agreement over what royalties should be paid to the artists etc.
"We wanted to put out a CD to test the market but couldn't get approvals on a number of the tracks on Now 4, so we ended up with a truncated version and also using tracks from previous albums. From memory, it sold around 2,000 copies max!"
By 1985, the series had settled into a regular release pattern and started to diversify into spin-offs with Now Dance – The 12" Mixes and Now The Christmas Album both appearing. The first two Now Dance volumes were well-received but didn't sell in massive quantities so it was put on the back-burner until 1989.
Abram explains: "The original Now Christmas album was an interesting one. Lots of record company people didn't want to release it at the time because they thought it would only sell for a week before 25 December and then we'd be left with all the stock.
"Also, at the time they said I couldn't put Bing Crosby and Slade on the same album and that Jona Lewie wasn't a Christmas song! However, we managed to convince the relevant people, got the rights to bring it back for the next few years and a successful version still exists 32 years later. Sales-wise we were more than vindicated as Now 6 and Now Christmas dominated the charts that December."
The track flow on the Now albums was key to telling a story and building the mood. There are many examples: the love trilogy towards the end of Now 13, OMC being followed by OMD on Now 34 and the memorable side-long house and indie sequences on Now 11 and 17 respectively.
Deciding on inclusions was an ongoing process for Abram: "I was constantly monitoring the charts and new releases and obviously Top Of The Pops as it had a big effect on chart positions. As the series developed and became successful, record companies began suggesting tracks for inclusion, so I had a good idea of what was around but the albums had to be mastered around a month before release in those days, so there was always an element of trying to predict the hits!"
One fundamental flaw of retrospective compilations is that they tend to cherrypick songs whereas the Now albums tended to give a snapshot of pop trends over a four-month period. Sometimes mistakes would occur or a rare version would be included.
Now 4 starts with Arthur Baker's Special Dance Mix of Paul McCartney's No More Lonely Nights as it was the only version that his management would approve for licensing. Meanwhile, Pet Shop Boys were involved in two such instances: the original Mark Stent Mix of Go West kicked off CD2 of Now Millennium Series 1993, while on 1986's Now 7 we got treated to the Alternative 7" of Opportunities (Let's Make Lots of Money).
Abram recalls: "They were done deliberately – at least most of them were! In the 80s and 90s, the Now albums had long lead times but there was always pressure to get the mastering done very quickly. Component parts came into the studio in large numbers so it was always chaos in Abbey Road with packages of master tapes arriving the whole time so not everything always went exactly to plan.
"I think on Opportunities…, PSB didn't mind which mix we used but when they found out we'd used the alternative version they asked EMI for a couple of boxes of samples of Now 7 as they thought it might become sought after at some point because of the alternative mix!"
More time capsules of long-forgotten tracks include novelties like The Commentators' N-N-Nineteen Not Out on Now 5, a parody of Paul Hardcastle's 19, which describes the poor performances of England's cricket team. Another is Karel Fialka's synth-and-drum combination Hey Matthew which graced Now 10 and deals with a father questioning his son's television choices.
For many years, the only way you could obtain a CD version of Tears For Fears' Everybody Wants To Run The World (recorded to promote Sport Aid) was on the spin-off CD-only Now '86 released that year.
Flying the flag for obscure sophisti-pop were The Ward Brothers' Don Was-produced Cross That Bridge on Now 9 and Waterfront's superb Cry on Now 15. And back to Paul Hardcastle: his Top Of The Pops theme, The Wizard, appeared on Now 8.
After five years of uninterrupted success, compilation albums ended up being placed in their own chart from January 1989. Abram attributes this to, "pressure from US companies on their UK counterparts i.e. Warner/Sony as they couldn't understand why their superstars were being kept off the top by Now!"
From then on, the series went from strength to strength as the CD format finally took a foothold in the public consciousness. After truncated CD releases of volumes 8 and 9, Now 10 was the first to include the same songs across all three formats. Meanwhile, Now 16 offered three bonus tracks to purchasers of the silver discs which went some way towards compensating against the complete absence of any No.1 singles. 
The series dropped back to two annual releases for 1990 and 1991 (there were three Now Dances in 1990) before settling into a thrice-yearly pattern from 1992 onwards. While it continued to come out on vinyl, sales of that format from Now 21 onwards were very low and continued to decrease.
Now 35 – emerging in November 1996 – was the last double LP and regularly fetches up to £100 due to its scarcity. It's certainly the only compilation where you'll find Boyzone and Björk sharing vinyl space. As the end of the decade approached, Now 44 became the best-selling volume, shifting a massive 2.3 million copies – many of them purchased to soundtrack New Year's Eve Millennium parties.
Nearly 40 years later, the brand shows no sign of stopping with Now 110 expected later this year.
Ashley Abram is no longer involved – his last compilation was Now 81 in 2012 – with Jenny Fisher taking over. "After I stopped doing Now, I had a run of big compilation albums with Sony such as Sugar Sugar, Be My Baby and I'm Every Woman but I haven't done any new comps for a couple of years and have no plans to do anything more as things stand – so I guess I've retired!"
Competition from the hits factory
After the unequivocal success of the first three Now albums, it was inevitable that competition would emerge. The Hits series began in November 1984 as a joint venture between CBS and WEA with its first effort stealing a march on Now 4 by being released a week beforehand. This was a winning strategy as The Hits Album topped the charts for seven weeks and kept its rival off the coveted Christmas No.1 slot.
It came loaded with a number of US acts; indeed the television advert just focused on Prince, The Cars and Chicago with the four sides loosely divided into pop, soul, romantic and rock themes. Up until 1988, Hits proved to be a powerful adversary – licensing the likes of Madonna and Bruce Springsteen – and was essential listening for those who wanted a rounder picture of the Top 40. Hits 2, 4 and 6 were particularly strong in their track selections.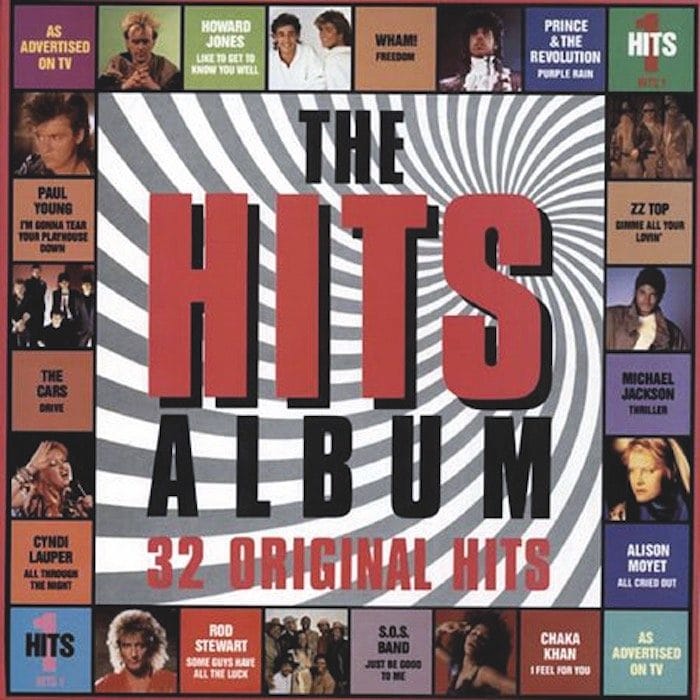 With the ninth volume, the compilers decided to omit the numbering, which resulted in the arguably weaker Now 13 establishing the upper hand. From then on, momentum was lost. Successive re-brands (Monster Hits, The Hit Pack) and a 1993 re-boot with Telstar on board led to the series having an inconsistent feel.
From December 1995, BMG and Warner Brothers re-established a regular release pattern with up to five volumes per year which certainly gave the Now! team a serious challenge – particularly as the Hits' spring and autumn releases would come out before their Now equivalents. The series bowed out with Summer Hits 2006, leaving Now! as the only hits compilation brand still going in the UK.
The Best Of The Rest
There was still room for other compilations – many of whom were short lived. K-Tel's swansong Hungry For Hits came out between Now 2 and Now 3 and is stuffed with also-rans, follow-ups to successful hits and long-forgotten pop memories like Sandie Shaw's Smiths cover Hand In Glove. Chrysalis and MCA's Out Now! appeared in 1985 and lasted two volumes: the first is most enjoyable as it lurches from Billy Bragg to Killing Joke.
There were also magazine tie-ins, both compiled by Ashley Abram: Just Seventeen's Heartbeats (1989) is an impeccable selection of frothy pop and breathless romantic numbers while Smash Hits' numerous compilations were perfect summations of the year's pop action and also came with great sleevenotes. Telstar's rather predictable annual Greatest Hits Of series commenced in 1985 but one of their unsung jewels was a one-off: The Dance Chart (1987), which includes rare single edits from The Concept, Timex Social Club and Whistle.
Comments
comments